Review: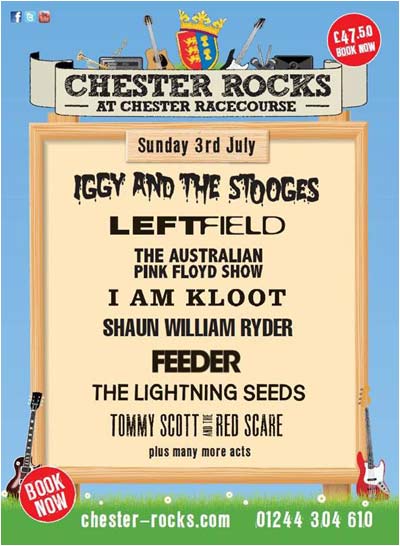 The sun was beating down as we entered the Racecourse. Funnily enough, this was the first time I had ever been there, even though I've lived in the area for most of my life. And it was all rather nice. I don't often do outdoor gigs, but I think I can probably say with some certainty that a champagne bar and sparkling toilets are not the norm for this type of event. By the time that we made our way to the field, the first act were already playing. For the uninitiated, the Tommy Scott in Tommy Scott & the Red Scare is the former singer from 90s Scouse pop act, Space – a pretty good live act themselves I recall. I'm not really sure what he's been up to in the intervening years, but he's now sporting a rather impressive quiff and fronting a band that included a double bass player. The music had a ska feel to a lot of what I heard and featured a similar organ sound to that found on Ghost Town. It was OK, but after a while we decided to go for a look round the grounds and unfortunately I only heard the classic The Female Of The Species in the distance.
Echo & the Bunnymen and The Wild Swans had unfortunately pulled out for whatever reasons, but there were still other Liverpool sounds to grace our ears and next up was the latest version of The Lightning Seeds. Enter Ian Broudie, who remarked that the crowd looked chilled - which was more than he was, he added. Broudie hardly looked any different than he did in his pop heyday, but it's a measure of how far his career has declined that a bloke who had numerous chart successes in the 90s is now lower on the bill than a tribute band! Anyway, they opened with Sense, one of their finest singles and it was all rather pleasant if hardly earth-shattering. Change, Marvellous, Sugar Coated Iceberg (which I'd forgotten all about), Pure were all present and correct, but there was to be no Three Lions. Not that I was bothered, but prior to the final number Broudie answered a request for it by saying, "No, we're not playing that one sorry, but this is just as good". And so they ended with Lucky You. And, to be honest, it's miles better than their more famous football song! The highlight, however, was probably a slow, reggae influenced version of You Showed Me which seemed to capture the right groove on this boiling hot afternoon.
I'm not really a fan of Feeder, but they started with a couple I knew, including Just The Way I'm Feeling. By the time they'd played a couple I didn't recognise, it was time for a wander. My mate was even more bored than I was!
And so we went to the small Dawson's stage, which was situated in one of the Racecourse buildings. There weren't too many there to watch The Suzuki's, but the singer had the Liam Gallagher stance to a tee, even if he sang with more gusto than the former Oasis singer did. They were alright until they seemed to lose it at the end in what could almost be described as a fit of giggles.
We returned to the main stage to watch Shaun William Ryder, who really was a pleasant surprise. I'm old enough to have seen The Happy Mondays live in the late 80s (and what a great live act they were back then), but if I'm being honest I thought seeing their former frontman live post-I'm A Celebrity... could be something of a car crash spectacle, but thankfully I was way off the mark. Admittedly it could be argued that the others in the band did all the hard work, mind! Shaun stood there, old-man cap on head, singing as he does whilst the female singer ('Julie!') worked the crowd, but they were backed by a decent band that, according to Ryder, featured his nephew on drums.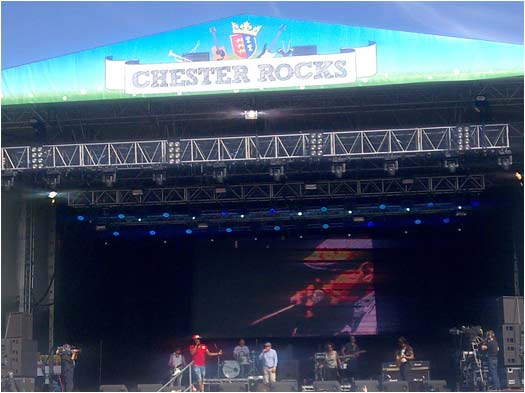 They opened with Kinky Afro, before playing one they referred to as a recent one (Never Mind The Quality...). There then followed a fabulously laid-back Loose Fit, which fitted the occasion perfectly. It was around about this time that they were joined by a rapper (Black Grape's Kermit, or so someone said) who pretty much equalled Julie's energy and exuberance. Black Grape's The Name of the Father went down well as did Step On which – perhaps inevitably – closed the set. I've got to say that, although Shaun pretty much just stood there throughout the set, I thoroughly enjoyed it.
We then wandered off to get some food, but I could hear I Am Kloot as we ate our small, over-priced pizzas in the pleasant outdoor eating area. To be honest, my over-riding memory of them was hearing a piano accordion and thinking it sounded like something you'd hear in the cafe in the 80s BBC French Resistance sitcom 'Allo 'Allo. I'll reserve judgement, however, because I was some distant away and reviewing a band when you were more concerned with consuming your Margarita seems a trifle unfair. The word on the street, however, was that they were 'mellow'.
Some time round here we also popped back to the Dawson's stage and caught the end of a set by a band called Owls*. They featured a deep voiced singer who reminded me of someone, but I can't quite figure who. My mate suggested Peter Perrett of The Only Ones, but it wasn't who I was thinking about. Anyway, they were alright and the previously jangly guitarist cranked it up on the last one – it was a tiny bit Tom Verlaine-like, if more savage and less virtuoso.
We then wandered back to the Main Stage to watch The Australian Pink Floyd. Well, let me put my cards down on the table straight away and say that I don't really like 1970s Floyd so they were never likely to appeal to me. It was clear that other people felt differently, however, and you could tell, from the way that many in the audience sang along just how much these songs mean to some people. I must say, however, that although that the guitarists were very Dave Gilmour, the lead singer was a bit karaoke.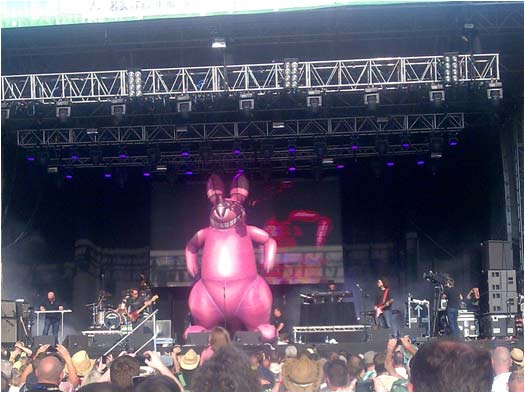 Another brick in the wall, mate?
The giant inflatable kangaroo bouncing up and down was a humorous take on Floyd's legacy, but a similar sized inflatable headmaster and razorback were probably over-egging the pudding. Highlight? Well it was probably Another Brick In The Wall for me. I know lots of serious Pink Floyd-heads don't rate it and part of me can see why, but to be honest it's just about the only post-Meddle Floyd record I remotely like.
After this it was back to the Dawson's stage to catch some of Amsterdam, an eight piece band with a woman in a flowerpot hat on violin and a pretty blonde who held a piccolo or something but didn't seem to actually play it. They were a bit Dexy's-in-their-dungarees-stage and they played with an impressive gusto that had the room dancing. They also had a dancer up on stage with them, a sort of folkie Bez said my mate. They played a rousing London's Calling and it went down a storm. We left at that point but could hear the singer making some announcement about them playing that Clash number because Pink Floyd were on the main stage. Well they weren't anymore, but it was a nice touch. The Punk Wars live on!!
We were then queuing to buy drinks when, in the distance, I saw a small rubbery man dancing on the Main Stage in the distance. Guess who?! Although billed as the headliners, Iggy & the Stooges were on, so we legged it back quickly. And they were awesome. Iggy was more restrained than when I saw him in London last year but it didn't matter. He might be walking with more of a limp and not running about quite as much, but what a performer. He owned that stage. "We're the fucking Stooges, man," he bellowed to applause at some point and they nearly were. Like Dave Alexander, Ron Ashton is now no longer with us and ill-health had resulted in brother Scott missing this leg of the tour, but Mike Watts has been there some time now and what a fearsome bassist he is. And stand-in drummer, the superbly named Toby Dammit from Iggy's 90s band, did a wonderful job. And all the while, a slimmer, more confident looking James Williamson was nailing those licks quite beautifully whilst Steve MacKay burst in with the odd demented bit of sax wailing.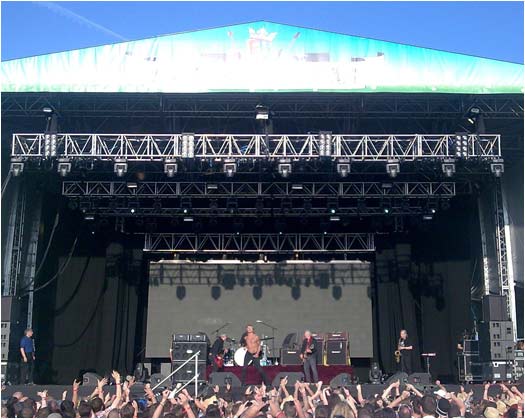 It was all Raw Power stuff to start – the title track, Search & Destroy, Gimme Danger, etc. Iggy's done all this stuff before and sure enough he got some of the crowd up for Shake Appeal as he always seems to do these days, but he never looks like he's going through the motions. "I'm 123 years old so I can sing the fucking blues," he then said before launching into a fabulous I Need Somebody. He then went back even further into the Stooges back-catalogue - 1970 in fact – and a Funhouse that made it impossible to stand still. "I've got a pretty good job," he said during the latter, and it was hard to disagree. Interestingly Shaun Ryder had been aware that this gig was a family event and had mentioned this when Julie was dancing in what he obviously perceived to be a provocative manner. Iggy didn't care. He was playing Cock In My Pocket and Open Up And Bleed and that was that. And the place erupted when he played I Wanna Be Your Dog! I'm sure there were probably people whose knowledge of Iggy went little past "that's the guy who does the insurance adverts", but I think everyone loved him. For the encore he came back, crouched down and stared at someone in the crowd. "In the front here there is a remarkably beautiful girl. You are so very, very pretty," he said tenderly before screaming "but you're pretty face is going to hell!" And they were off again. Fabulous stuff. The man is truly a legend. A legend who remained on stage, jumping around and generally lapping it up even after the band had left.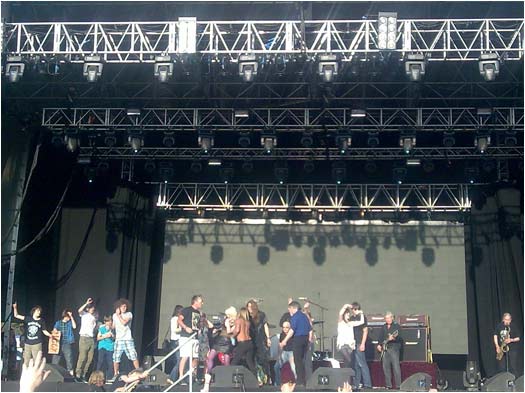 Finally it was time for Leftfield, makers of two excellent 90's dance albums. My post-gig research reveals that one half of them, Paul Daley, isn't playing these dates as he's DJ-ing, going solo or something, leaving Neil Barnes to go it alone. Barnes, the archetypal geeky looking type, stood centre stage behind his bank of keyboards and computers and was flanked one side by - gasp! – a real life drummer whilst to the other some big, bearded, balding Alt Country looking chap in a check shirt stood behind another bank of keyboards and computers and whatever else these people have. I seem to recall that Rick Wakeman used to have a curry on the go under his keyboards back in his Yes heyday. It wouldn't surprise me if acts like Leftfield had a microwave to heat the curry up amongst their substantial electronic armoury. Anyway, I thought the said bearded guy must be Daley and that the years had been less kind to him, but I'm presuming I must be wrong.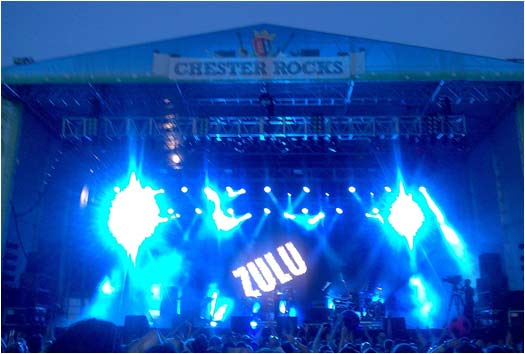 Now I'm not normally into this kind of set-up at a concert. I like Four Tet and Animal Collective on record, but I found both to be dull live, lacking a visual focus for those of us brought up on watching blokes with guitars standing in front of Marshall stacks. Leftfield were altogether better, however, not just because they had a live drummer, or that they had great visuals behind them which worked better and better as the day faded. They featured some great beats and bass notes that hit you in the gut. They also had guest rappers and vocalist including a female who I assume was Toni Halliday in a skin-tight leopard print outfit for an excellent Original. Phat Planet understandably went down well, but the highlight for me was undoubtedly the reggae-ish Release The Pressure with the guy in the Dread cap crooning "Can you hear me?" quite beautifully.
So, a good day. "I'm coming again next year," said another mate, a gig veteran who is generally into the more weird, extreme type of sounds. "I don't care who's on."
Some recommendation!