Arriving early, I heard a quick snatch of the soundcheck as I went to collect my tickets. I then made my way to the nearby Contact Theatre for "Wire In Conversation", an interview with John Robb which veered from the interesting to the cringe-worthy. Robb, a local music journalist and member of Goldblade, was clearly determined to talk about Pink Flag and very little else. And itís probably fair to say that bassist Graham Lewis didn't exactly agree with all his views. Lewis and Colin Newman talked quite a lot, whilst drummer Robert Lewis was pressed into answering one question, but was clearly uneasy with this situation. I really don't think Robb made a very good job of the interview to be perfectly honest. He certainly laboured the Pink Flag/punk aspect, basically concentrating on a year or so of the bands illustrious thirty year career, and it was left to a member of the audience to ask why Bruce Gilbert had left after all this time.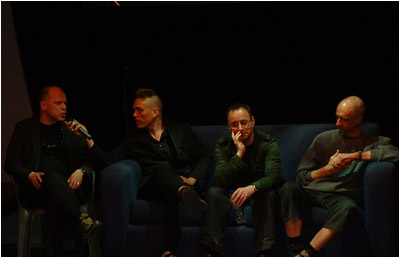 L-R: Graham Lewis, John Robb, Colin Newman, Robert Gray.
As for the gig...it was pretty much the same set as Wire had played at Leuven a few nights earlier. The sound on the opening new number (Circumspect) was pretty dire, for those of us down the front at least, and had me fearing the worst. The situation was quickly remedied though and from the second number (Our Time) onwards, the sound was much better. And by Mr Marx's Table - which hadn't quite done it for me the other night - they were away. It was a great version tonight!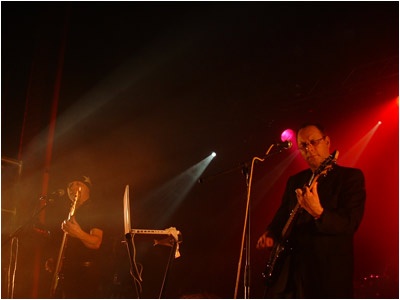 Lewis and Newman tear into it.
Unlike the Leuven gig when they had ended with a new number, Wire ended tonight with an absolutely colossal version of I Don't Understand. They ended with the same encores as Leuven - Boiling Boy / The 15th / 12XU followed by Lowdown / 106 Beats That. They then ended with a pretty awesome rendition of Pink Flag, with Lewis continuing yelling after it finished.
The new material is already starting to register, and Margaret Fiedler McGinnis has settled in extremely well. Indeed I thought the band seemed tighter tonight all-round, which is obviously understandable after a few nights gigging. It may be my imagination but Graham Lewis seemed to be enjoying it more tonight, too.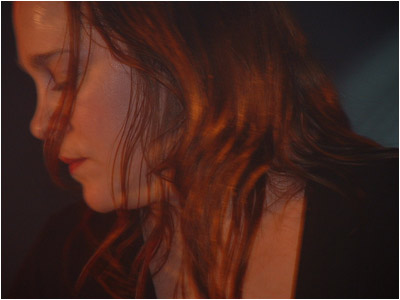 The "new kid" in Wire: Margaret Fiedler McGinnis.
My mates enjoyed it, too. One of them isnít into Wire, so I wasn't sure if he would, whilst my other mate (who was a big fan of the old stuff but didn't buy Send) really enjoyed One Of Us, the new one which features Newman and Lewis on joint vocals on the chorus. Very catchy it is too - it's lodged in my mind already! He also thought Agfers Of Kodack sounded "Krautrock", and I guess it did. I incurred much ribbing from one Wire fan before tonightís gig about my reference to one number at Leuven sounding like Julian Cope (and even more for having referred to a Bolan-like swagger on I Don't Understand!), but hey, I stand by it. Once again, it sounded very Julian to me!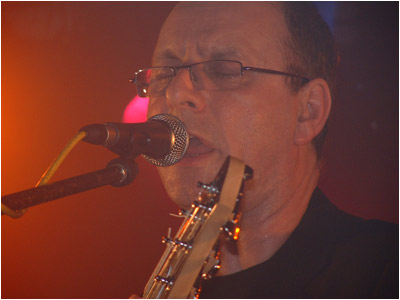 Colin Newman on vocals.
So, a great gig. And the more fashion conscious amongst you may be pleased to know that Graham Lewis wore a very nice black woolly hat with a white star on it!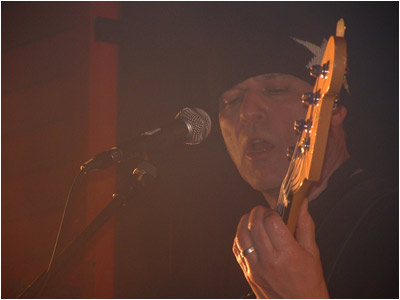 Graham Lewis and his stylish hat.