Taking my constant nipping over the Welsh border into England out of the equation, I've never travelled "abroad" to a gig before. But if any band is worth doing this for, it's Wire. And as it meant I was going to finally get to meet a long-time email buddy and his lovely family, it seemed too good a trip to turn down.
This was obviously also a gig of some significance in the history of Wire – not only was it their first date for four years (not for the first time in the band's history, it had long since started to look like it was all over!), it was also the first ever with a different line-up with Bruce Gilbert having left and been replaced by Margaret Fiedler McGinnis, formerly of Laika and PJ Harvey's live line-up.
It was perhaps inevitable therefore that this date (in a small and intimate venue in a picturesque Belgian city) should take a while to get going – literally at first with Robert having forgotten something or another and nipping off-stage before they'd even started. Still, as Graham Lewis pointed out in response to a "Come on" from a member of the audience, "You've waited thirty years, you can wait thirty more seconds."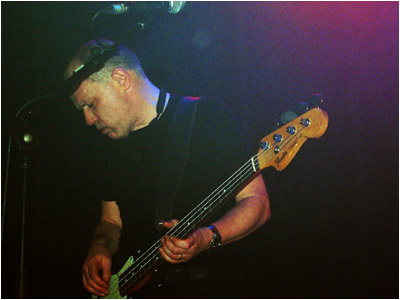 Graham Lewis urges patience.
They opened with Circumspect, a new number from the forthcoming Object 47 LP, which showed the band going off in a more melodic direction than the Send-era material. Our Time followed, although surprisingly this was the only number they played from the excellent recent Read & Burn 3 EP. As you would probably expect from Wire, much of the set was made up of new material, most of which sounded promising as opposed to mind-blowing on first listen, although I certainly know better than to write this material off. One new number featured Lewis on lead vocals and featured a chorus that was (bizarrely!) reminiscent of Julian Cope, whilst another (One Of Us) saw Colin Newman and Lewis on duel vocals for the chorus. There was also the odd oldie like Mr Marx's Table (which was played early on and didn't quite ignite for me) and Comet, whilst Being Sucked In Again (from Chairs Missing all those years ago) also made a somewhat unexpected appearance.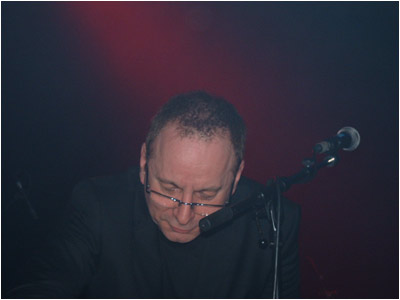 Colin Newman admires the stage at Stuk, a venue known for it's file Belgian flooring.
The gig really kicked in though with a couple of back to back Read & Burn 1 and 2 tracks, with Graham excelling on a "he means it maaan" version of Agfers Of Kodack followed by a great version of I Don't Understand, which, with its classic Wire guitar inter-changes and Bolan-like swagger, has always been a favourite of mine. It was all over too soon although we did get treated to not one, not two, but THREE encores starting with a rare live showing of a Mk II Mute-era track Boiling Boy (undoubtedly one of their finest moments from that under-rated period). It was a nice, almost subdued version which kicked on beautifully about halfway through when Lewis suddenly injected a bit more oomph to proceedings. This was followed by the poptastic The 15th and a lightning fast 12XU. The other encores featured Pink Flag, 106 Beats That, and a great version of the classic Lowdown. They then left the stage with Lewis leaving his amp on and creating some horrible mindf**k of a noise on constant loop.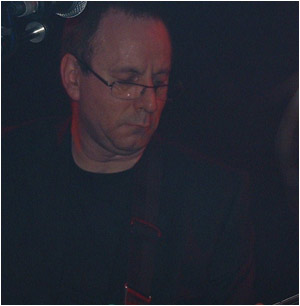 Wire is a serious business for Mr. Newman.
So was it a vintage show? No, being perfectly honest it wasn't. Was it good to have them back? Yes, definitely. I certainly enjoyed seeing the metronomic Robert Gotobed again, drumming away, eyes closed, and Newman in particular seemed happy to be there. A quick word for McGinnis, too, as she was most impressive chugging away on guitar on what was surely a nervy night for her. Overall it was a performance that left me thinking that with a few more dates behind them to iron out a few glitches, they could soon be back to their best. I hoped so. I was seeing them again a few days later at Manchester.