Review:
Back in the Stone Age of 2004, we reviewed a record by an Austin band called What Made Milwaukee Famous. At the time, I thought they played a enjoyable sort of early 90s Britpop/early 00s poppy post-punk combination, and we made a point to catch them at SxSW. Since then, they've fallen off my radar, even as the band itself made musical progress by signing to Barsuk and releasing additional material. So, when the opportunity presented itself to see them again after several years, I naturally jumped at it.
PostLibyan and I got to the show right around 9:20, as were told that the first band was going on promptly at 9:30. However, that was not to be. Instead, we witnessed something a bit unusual, as the original drummer of Atlanta band Snowden sang a song for his girlfriend (backed by lead Snowden-ite Jordan Jeffares on guitar), which led into a marriage proposal. Naturally (or is that luckily), she accepted in short order and there was much rejoicing and applause from the crowd, which seemed to put everyone in a good mood for the rest of the evening.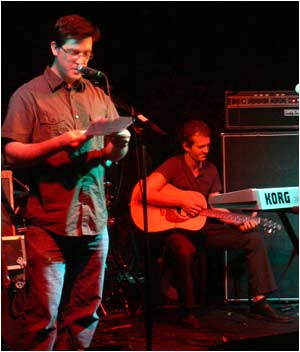 Jordan Jeffares looks bemused that he somehow got roped in to an event which considers
Pearl Jam to be poetic and romantic. Pearl Jam!?!?!?
Shortly thereafter, new-ish local band The Goldest took the stage. This 6 piece features some of the usual Atlanta indie denizens, including guitarist/vocalist Matt Chenoweth, keyboardist/vocalist Susannah Wallace, bassist Justin Gray, and drummer Kevin Wallace (the latter two formerly of EvilSponge favorites The Sudden Rays) along with guitarist Tom Tapley and guitarist/keyboardist Wilson Sheldon. On this evening, however, Sheldon was not present, so instead the band had a substitute player. While this change didn't make too much of a difference to the overall sound, I do have to confess that I missed Sheldon's chorused, almost ethereal guitar work.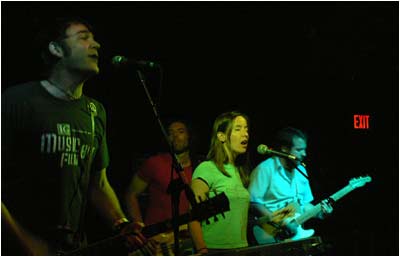 The Goldest, in a variety of lighting situations, not all of them golden.
Nevertheless, The Goldest offered up a combination of tunes that ranged from the slightly funky, guitar driven Indie glam of We All Want More to the catchy, sunny pop of Sunny-D. With such a wide-range of musical offerings, once might expect the band to sound scattered; however with the musicians'' skills on display, each song worked on its own terms and, furthermore, seemed to draw the crowd in. Honestly, I prefer the more poppy tunes, if only because it's on those songs (such as phenomenal Fine) where the combination of Chenoweth and Susannah Wallace as well as the rest of the band harmonize so very prettily to evoke a type of happy musical sunshine. It's that type of music that just brings me joy, and I look forward to seeing the band coalesce further.
After The Goldest loaded out, What Made Milwaukee Famous took their time setting up. However, eventually, they began to play. And I have to admit I was a bit confused. Some of the songs were the ones I remembered so fondly from back in 2004 when the band released Trying to Never Catch Up. Over the years, these tunes have become well honed and smooth, as the band drifts from the angular Indie Rock to the Radiohead-influenced and back again.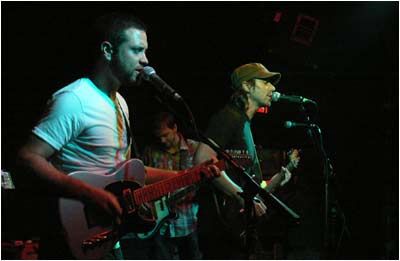 WMMF in indie rocking action.
However, in the middle of their set, the band indicated that they were going to take it down a bit and play some newer tunes (which may have been on their most recent release, but I couldn't quite tell). These tunes, in contrast to the older stuff, seemed a bit more stripped down and almost Americana-esque. In fact, from the guitar work to the vocals, these songs really brought to mind a band like The Young Antiques, albeit with keyboards, but the same rootsy, almost Costello-ish feel.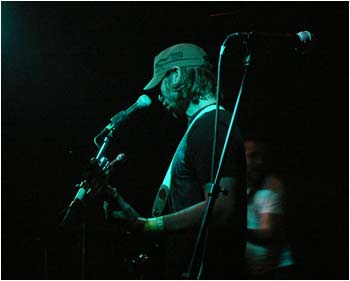 WMMF in singer-songwriter-ish action.
They weren't bad by any means; it's just that contrast between the two styles seemed quite noticeable (unlike with The Goldest), as if two different groups were playing. Still, at the end of the set, What Made Milwaukee Famous reverted to the type of music I find more familiar and closed out on a high note.
There was yet another long-ish pause while What Made Milwaukee Famous loaded out and the headliner, Birmingham, Alabama's Wild Sweet Orange, loaded in. This gave me an opportunity to review what I knew about Wild Sweet Orange. Apparently, this group has gained some fame because one of their songs was featured on television on Grey's Anatomy. Likewise, I've heard parts of their record, but I thought they seemed a little too singer-songwriter for my tastes. Finally, PostLibyan pointed out that he thought he saw stickers for The Grateful Dead on their guitar cases, and I'm just prejudiced enough to think that this might not be a recommendation.
So I more than a little surprised when these 4 piece took the stage and began to play. Yes, main man Preston Lovinggood's vocals were the definite focus of the songs, but the backing music tended to be a little noisier and more insistent than I would have thought. In fact, during certain instrumental interludes, the music soared in an almost epic pop fashion, like the best parts of Oasis back in their heyday. And although there were times when Wild Sweet Orange tended to invoke the rapid pace and staccato guitars of any number of Southern rock outfits, the band played with intonation and volume changes so as to add a new spin to the sound. In short, Wild Sweet Orange came across better on stage than I ever would have expected. I'd certainly like to see them again at some point, just to find out if my impressions were correct.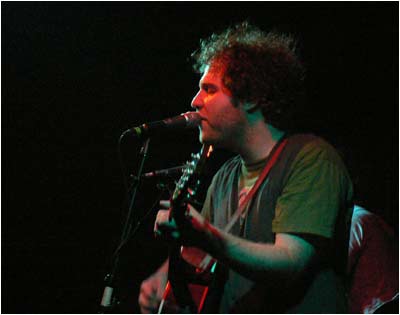 Preston Lovinggood on guitar, vocals, and frizzy hair.
I knew it was going to a be a strange evening when I walked into a wedding proposal, and the music bore this out. But, despite the challenges I felt listening to What Made Milwaukee Famous, I thought they put on a decent little set. And the other two bands were quit good, which I guess means it was a pretty durn good evening of music.