It's no secret that we here at Evil Sponge HQ have an abiding love for Chicago's Tijuana Hercules. Part old-time blues, part straight up rock, and inevitably rambunctious, John Forbes and his merry band of misfits always put on a loudly intricate and enjoyable live set. I've seen them play in most of the venues around in Atlanta, but I had never seen them at the Star Bar. In fact, come to think of it, it's probably been a couple of years since I'd even been inside The Star Bar. So, knowing we were in a for a good show and knowing it was likely to be an old home reunion kind of night, we set off to in some ways relive our misspent youth (or rather our misspent early 30s, as the case may be).
Once we got to The Star Bar, it was good to know that some things never really change. The Star Bar looked much the same, although most of the dangling decorations have been removed. Still, the rickety chairs and structural deficient bathrooms remained the same, as did the mass quantities of PBR. Likewise, the show began every bit as late as I would expect. While other venues these days try to get things off the ground by 10 PM or so, the first act didn't even look at the stage until after 10:30. Ah, the good old days...
The first group on stage, Woman's Work, was advertised as an Atlanta super-group and as I watched the various musicians pick up their instruments, I could easily see the point. The drummer was Will Fratesi, a mainstay of percussion in so many 90s and 00s bands.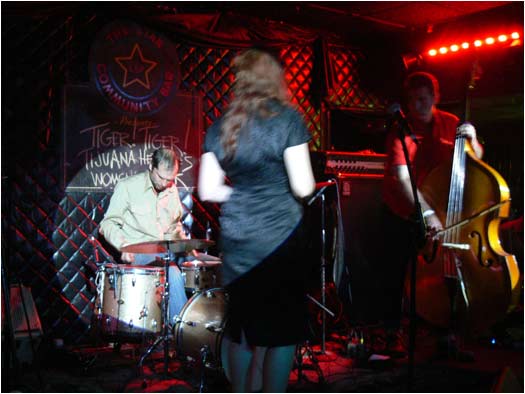 Will Fratesi in the spotlight.
Likewise, Shannon Mulvaney and that guitarist from Club Awesome also took part of the proceedings.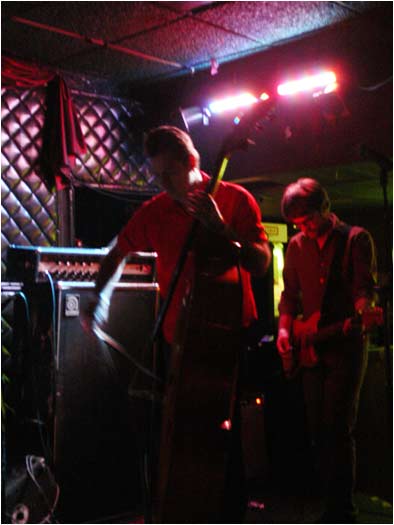 Shannon Mulvaney on upright bass.
However, the band was led by a female vocalist/violinist who I vaguely recognized, although I couldn't tell you if it's because I've seen her in a band or in the crowds.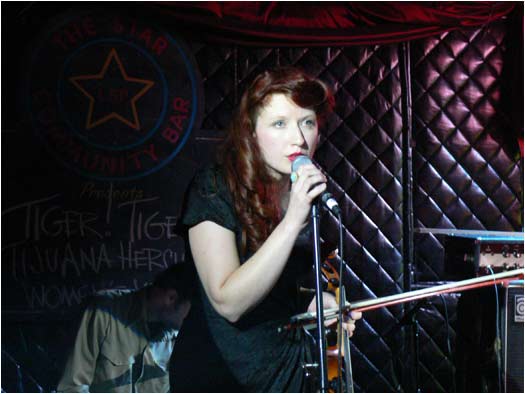 Musically, Woman's Work harkened back to the darkly moody, vocally intense sound heard in Atlanta some 10-15 years ago. It reminded me a bit of the early days of groups like Envie, American Dream, or even shades of Kelly Hogan (before she entered her more country-influenced phase). It was nicely done, although you could tell the band hadn't played out much because certain interplays seemed a little tenuous. Having said that, with that line-up of talent, it's not surprising that the band pulled things off and were so interesting that I made a mental note to catch them again.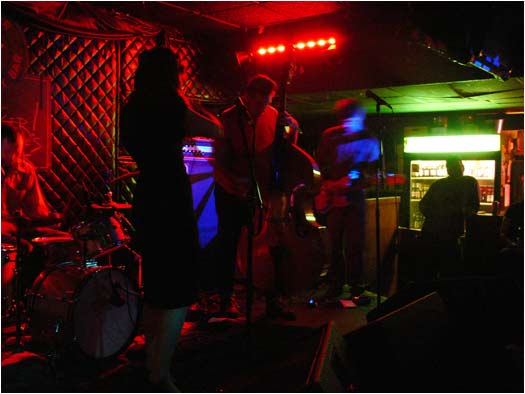 Afterwards, Tijuana Hercules came on the stage. In this incarnation, John Forbes was backed again by drummer Tony Mendoza (who backed him earlier this year at the 529 Club and showed up as the drummer for Chicago act Unicycle Loves You at SxSW this year). In addition, he added two horn players/percussionists to the proceedings, which reminded me of the first few times I saw this band live, back when the percussion included coffee cans and other assorted sound effects. This expanded line up worked in general, especially when the horn section danced around the crowd and tables of the Star Bar and livened things up.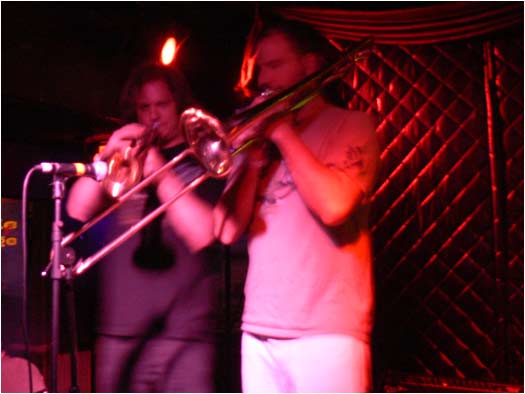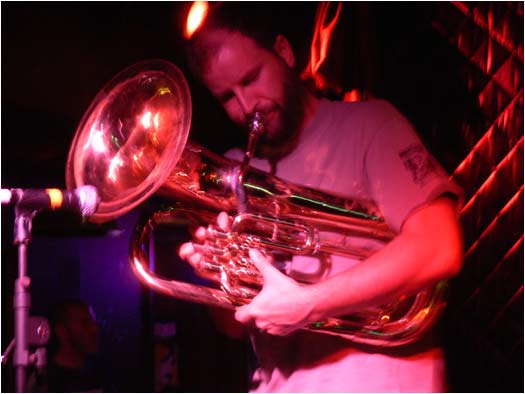 Still the core of Tijuana Hercules's live shows is John Forbes himself and the crunchy, hard beat of his drummer.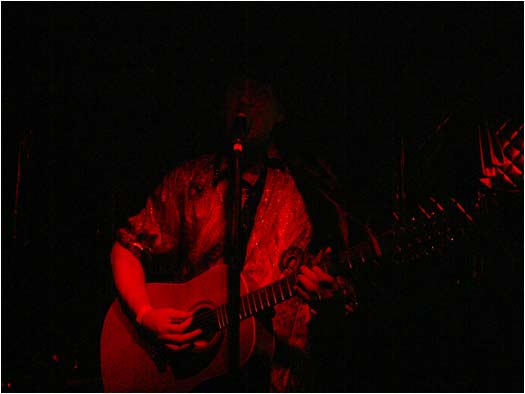 The shadowy Mr. John Forbes.
As usual, Forbes's guitar and vocal style is a mix of mid-twentieth century blues, country and rockabilly combined with a frenetic energy that makes the music just soar along like a beat up jalopy.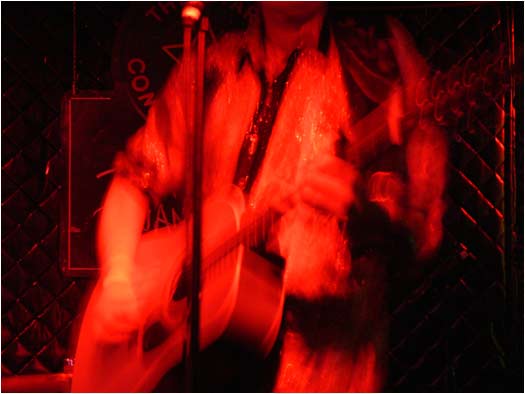 How does he make such a racket with just a 12-string acoustic guitar?
They play all songs end to end without taking any reasonably break. All of this compressed force makes the time fly by as you're drawn into the miniscule world that encompasses everything, where there is nothing but the music to surround you.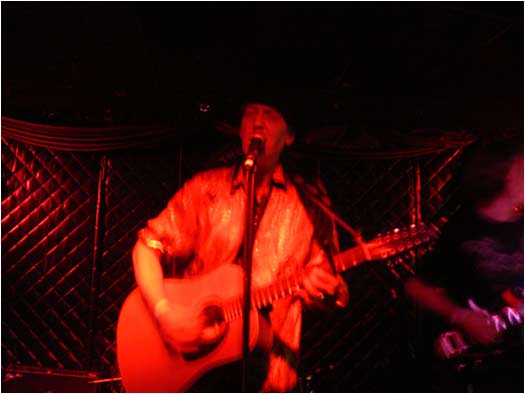 And it was a bit of a discordant moment when the music suddenly ended after an intense 40 minutes or so, and I looked around to find myself still standing in the Star Bar. Still the sheer joy of hearing Tijuana Hercules rang in my ears as we called it a night while still floating in that microcosm of music.