Review:
For some reason, it seems like these days, 529 has become Evil Sponge's default venue. I suspect it's because, in general, we always do prefer music that's weirder or local or whatever isn't happening at The EARL on any given evening. It's not an intentional preference; in fact, 529's habit of following old-school Atlanta live show hours (first band at 11!) drives me insane (listen: I have a day job. I have to be at work at 7:30 am. Late night shows are painful). But they do in general have good music, the beer is cheap enough, and the line-ups are fun. So, despite any inherent sleepiness, we do venture out, even if making it through the headliner on any given evening is touch and go.
Anyway, for me at least, although the ostensible headliner, Accidents (1/2 of Neon Christ), was a big draw for most folks, I was there to see the middle band: Tijuana Hercules. Tijuana Hercules is really the brainchild of ex-Atlantan John Forbes (see: Dirt) augmented live by a rotating cast of musicians. I've seen them play as a three piece, and I've seen him play with a very very extended lineup. So, on any given evening, the number of people on stage can vary wildly. Nevertheless, Forbes's vision of old style Chicago blues (and a hint of old old country) is always incredibly compelling and, more importantly, fun. Therefore, since we hadn't see him in quite a long while, off to 529 we went.
Not surprisingly, the first band didn't go on until 11. This was Atlanta 3-piece Superpill, led by singer/bassist Jenn Downs.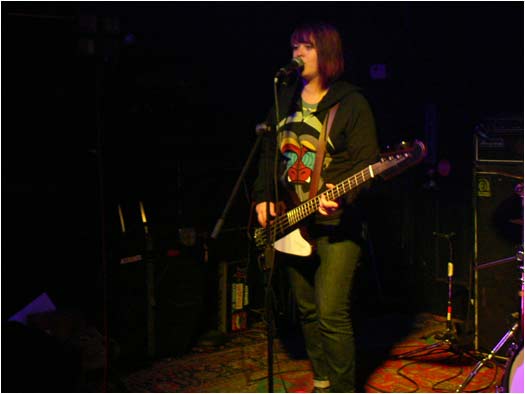 Ms. Jenn Downs.
On first seeing them take the stage, I knew I was familiar with her from somewhere; however, it was only in writing this review that I realized she used to be the bassist in Creve Coeur, an Atlanta band from some 5 or 6 years ago. Downs also played in a couple of other garage-bands form the same time period, so I guess I should be surprised that this new band has a garage punk sound. To my ears, I heard influences of The Runaways/early Joan Jett, although in retrospect, they reminded me more of 80s band Antietam.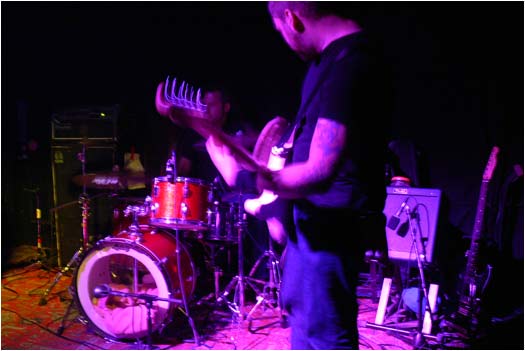 They were solid enough, with a strong rhythm section, but I already had the Chicago blues in my brain, and I suspect I'd appreciate Superpill more on a different line-up.
After Superpill finished, we waited briefly and then Mr. Forbes took the stage, playing a 12 string guitar and backed only by a drummer (who physically resembled British comedian Rowan Atkinson).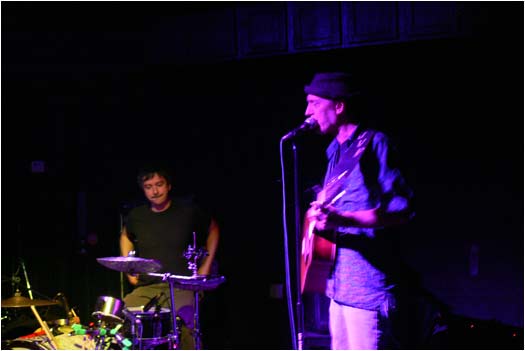 With a quick strum, Forbes launched into a blistering quick and hard set, consisting of his trademarked sound. I know he played different material than the last time I saw him (not surprising, as it's been eons), but the new music is still instantly recognizable as Tijuana Hercules: part blues, part hootenanny.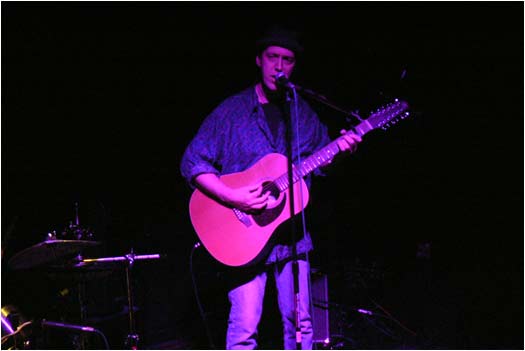 It's an enthralling performance, mainly because Forbes creates guitar sounds while playing alone that many bands would struggle to create with multiple musicians. Combining that with the sheer joy and intensity Forbes brings to the stage (which was well-punctuated by the simple but focused drumming) and time flies by as you're lost in the music. I was so very sad when he ended after what seemed like a very short set, but it was brilliant while it lasted.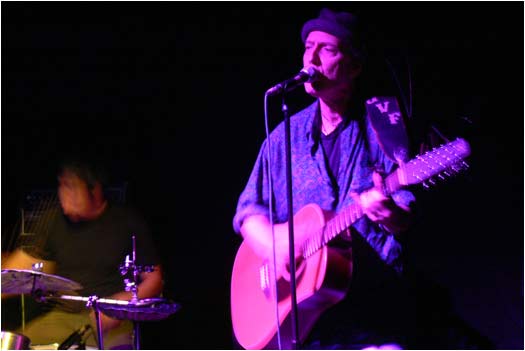 Although Tijuana Hercules ended fairly quickly, we decided not to stay for Accidents. Some of this was due to increasing exhaustion, but much of the decision came about because I knew that, after hearing Tijuana Hercules, anything would be a disappointment. So we left, happily riding a wave of Chicago blues and eager to have Mr. Forbes and his crew come back to Atlanta.