The past couple of years haven't been a particularly thrilling time for live shows in Atlanta. Some of this I think has been due to the vagaries of touring in a bad economy; however, much of this is really due to the fact that I have, despite my best efforts, gotten older. The age thing doesn't necessarily effect my enjoyment of live music. Rather, it means that I seriously do not go out on weeknights (unless I have the next day off), which translates to not seeing as many local up and coming groups as I once did, since my shows are essentially limited to weekends.
Anyway, this is a roundabout way of saying that, when we realized that our old favorites The Liverhearts were playing a set at the Star Bar on a Friday evening, it seemed like a good way to metaphorically ring in 2013. Unbeknownst to us, this was actually a four band evening: the headliners, local band Glen Iris, had several musicians with whom I was familiar and were doing a CD release, while the earlier two openers were truly unknown.
After a burger and some beer over at The Vortex (a long-standing pre-Star Bar tradition), we traipsed over to The Star Bar just in time for the first act. This was Duende, who were in fact another Atlanta band. From the first, I thought they were very loud, and yet interesting. The band managed to combine a throbbing, very dominant and heavy low end with a spacey, almost funky higher end.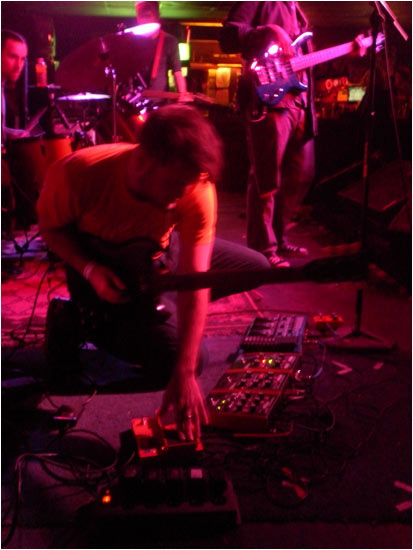 ... and lots of pedals.
The effect was both Primus-damaged and slightly jazzy, although the more screamy vocals were a bit disconcerting. At times, the songs didn't seem flow as fluidly as I would wish; however, considering that Duende are a new band, I suspect some of the awkwardness is a just a matter of the members not fully working out their sound as of yet. Either way, for a first opener Duende wasn't bad at all.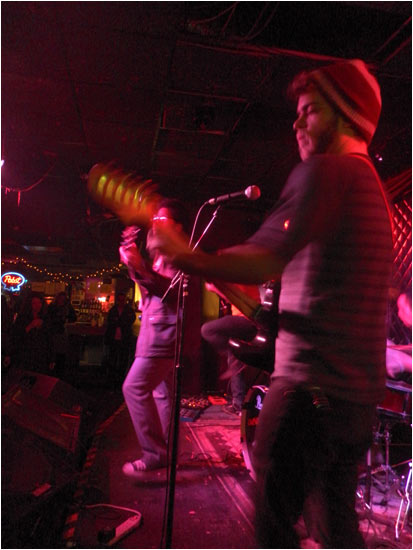 After Duende came the next band, another group with which I wasn't familiar: Hip to Death. At the time, I thought they must have been a touring band; however later research confirms that this three piece is another Atlanta band. When they began to play, I can truthfully tell you that I really liked them. The group played a hard, post-punk type of sound that consisted of a fast-paced beats with effected guitar and rhythmic basslines. Over it all, the tall male lead guitarist sang in a hoarse voice that reminded me more than a little of Eric Bachmann in his earliest Archers of Loaf days.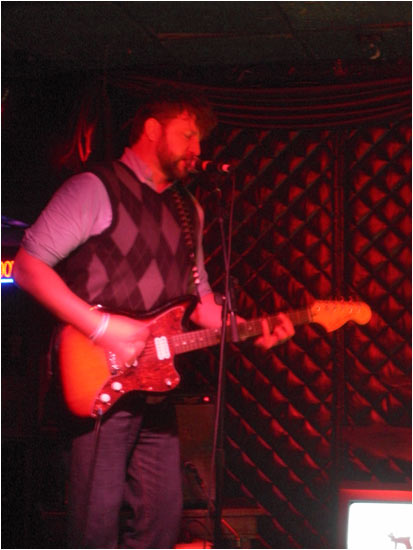 The fact that he was very tall just contributed to the Bachmann comparison.
Likewise, the melodies had that early North Carolina-esque Indie post-punk feel, so that the music was very bouncy and almost jangly at times. In other words, I was really impressed with Hip to Death and would like to catch them again soon.
Then, it was time for The Liverhearts. Historically, I've always really like The Liverhearts and their 2008 release, Ornament, is one of my favorite Atlanta releases of the last decades. Their mathy, angular post-punk sound has crystallized over the years into a book of solid rock tunes that are true to their roots while being infectiously catchy at the same time.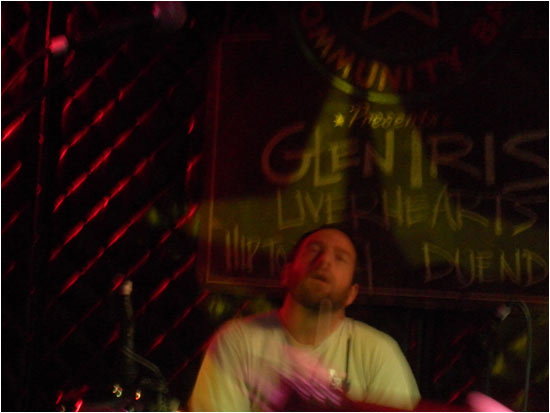 I like this shot of the drummer lost in the ecstacy of playing live.
Anyway, The Liverhearts are currently a three piece, with the same drummer and guitarist I have always remembered, while bassist duties are currently handled by Atlanta musical stalwart Brandon Arnold.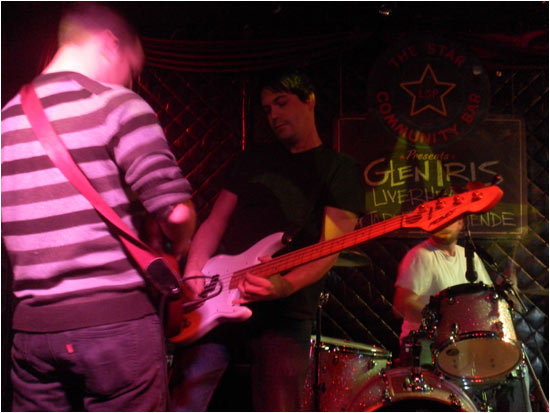 Although Mr. Arnold did seem a tad bored at times...
I think The Liverhearts may have played a couple of new(-ish) tunes, but the highlights were the classics that comprised Ornament and their other releases. We stood in the Star Bar, bouncing and singing along with the band, as they plowed through song after Song, brining a energy to the music which was invigorating. In fact, I spent much of their set thinking about how I'd always like the group, but it was so very nice to hear them sound so well honed and together, without any sloppiness or missed beats. Their set was great, and I definitely want to see them again without several years going by.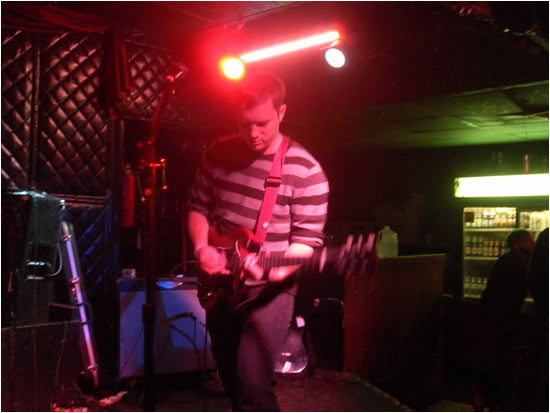 After The Liverhearts finished, we still had the headliner, Glen Iris, who I really wanted to see because I've heard such good things about them. However, it was a Friday night, and I'd already been awake a good 18 hours at that point. So rather than stand around drowsily and not fully enjoying myself due to exhaustion, we decided it was best to head on home. So, although we didn't see the entire show, I think the three bands we did manage to catch provided a fine evening of music. Let's hope we see and hear more from all during 2013.
Did you know that a velvet painting of Snoop Dog hangs over the bar at The Star Bar? Well, it does: