I had really been looking forward to this show for over a month, for a reason that did not happen. You see, when this show was announced back in December, Beat the Devil was on the bill. On Friday night, while at The EARL for a similar, but unrelated, experience, i learned Beat the Devil were stranded in Ohio. Their van blew up in Columbus, stranding them in my ethnic homeland. Oh well, sometimes these things happen, and we still had two good local bands who do not perform very often on the bill. So i have to admit, i was still looking forward to this evening, even without Beat the Devil.
We arrived at an EARL standard time of around 10 PM, hoping that with two bands things would get an early start. Silly me. Instead of starting early, the EARL got the normal door guy to DJ, thus filling in as the third act of the evening.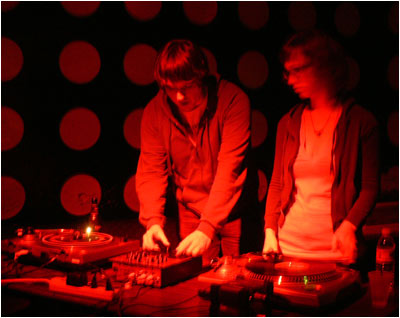 Random DJs at The EARL.
He tag team DJ-ed with some female i haven't really noticed before, and the two of them spun a lot of indie rock and old 60s pop. It was pretty enjoyable to listen to the tunes while the club filled in with local scenesters. Two bands who haven't played out in a while is sure to draw in the concert going crowd.
The Liverhearts took the stage, as expected, at 11 PM. I don't think that i have seen this band in a year or so, nor have i seen them listed as playing many shows. So i was rather surprised when they announced that they will have an album (their debut, actually) out in a few months, and that tonight's set would consist of the tracks off of the album, in order. Cool.
I recognized quite a few of the songs, which is not unusual considering that The Liverhearts have been playing the same material for three years. And actually, there were a few new songs as well, and they sound great, if typical for The Liverhearts.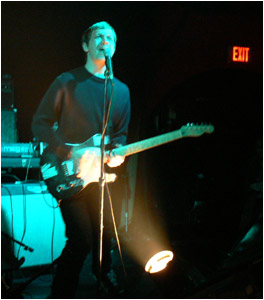 Liverhearts vocalist with creepy underlighting.
The Liverhearts are a post-punk trio. The guitar is trebly and fast, and the vocalist shouts his lyrics in a rapid, staccato style. The bass is a slippery thing, playing some pretty complex parts, and the drumming is thunderous and scattered. They invoke a feeling of post-rock as well by using some stop/start rhythms, and also seem almost math rock in some of their rhythm changes. So post-math-punk? Something like that. Although nothing that they are doing seems particularly out there, they blur the lines between several genres. I think that makes them pretty interesting, although i suppose that if you dislike one of the genres, the band might turn you off.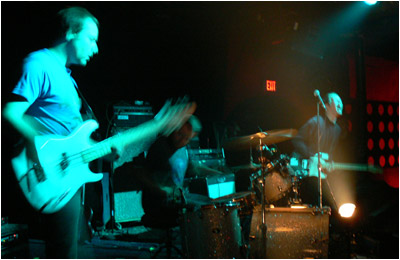 The Liverhearts in action.
I really enjoyed their set, and i found that i missed The Liverhearts. What the heck have these boys been up for the past year or so? Why don't they play live often? Does the impending album mean they will actually play out more? I certainly hope so, because this was a really fun set. For a band that hasn't performed in forever, they sure were tight!
I guess that their album will last about 45 minutes, because that is roughly how long it took them to play it live. Look for a review to follow.
We had another short intermission of DJ-ing, during which the progressively drunker DJs descended further into the realm of 60s pop, and scenesters stood around and chatted. The Atlanta indie rock scene just isn't about dancing.
Around midnight Rizzudo took the stage. This band hasn't played in a year, but that was intentional. They were taking a break after a long year of touring, and getting some of their gear stolen. This was their first show back. They even joked about how they were curious to hear how they sounded, and as the crowd laughed at the joke i had a moment of dread: if they really hadn't even practiced in a year, this could be awful.
You see, Rizzudo's music is awfully precise. There are complex rhythm changes, lots of harmony (often shouted), and some pretty intricate, almost proggy, keyboarding. If they really had put everything aside for year, there was a lot of room to screw up in.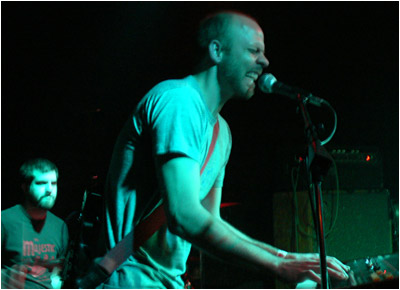 Rizzudo: not out of practice.
Fortunately either they were teasing us and had at least practiced (and why not, since they are brothers after all), or the songs they do are so ingrained into them that they were able to pick it up where they left off all those weeks ago. I admit that i am kind of curious to see which is the case. Maybe i will be able to find out from them at some later date.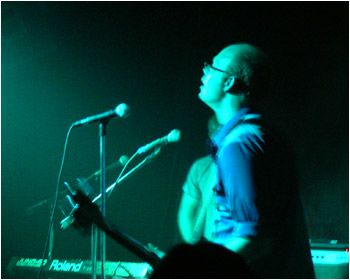 Rizzudo in blue light.
Rizzudo played about 45 minutes, tearing through an awesome version of Seventeenth Street, as well as other of their "hits". Well, since they haven't even recorded these songs, i doubt they count as hits per se, but they played a lot of songs that i was familiar with from seeing them in the past. I think they pulled it off rather well too. Rizzudo are another band that i have missed, and i hope that they are back for good, and will play more shows.
Overall, despite the disappointing absence of Beat the Devil, this was an enjoyable night. I hope that it won't be over a year until we see both bands again.