It was a cold, snowy day, the Blizzard of 2009, in fact. It snowed non-stop between 11:30 AM and about 5:30 PM. That is 6 hours of snow, which is an awful lot in the South. In fact, as i type this, three days later, there is still snow on my front porch, which, to be fair, only gets sunlight between 11 and 11:02 AM every day. This is a serious event in Southern life.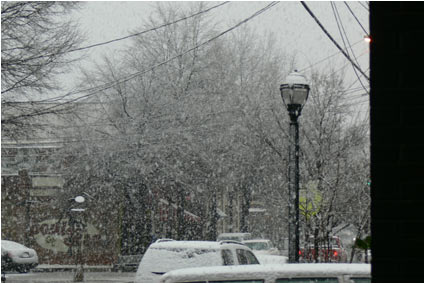 Look at that snow coming down!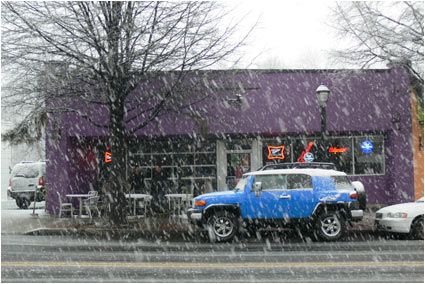 Where else is an Atlantan Indie Rocker going to go during a blizzard than the warm,
beer-saoked safety of The EARL.
And who knew that the outside of the building was purple???
So, just in case this "snow" caused society to collapse, i went out to The EARL, where i could be surrounded by other humans (who were largely liquored up in the afternoon), eat some good food, and hear some interesting music.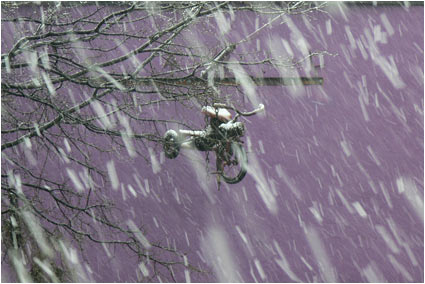 Why does a tricycle hang outside of The EARL?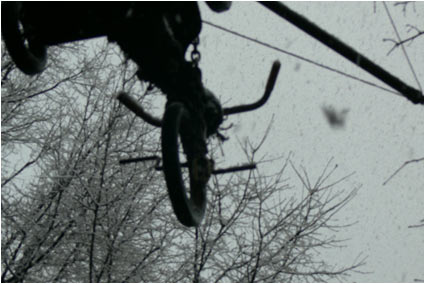 The blizzard makes The EARL's trikie look ominous.
On Sunday afternoons The EARL serves "dunch", which is the meal between dinner and lunch. It's a late brunch, i guess. You can get some breakfast style foods, and in typical EARL fashion the food is well-prepared and tasty. I had the "cream cheese and lox omelette", which was as good as it sounds. Even so, i rarely make it out to dunch on Sunday afternoons. In fact, this is only the second time in a little over a year. In fact, both times i really went to see Jupiter Watts perform.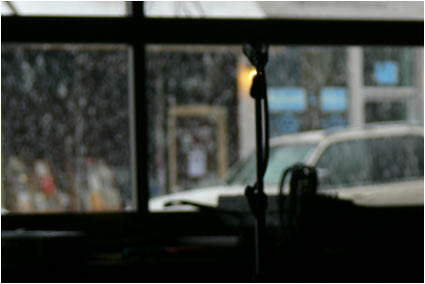 This band has been through several lineup changes over the years, the most recent being losing drummer Kevin Wallace, who moved on to golder musical pastures. His absence means that main Watts Ramon Wals and James Trigg now split drumming duties as well as their regular guitar and vocal duties. Those two are so busy that they make keyboardist Clay Fowler and bassist Jared Welsh seem like slackers with their wimpy "one instrument only" roles in the bandů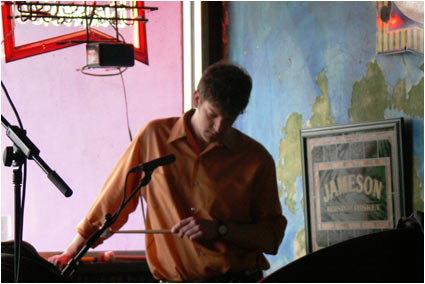 James Triggs soundchecks the drums.
The lineup change has helped to amplify other changes that had been occurring with Jupiter Watts. For a few years now, the band has been experimenting with a mellower, more ambient sound. Personally i find ambient music to be the perfect accompaniment to omelettes with smoked salmon, but you might think otherwise. However, there was a good crowd at dunch to see the band perform mellower tunes, against a backdrop of driving snow.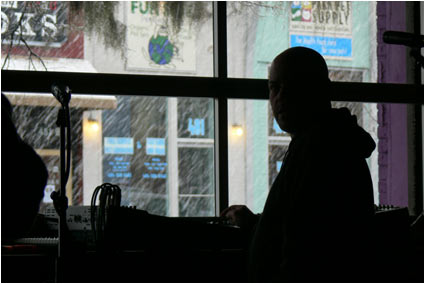 Ramon Wals checks sound levels before the set.
Jupiter Watts played two sets, each about 50 minutes long.
The first set started with band making a nice drone involving FM3's Buddha Boxes. They would set the box to a drone, and hold it up to a microphone, or use it as an e-bow (a use which i found to be truly fascinating, as the wavering FM3 tones caused strange things to happen to already heavily effected guitars).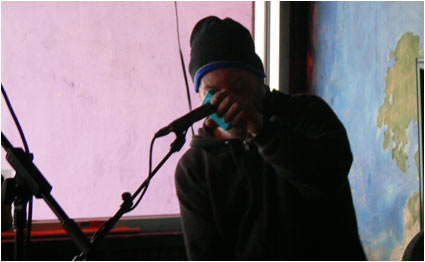 Ramon Wals with Buddha Box.
That was neat enough, but then they worked two older tunes into the mix, each song changed from the previously recorded form into something new and beautiful. Nothing At All became an almost Velvet Undergroundish tune, with sparse drumming, chiming guitar, and Welsh really laying down a groove to drive the song along. Aglow was sheer perfection, with the vocals drawn out and the guitars chiming in layers.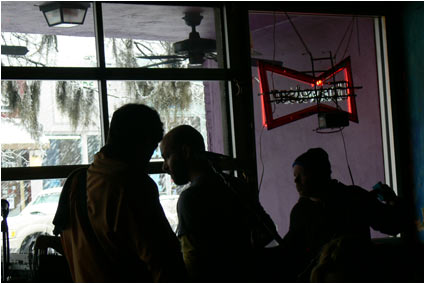 Does this count as a love collaboration between Jupiter Watts and FM3?
After about 40 minutes, they went into a nice mellow drone that they told me is called Big Black Couch, and then segued that into their cover of The Beatles tune Tomorrow Never Knows. Fowler really dominated here, his droning organ playing tying the two songs together into one whole. Really lovely.
And then they took a quick break to fetch more coffee, but were back on in 30 minutes. They started with another FM3 drone, Wals using the Buddha Box e-bow to great effect. I really like the sound that produces.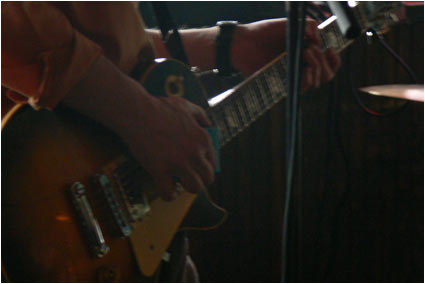 Tirgg using the Buddha Box as an e-bow.
After a little bit of that, Wals moved to drums and Trigg took lead vocals for a song that seemed vaguely Can-like to me, with clattering percussion and a deep bass groove courtesy of Mr. Welsh.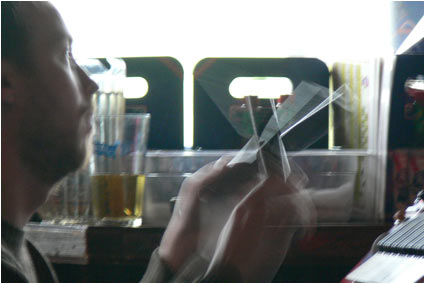 Clay Fowler on percussion.
They followed this with another Trigg-led piece, but here the sparse drumming and deep basswork seemed more tense, and i was really reminded of the work of Shipping News.
Fowler moved to drums for a few songs, and Trigg and Wals shared the guitar and vocal work, as they do so well. They did two new songs, both of which were nice, but the second one really grabbed my attention. It was a long psychedelic concoction of guitar noises in a Spiritualized vein, with Trigg singing "Thursday morning ghosts are all the same" over and over, as the guitars spiraled in a noise that was worthy of the Spaceman himself.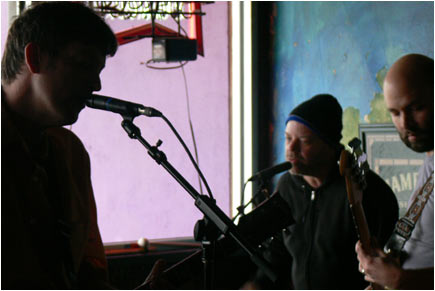 Jupiter Watts in harmony.
They played one last new tune to end the day, Wals playing and singing lead with some nice fuzz on his guitar, which again reminded me of Spiritualized. It was an excellent end to the set.
I personally really enjoyed this show. I cannot imagine how it could have been better (well, maybe less cold would have been nice). The music was perfection. Jupiter Watts are doing a lot of really interesting things these days. This set was their first performance since May of 2008, but obviously they have not been slacking off.
I have been paying attention to their blog, where the band has posted numerous demos of many of these reworked tunes. The band is moving in a direction that i like very much, and supposedly they have two more shows coming up in the next few months. I will be there, if scheduling will allow, and i highly encourage you to check them out, if your schedule will allow.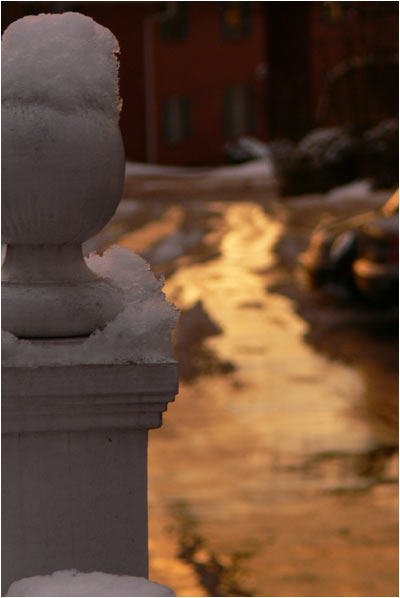 In snowed for 6 hours or so, but immediately afterwards, the snow started melting.
Such is the nature of a Southern Blizzard.