It was another rainy night in Atlanta, GA; this isn't too surprising as recently my hometown has apparently taken on the climate of a rain forest. But neither floods nor dreariness were enough to keep me at home, since Champaign's Headlights are one of my long time favorite bands who were making their first Atlanta appearance since their rather sparsely attended show at Lenny's several years back. That's not to say I haven't seen them in the intervening time, as they are one of those acts I deliberately go to see at SxSW every single year. However, it's still nice to see them on my home turf for once.
Arriving at a relatively early hour, we walked into The Drunken Unicorn to a smallish crowd and a band tuning on the stage. Quickly, we determined that this was Pomegranates, a four piece from Cincinnati Ohio, which means we missed the first opener, Little Tybee. While it was a bit disappointing to miss that opener, it did mean that Pomegranates took the stage promptly at 10:30, which suggested that I would make it home at a decent hour.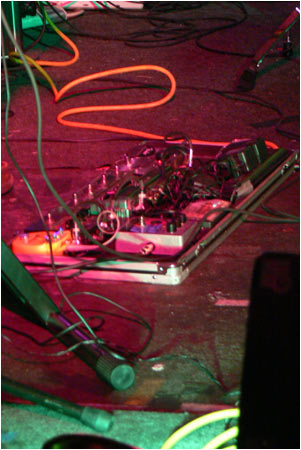 Check out the retro pedals Pomegranates had on thier pedal board!
Prior to this set, I was more or less totally unfamiliar with the work of Pomegranates. I know they are touring in support of their second full length, Everybody, Come Outside!, which was released in back in the spring. From looking at the stage, I could tell they were a four piece with guitars, bass, synthesizers, samplers, and drums.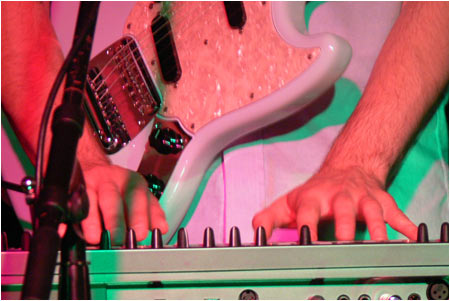 Pomegrante synthesizer.
And also from looking at the stage, I could tell they were having an amp issue, which seemed due to some standing water from those afore-mentioned rains. However, once the band got everything fixed up after an abortive first song, things quickly sprung into action.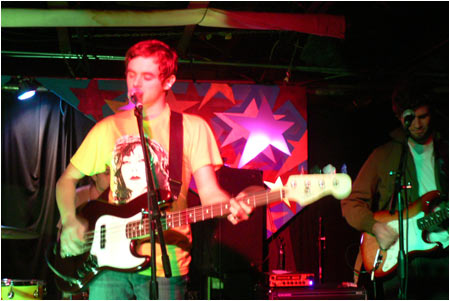 Pomegranates in action.
Thinking through their set, Pomegranates reminded me most strongly of the music found on Magic Bullet's A Child But in Life But A Doctor in Love, complete with jangly, yet syncopated, tremolo-laden guitar work. Likewise, other tunes had a stronger, synthizer basis, somewhat akin to the poppier moments of Oh No! Oh My!. Still other songs had a slightly funkier, almost dancey feel, which brought to mind the one time I saw VHS or Beta, many moons ago.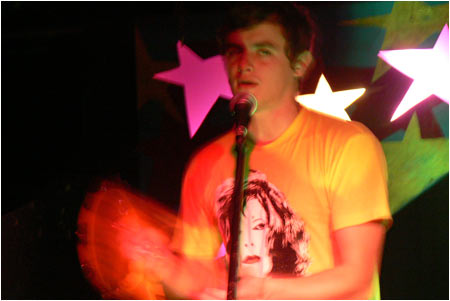 Pomegrante tambourine.
Nevertheless, despite these varied influences, the band sounded like a coherent whole, primarily on the strength and consistency of drummer Jacob Merrit. Additionally, during many of the songs, the band would changed rhythm or tone in a way that came across as a natural amalgamation as opposed to a mish-mash of different styles. Finally, at various points, the entire front line of the band would harmonize perfectly, which is always impressive in a live environment. Taken as a whole, Pomegranates were quite enjoyable while still being a little unusual and I would easily go out of my way to see them the next time they play Atlanta.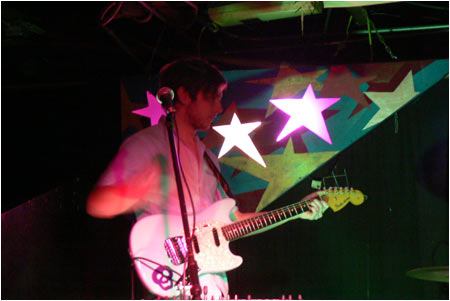 Pomegrante guitar.
After a quick changeover, Headlights got onto the stage. As I mentioned above, this four piece is one of my favorite bands with the almost ethereal vocals of guitarist Tristan Wraight and keyboardist Erin Fein contrasting with the effected guitars of Wraight and the harder drumming of Brett Sanderson.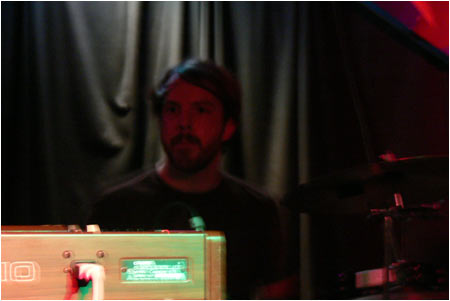 The rare dummer photo of Mr. Sanderson.
But truly what I most enjoy about their live sets is how the rhythm section of Sanderson and the bassist (whose name escapes me) becomes more prominent and fast, so that the comparison between that and the more gentle vocals and guitar work becomes more noticeable and intriguing.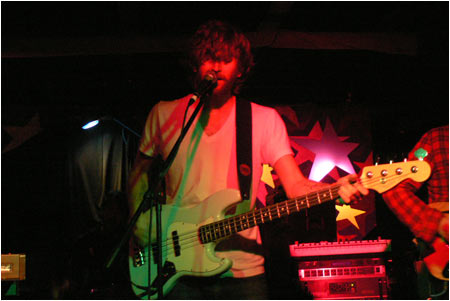 Note to Tracers: this guy is Nick Sanborn (according to MySpace).
Musically, this band is very compelling as well, with songs that just drip catchy pop melodies, something that always appeals to me.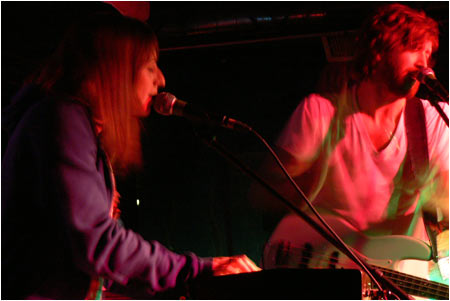 Fein and Sanborn harmonize.
Having said all that, on this evening, Headlights seemed to be in rare form. Not surprisingly, tunes from their newly released record, Wildlife, were rather prominent within the set list. While this new record seems more introverted and melancholy than Headlights's past output, the live versions of the various songs were more intense and more rhythm driven. In particular, Telephone and Secrets (the opening tracks from the album) came across with a renewed sense of energy and exhilaration.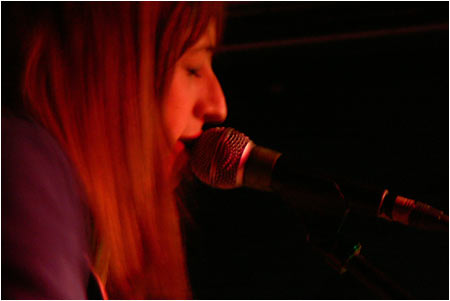 Closeup of Ms. Fein singing.
Even the moodier songs like Dead Ends seemed more outgoing and warm than they come across on the record (they may have been helped by the extra reverb that just pervades The Drunken Unicorn). And of course, I was really pleased to hear the band pull out one of my old favorites, Centuries which has the incongruously catchy chorus of "We'll all die someday."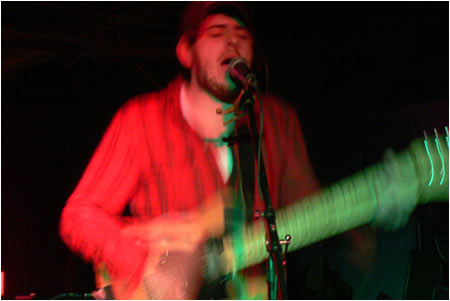 Wraight will, in fact, die someday. You will too.
As the band came towards the end of what felt to me like a short-ish set, I was struck again by just what a brilliant live band Headlights is and how it's such a shame that more folks haven't heard of them.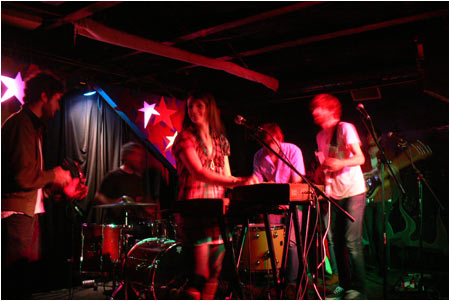 Pomegranates joined Headlights on stage for one number.
In retrospect, I have to think that this was perhaps my favorite show from 2009 in an overall sense. I'm sorry that we missed the first opener, but this left me with two near perfect bands who played in the correct order, with Pomegranates being a joyously bouncy opener for Headlights. Both bands played short sets that did not wear out their respective welcomes and left me wanting to hear more. It was just a lovely evening.