This is my third time seeing Oh No! Oh My!, and the second time i have dragged Tracers to see them. This band makes catchy indie pop, and i enjoy their music. They were playing on a Monday night, which meant no one would be there to see them, so we made extra effort to get there for this show.
We arrived at about 10 PM. No band was on, and The Drunken Unicorn was mostly empty and freezing. Brrr. I guess they got the AC fixed since that sweltering evening i spent here sweating along with A Silver Mt. Zion. Tonight, i almost wished that i had brought a jacket, or at least a thicker shirt!
Just after 10, the first band took the stage. This band featured the keyboardist and drummer from Oh No! Oh My!, as well as a bassist, guitarist, and a trumpeter.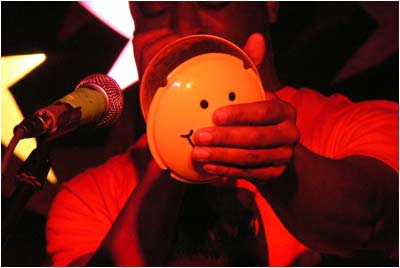 Antenna Shoes featured a happy trumpet.
You don't see enough indie pop with horns, in my opinion, so this was a welcome sight. The band is called Antenna Shoes, and it is the project of Tim Regan, who happens to also be the keyboardist in Oh No! Oh My! In a sense, he was performing as his own opening act. I guess that saves money on gas while touring…
At any rate, Antenna Shoes make catchy indie pop, and the trumpet adds just a hint of depth. The band came across reminding me, ever so slightly, of Seven-era James. This is a good thing. They played to about 10 people, and joked and made it into a fun time. They were enjoying themselves, and it showed.
A quick changeover, and the second band was on by 10:50. This is a five-piece from Knoxville called Royal Bangs.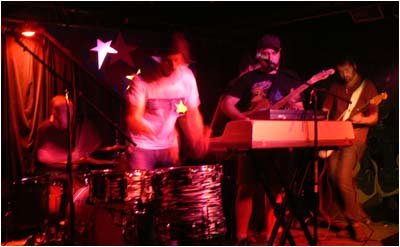 Royal Bangs, from Tennesee.
Their music was a sort of epic, new wavish sound. That is, the music was spacious, with echoing guitars, ringing keys, thundering drums (seriously -- the drummer was loud!). Plus, they had custom amp heads that lit up as they played. I have to say, i have never heard of them before, but i was suitably impressed.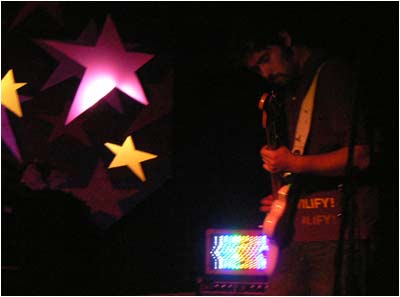 It is hard to really portray in photography, but that thing that looks like a Lite Brite
was an amp head, and the lights cycled as they guitarist played. Very cool.
Finally, Oh No! Oh My! took the stage at just before 11, on a Monday. They were playing to a total of 13 people who were not staff or in one of the other bands. In fact, aside from Tracers and myself, everyone there knew all the words, and they danced and sang along, and even shouted for requests! I guess this was a big draw for the UT Austin alumni crowd….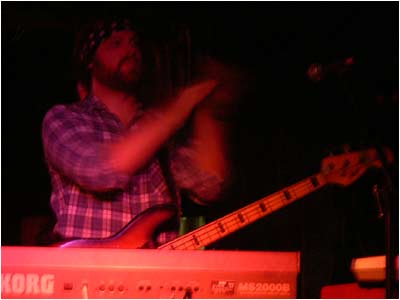 Tim Regan performs for the second time this evening.
Anyway, once again, i thought that Oh No! Oh My! played brilliantly. This band makes really happy music with great melodies and tight rhythms.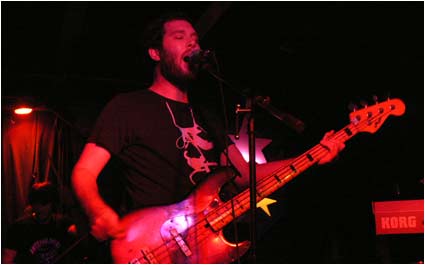 Greg Barkley on vocals.
They are supposed to have a new EP out soon, and there are rumors of an album. I expect big things -- they certainly have the songwriting ability to go far. My advice to you is to catch them now, when you can still see them at a small club.