Review:
Support act Ungdomskulen were, as the name may suggest, Norwegian. As someone whose knowledge of the Norwegian language stretches little beyond thank you, goodbye and, er, cod head, I was unable to say what their name meant, but it definitely looked like a metal type band name to me. That it transpires it actually means High School as opposed to, say, Thunder Socks or Gusset Head, is perhaps disappointing, but somehow appropriate as Ungdomskulen didn't seem to know what they wanted to be. The singer/guitarist looked like a young Jerry Garcia with a well trimmed beard and a baseball cap, the drummer could have been in the Happy Mondays whilst the bassist sported a borderline A Flock Of Seagulls haircut. The music was similarly disparate. The lengthy opening number had guitar solos and prog tendencies, so it came as something of a surprise when the next number had a ska feel. They then treated us to a lengthy drum break and ended up sounding like Napalm Death. Very little of it was my cup of tea to be perfectly honest, but the singer was an affable chap and…well, they were mildly diverting.
The Young Knives are the polar opposite – they all look like Geography teachers or characters from The Fast Show rather than a rock band, and you knew from the opening number (She's Addicted To) what they were going to sound like - the missing link between Jilted John, Wire, and early Blur.
Their singer, Henry Dartnall – surely one of the least rock'n'roll names EVER!! - was another affable front man, no doubt enjoying playing a venue in the town where he once lived (he worked in Phones for You he later informed us!). We knew what we were going to get fairly early on as the smartly dressed Henry announced that, "We're gonna play stuff off the new album and some hits from the past ten years", before his bassist brother, The House Of Lords, reminded him they'd only released one other album! Indeed, there was much banter between Henry and The House Of Lords, who is starting to look increasingly like a young Ronnie Barker.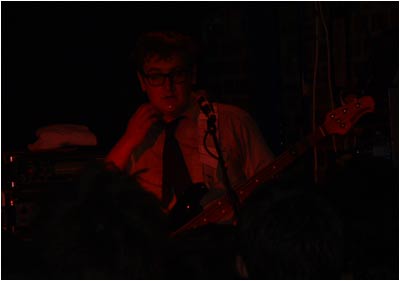 Playing bass in The Young Knives: The House of Lords. All of them.
Overall though, The Young Knives are something of a one trick pony who would probably have benefited from a shorter set, but they're a tight band who certainly had their moments. The new album, Super Abundance, was heavily featured – the recent singles Terra Firma and Up All Night obviously went down well, and Light Switch and Fit 4 U, with its Coral-like harmonies, were just two of a number of new tracks that sounded promising. Highlights from their debut album, meanwhile, were Here Comes The Rumour Mill and Hot Summer, which featured an extended intro due to the House Of Lords bass briefly packing up (the band gamely carrying on whilst the roadie fixed it, and then after Henry announced that he was "lost", they started at the beginning again).
There was a really good encore, too, comprising of Loughborough Suicide, a totally rousing cover of Adam & The Ants Stand & Deliver, before the mighty and utterly ridiculous former single The Decision ended proceedings in fine style, featuring as it did a posh looking English bloke in a waistcoat singing the silly "And if all else fails, I'm the Prince Of Wales" chorus in a small Welsh venue. It's not exactly rock'n'roll…but I liked it!