I have enjoyed the music of these two bands for a while now, so when i saw that they were touring together and ending that tour at Terminal West in Atlanta's trendy up-and-coming West Side, i grabbed a ticket and spread the word around to my friends.
Sadly, no one else was interested, so i ended up going to this show alone. As an introvert, that is both exciting and dreadful. I love music, and i liked being able to just focus on listening without having to chat with anyone. I could just listen, and think. The dreadful part comes when no band is playing, and other people, seeing a guy standing alone, think they should engage in conversation. Sadly, my phone battery is old and dying, so i couldn't just stare at FaceBook during the waiting times to seem busy... I don't handle conversations with strangers well, but fortunately only had a few awkward exchanges.
No matter. This is the kind of shit i put up with for good music. And this is good music. In fact, the two bands put on great shows.
I arrived around 8pm, when it was still sunny and hot outside. I wandered to the back upstairs bar to grab a drink and stare out over the train tracks. I like the view from that porch, and saw some cool graffiti.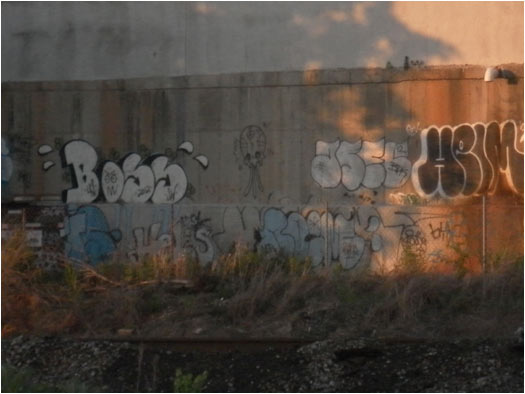 Only one train came by, and it was a very short one...
Braids started about 8:30, so i went and stood in front to watch them. The venue was almost empty at this time, which is a shame because Braids are, in my opinion, one of the most interesting bands out there right now.
They played as a three-piece this time, Raphaelle Standell-Preston in a long flowery dress played facing the guitarist with the drummer set up in the middle between them. Everyone had a keyboard and some electronics, and i think both of the guys had laptops. The drummer certainly did.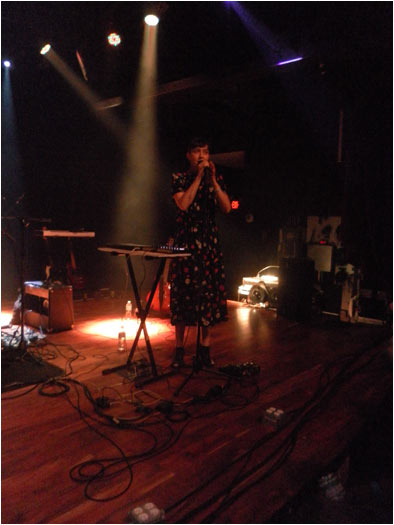 They started out with a song that sounded like The xx. Deep dupsteppy beats from the laptop thumped along as she plucked at the guitar, then the drummer came in adding an extra depth to the rhythms. Much of what they played tonight had such electronic elements mixed in with actual guitar, bass, and drumming. It was a very cool effect.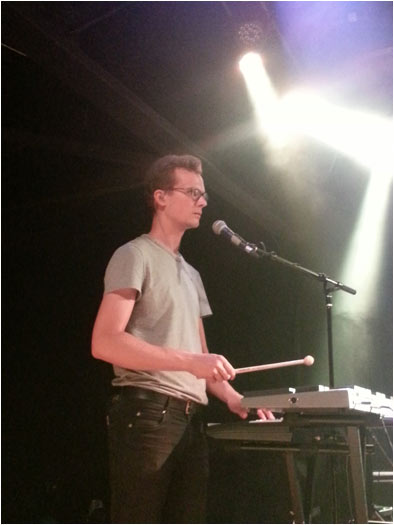 They played for perhaps 45 minutes, all seemingly from their latest record Flourish // Perish, which i had yet to find in a local record store. This stuff amplifies the electronic element in the music on Native Speaker, and i think my initial comparison to The xx holds up. Ms. Standell-Preston has a very different voice than either of the singers in The xx though -- hers is high and rich, capable of wild jumps and expressive yowls.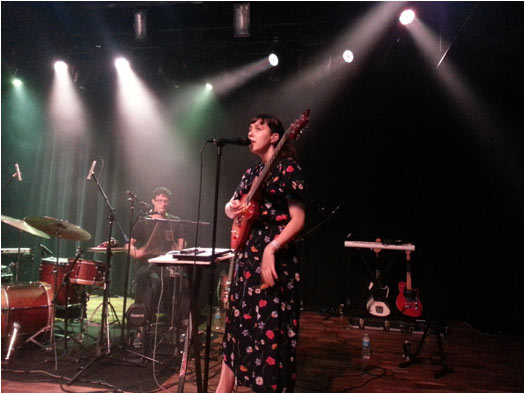 She used the drastic fluctuations less than she did the last time i saw them, but no complaints here. I really enjoyed their set. In fact, i think this was the best set of the night, and one of the best that i have seen in several months. I am definitely curious to see where Braids go next.
After they finished and geared out, there was a half hour or so of awkward standing alone while the club filled in. It was pretty packed by the time Wye Oak took the stage. They are a two-piece: Jenn Wasner on guitar and vocals and Andy Stack on keys and drums. It's a pretty simple set up, but they do a lot with it.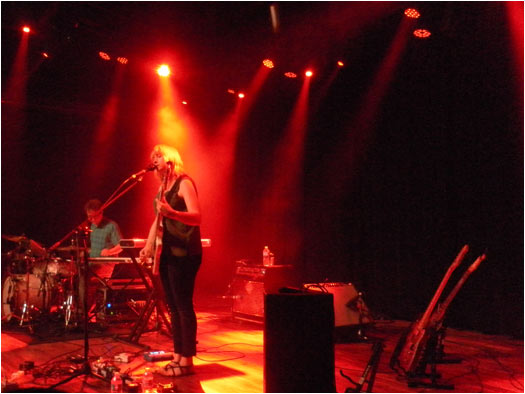 Wasner has a really interesting voice, one that is rich and has some natural resonance to it. Other than the singing, their sound is electric guitar and drums. Their newer stuff uses a lot more keyboard, but that's fine. It's not like they suddenly became Depeche Mode or anything....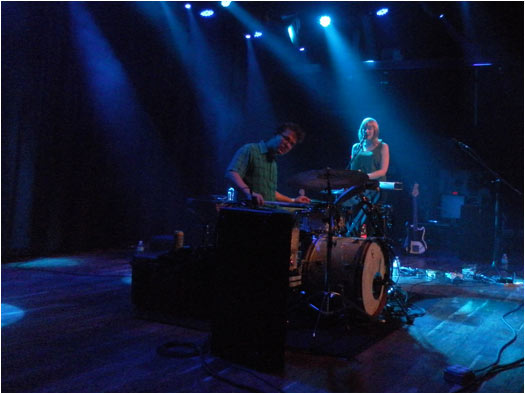 They played Holy Holy early in the set, and that is one of my most favorite songs ever, and it sounded great live. I recognized some of the other songs they played, but couldn't tell you titles. It all sounded good, the songs moving in a decent groove -- not too fast and rocking, and not too slow and boring either.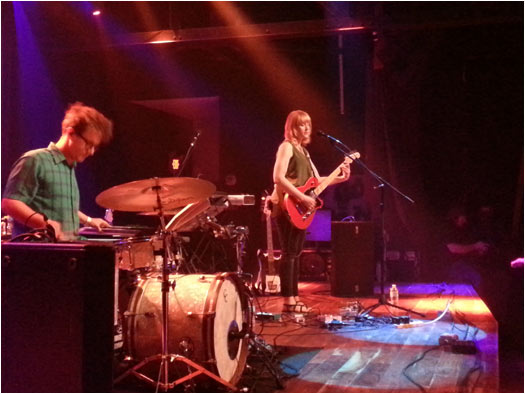 Oh, and Terminal West had a nice light show: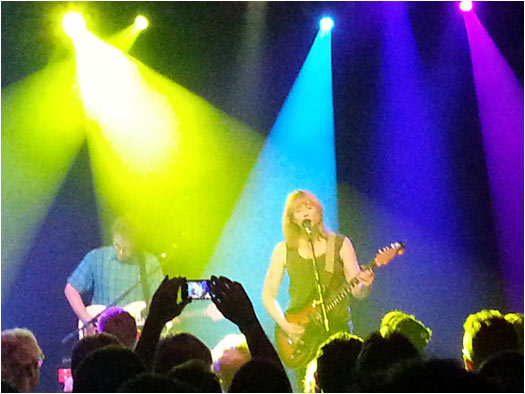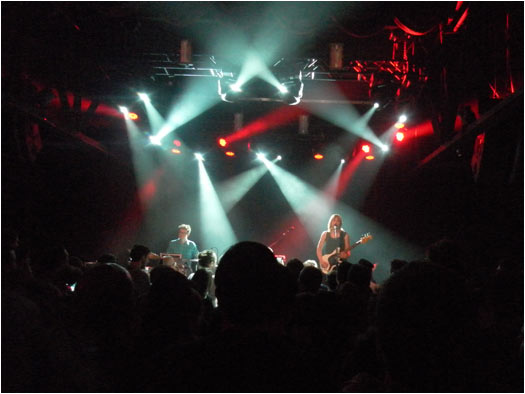 Around 10:30 or so they left for the encore break. I was pretty sleepy, and content with the show so far, but i decided to stick it out to see the encore. Unfortunately they came out and covered Kate Bush's Running Up That Hill. I dislike Ms. Bush intensely, so i decided to leave then and beat the traffic rush.
I made it home before 11pm, which was good because i had a 9am meeting the next day. Overall, a good night. Both bands are definitely recommended.