The 529 Club is a newish venue, located between The EARL and The Ice House on Flat Shoals Road in East Atlanta. That means this city now has three serious music venues within a few blocks of each other (or, rather, will have when the Ice House "resumes normal operations" in July). Wow, it is almost like this is a real city now!
Apparently the space that the 529 club occupies used to be a barbeque joint. In fact, they still have a patio, and there is a sliding window behind the bar where patrons outside can place orders. Except i bet that serving alcohol through that window is illegal in this state. At any rate, i had never been in the space before this evening.
First off i must note that this is a small venue. Imagine that you are in The Star Bar, standing in front of the stage. The areas on either side where the two bars are located is gone, replaced by walls -- the space that is left is about the size of the music room at 529. Now, off to the left there is another room with a bar, which conveniently enough has a nice big flat screen TV showing what is happening on the stage, so you don't have to miss anything when you go for a refreshing beverage.
Not that you will need to. They had the AC cranking tonight, and it wasn't even that warm. However, this did help decrease the insane levels of humidity we have been experiencing of late (you almost need a scuba tank just to walk outside, it's so humid), which helped. It wasn't frigid inside (a la how they do things at The Drunken Unicorn), but it was pleasant, and i think this will translate well to the hot months coming up. I'll let you know how well it works after Casiotone for the Painfully Alone play this venue in June.
So, i found the venue to be pleasant. The sound was good -- really good i thought. The whirr of the air blowing through the vents was enough white noise to make the crowd chatter disappear, and the mix coming out of the PA was nicely layered over top of that. I have no complaints there.
I will complain about the lighting in the front room, which is most accurately described as "mostly non-existent". There were a few lights pointing at the stage, but most of the room was very dark. So if you go there, be warned that the back corner is a step UP from the main floor level. I noticed several people almost fall on their faces because they could not notice the step in the dark.
One other thing i liked about this venue is that they ran things pretty much on time. We arrived just after 9:30 PM, in time to see Lyonnais take the stage. Well, "see" is not the right word, for this band, a four-piece, spilled off the stage and onto the floor. They were so ill-lit they might not even have been there at all!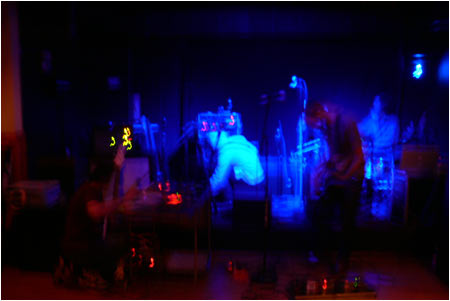 It's hard to photograph Lyonnais in the dark.
Lyonnais had a lot of pedals, a table of electronics and another keyboard/synth type thing, and a drummer. The drummer looked bored out of his skull for the first 10 minutes or so of the set, because his entire task during that time was to click the mouse on the laptop twice. Otherwise, he sat there waiting.
Meanwhile the other three members of the band were making some deeply ambient music. Synth tones and guitar echo floated against the backdrop of the sampled beats. Imagine the mellower moments of Lights Out Asia and you will have an idea what they sounded like.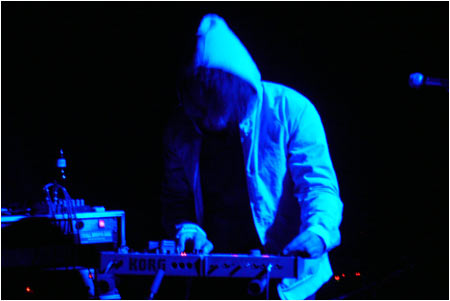 Farbod -- is that you?
However, after the drummer started to play, they became a different band. The guitars used more distortion, the guitarist on stage sang (barely heard over the ruckus), and the band approached a deep Spaceman 3 like psychedelic groove.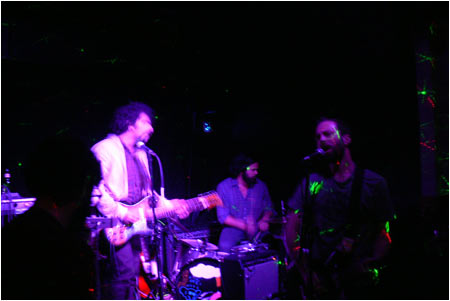 Rocking it Lyonnais-style.
I was rather impressed, and even Tracers found them interesting. This is a new(ish) local act, and later in the evening Windy revealed that this is the band of Farbod. Farbod, you will remember, was the long-term host of Album 88's Post Script show, which was the only place on the radio to really hear post-rock for many years. He is graduated now, and apparently hanging out trying to make music. Good for him. I have no idea which band member he was though. I suspect he was the guy who was singing, but i am not sure as the band never did anything like an introduction.
Well, no matter. Lyonnais is a local act i will be on the lookout for in the future.
After their set, the stage was cleared and Lamb's Laughter took the stage. This is a project of Windy Weber (half of the headliner) and Thomas Meluch (who is the entirety of the third act of the evening).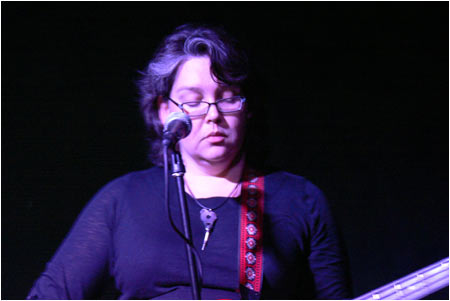 Windy apparently finds Lamb's Laughter to be serious work.
They took the stage and played about 30 minutes of droning music, very much in the vein of what Windy and Carl do. Mr. Meluch played his guitar with a bow, making a nice drone to accompany Windy's playing.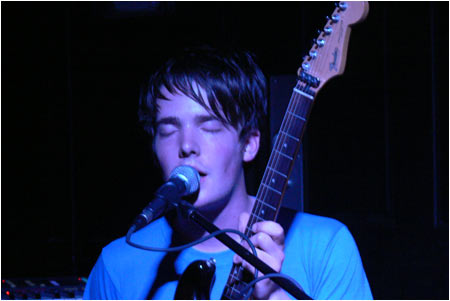 Thomas Meluch in Lamb's Laughter.
The last song they did was their two voices a capella. They harmonize okay i guess.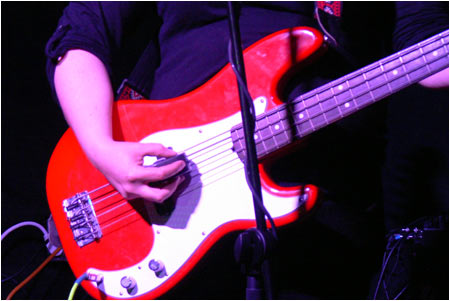 Windy used her e-Bow in Lamb's Laughter.
To be honest, this was the least interesting act of the evening. Oh sure, it was kind of neat to see and was very much in the vein of the type of music i expected this evening, but it didn't really seem to improve on the Windy and Carl drone template. Lamb's Laughter was not awful, but not exceptional either.
After they were done, Windy left the stage and Mr. Meluch sat on the floor and began a set as Benoît Pioulard. Now, i am curious as to what this means, so i entered it into Babelfish, and learned that it is … a French name. Apparently this is Mr. Meluch's pseudonym.
He played a nice long set, sitting on the floor, using guitar with several pedals, some sort of looping device, and a harmonium.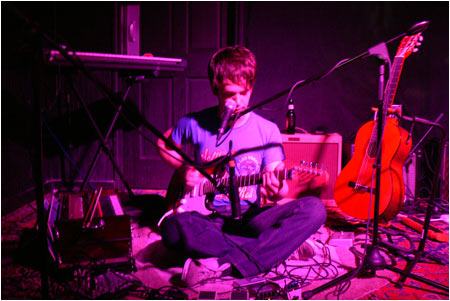 Mr. Meluch in his performance as Benoît Pioulard.
He also sang, at times. The music was a nice droning sound, alternating with folkier tunes. It is like at times he was channeling Songs:Ohia (he has a similar sounding voice), and at times he was channeling Lichens. An interesting juxtaposition, and i have to admit that i think it worked. I was impressed with Mr. Meluch's performance.
He played for perhaps an hour, and then Windy and Carl took the stage. Set changeovers happened pretty quick tonight, due to the small acts, and the complete lack of drum kits.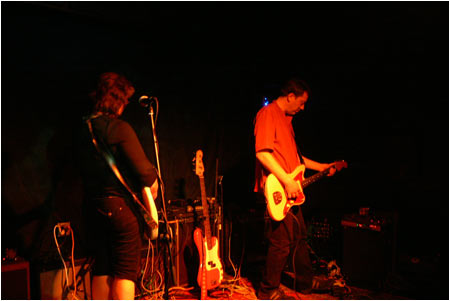 Windy and Carl's setup involves a lot of "checking the pedals".
They played for about 70 minutes, Windy on rhythm guitar, bass, and occasionally voice, and Carl on lead spacey guitar. The music wandered and droned beautifully. This is the second time that i have seen them, and i have to admit that once again i thoroughly enjoyed it.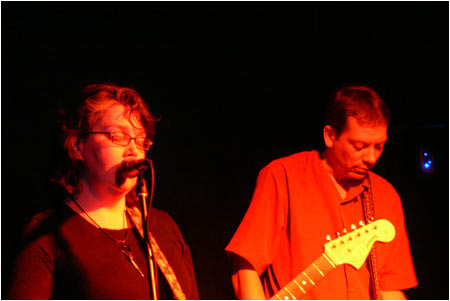 Windy takes the lead vocals.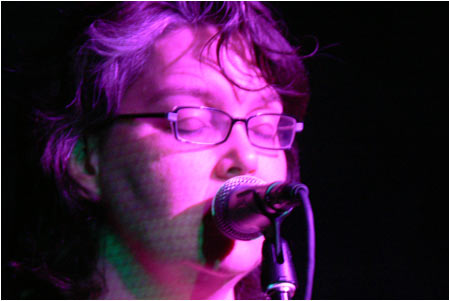 Close up of Windy singing.
I know that they played My Love off of their latest record, Songs for the Broken Hearted, and they played a few old tunes, reaching back far into their career. I am sorry that i can't tell you song titles, but i never remember the names.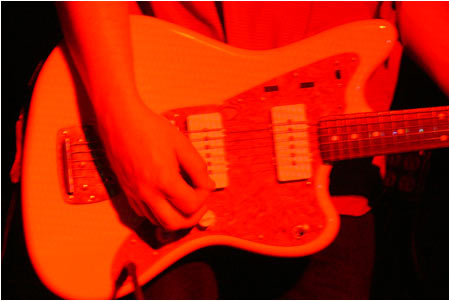 Carl in action under red light.


Carl in action under blue light.
But it doesn't really matter. This is music to get lost in. Carl's guitar wanders under echo, chorus, and tremolo, always anchored by Windy's steady rhythms. It is what you want it to be -- it is musical texture that fills the air, and you (each listener) supplies the meaning. It is a Lockean tabla rasa in musical format, ready to fulfill your needs. I find the amorphous nature of Windy and Carl's music to be very relaxing. What they do on record is translated remarkably well to the stage, so the experience is similar.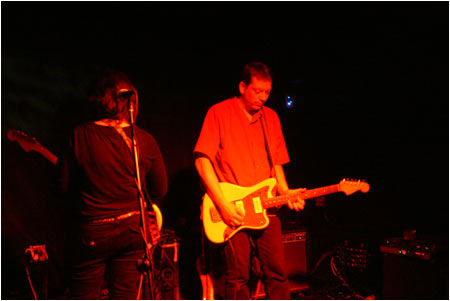 Windy and Carl in action.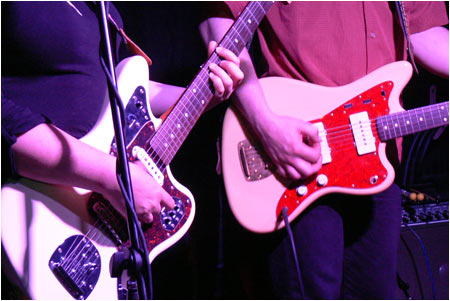 Where the magic happens.
My recommendation is to go see Windy and Carl if you have the chance.