Day 1: Thursday.23.July.2009
First of all a quick report on the venue, a small arts centre kind of place in a Liverpool back seat located roughly halfway between the city's two cathedrals. A half dozen steps downstairs, however, led you to the venue itself, splendidly done out with union jacks and bunting like some war-time English pub. It didn't stop there – the merchandise stall was underneath a sign which read "Fancy goods", there was a jumble sale type table selling old books and LPs by the likes of T.Rex, Deep Purple and Argent, and a small boy dressed in Edwardian gear (like a number of the audience) went round offering sweets to the audience which included Liverpool legends Dave Jackson (The Room, Benny Profane, Dead Cowboys) and Pete Wylie of Wah! fame.
We were then treated to a short set by Rebecca Joy Sharp on the harp and voice. I must give a quick mention to her last number, Stars Got Stuck, as it really was quite beautiful with a riff that had a definite Wild Swans feel to it (albeit on the harp) and some touching lyrics that included a line about her friend's mum going to school with Annie Lennox.
Finally, however, the Wild Swans sauntered onstage for their first gig in over twenty years, with Paul Simpson looking fab in an almost 60s family entertainer kind of way. I was expecting more of an emotional reaction from the audience to be honest, but they were quite subdued at first, but once the band started...well at the risk of sounding like some old hippy, you could feel the love in the room. They opened with a storming Bible Dreams and, a couple of numbers in, there was a lovely moment for me when Simpson smiled when he saw me finishing the "I'm always last to know" line in Immaculate.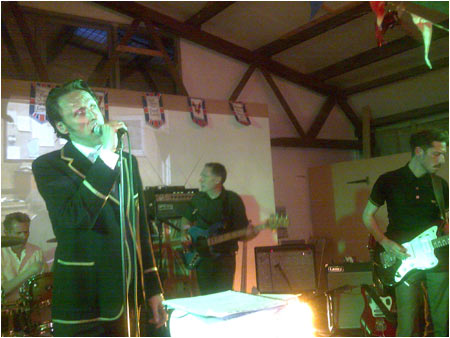 Paul Simpson dressed up for the gig.
A new number, the name of which I didn't catch, followed and very good it was too. Otherwise the set consisted of early numbers like No Bleeding, tracks such as Northern England from the under-rated Bringing Home The Ashes album, and both sides of the excellent recent single English Electric Lightning. The B-side, the spoken word The Coldest Winter For A Hundred Years, was dedicated to the late Pete De Freitas, and although much of the words were lost in the mix, the number worked in an entirely different way than the recorded version, sounding like a cross between the Velvets and the tribalism of the Bunnymen's Zimbo. This was probably no coincidence seeing as the bassist here was the latter's original four-stringer Les Pattinson, who having smiled his way through the show up till this point, looked rather emotional during this number.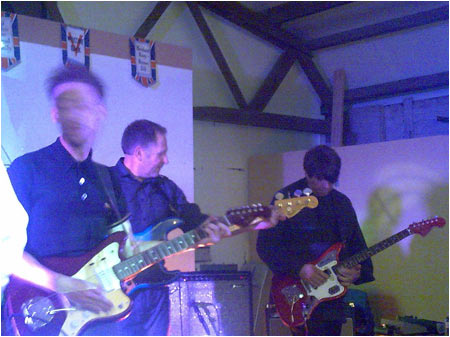 The band in action.
A quick word here for the rest of the band – original member Ged Quinne couldn't make it for whatever reason so former Yacht and Christian Henry Priestman tinkled away on the keyboards, guitarists Mike Mooney (formerly of Spiritualised and Lupine Howl and the man who played guitar on Julian Cope's epic Safesurfer) and Ricky Rene Maymi of the Brian Jonestown Massacre took it in turns to do the jangly bits and, well let's be frank, rock out (although at times, it must be said, they jangled beautifully together), while drummer Steve Beswick added much muscle.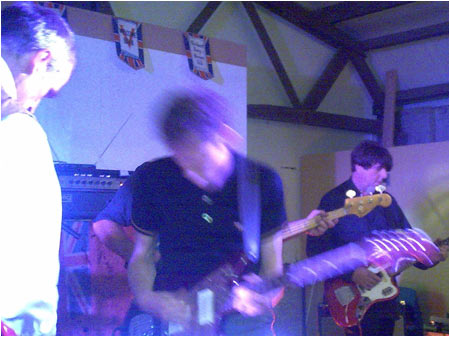 More of the "rocking out".
There might be some beautiful melodies here, with tender, heartfelt lyrics sung by a man in a blazer in front of a screen showing cult movie If, but I can assure you there was nothing fey about this performance.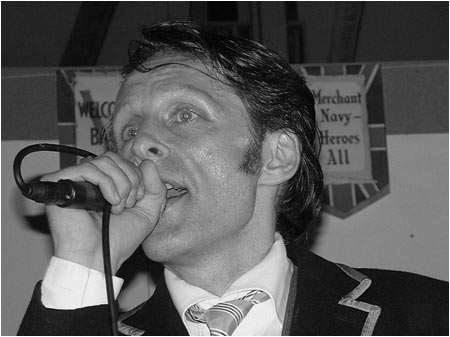 Heartfelt lyrics while in a blazer.
There was, however, a near religious experience with the "Wild Swans Communion" which saw Simpson feed Flying Saucer sweets to several members of the audience. Bizarre! My only complaint (other than the lack of the mighty The Worst Year Of My Life) was that Simpson's voice should have been louder in the mix.
The set closed with the legendary Revolutionary Spirit, surely one of the greatest singles of the 1980s. This, however, was an altogether meatier version and I wasn't sure it was going to work at first, but it did. As my mate said, I never expected to hear this live, but there was Simpson singing that "strange and absolute" line the small matter of a few feet in front of me.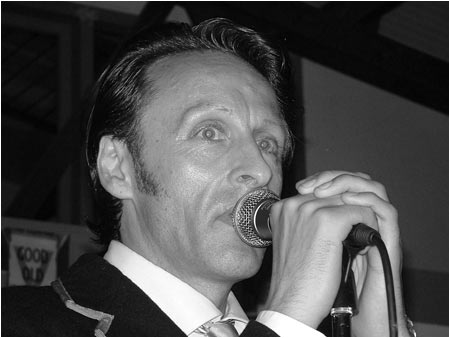 The view from where Indoor Miner was standing.
After this I wasn't sure there'd be an encore – how were they going to follow that?! – but on they trooped with one addition. "You can never have too many guitarists," said Simpson, and a quick eyes right revealed that they had been joined by the Bunnyman's Will Sergeant. There was a definite change in direction here, with the band adopting an altogether funkier feel as they treated us to Melting Blue Delicious from the largely unknown Space Flower set. The Bringing Home The Ashes title track followed before they concluded with another Space Flower number, Tangerine Temple. It was a great encore – three guitarists battling it out, watched admiringly from the other side of the stage by Simpson who referred to them as the Wild Swans Guitar Orchestra.
I'd waited a long time to see the Wild Swans, and after this I was glad I had eventually taken the plunge and got tickets for the second night as well. I had all this to look forward to again.
Day 2: Friday.24.July.2009
Day two in the Wild Swan house. I arrived in Liverpool later than intended and after a quick drink in a "proper local pub", we missed the support act, though I did make it up to Ms. Rebecca Joy Sharp by buying her CD, The Mystery Workshop. Very lovely it is, too.
Anyway, from the set-lists that had been left on-stage, I could see straight away that we were going to get the same set as the previous night (so no The Worst Year Of My Life again, dammit!), but what we did get was a band on top form. I can't honestly say I enjoyed it more than the previous night, because the first night was so special for obvious reasons, but my mate's possibly right when he says they were better/tighter tonight.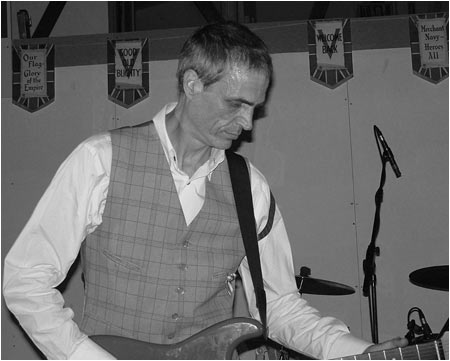 Certainly, Simpson was a much more confident performer on the second evening and he was certainly much chattier. The bit where he introduced the band was excellent – this was no just "so and so on the guitar", as Simpson recounted how, for example, he met Mike Mooney during the times of the Toxteth Riots and gave him a cup of tea and that he had known Les Pattinson since they were both four years of age. He also reserved a special thanks to Ricky Rene Maymi for being the "musical director", and basically getting the whole shebang into action. Interestingly the audience was altogether noisier tonight, too.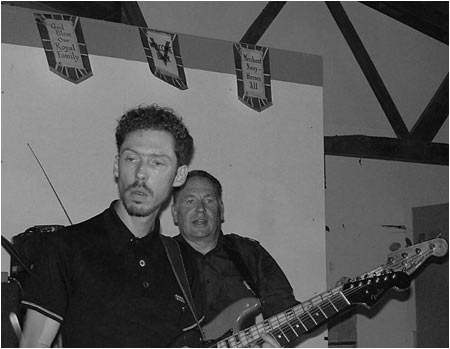 The band seem surprised by Indoor Miner's artsy black and white photography.
Highlights? Well, Bible Dreams is such a great opener with that driving bassline and No Bleeding is soooo rousing. Incidentally it turns out the new one I mentioned above is called Liquid Mercury, and it really is a corker. I'm really hoping that this gets a release soon as this could easily be a Wild Swans classic in the making. Actually I reckon both sides of the recent 10" single have already achieved this status. Simpson didn't preface the excellent B-side The Coldest Winter For A Hundred Years with a tribute to Pete De Freitas tonight, but the vocals were more audible and when he mentioned "Pete" at the end, guitarist Mike Mooney suddenly jumped up and shouted De Frietas name, which led to cheers all round. It was a lovely, touching moment. And prior to performing English Electric Lightning – a definite contender for single of the year thus far as far as I'm concerned – lyric sheets (or "hymn sheets" as Simpson referred to them!) were handed out to the audience so that we could all join in for lines like...
"Council housing, Shakespeare's sonnets,
Turner's sunset in pools of vomit."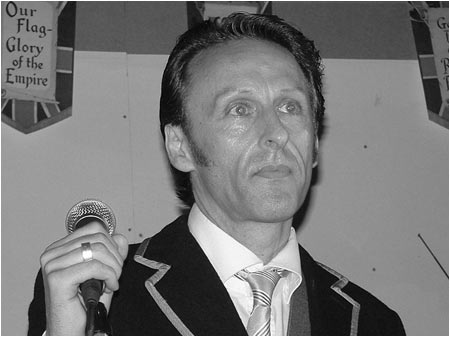 Singing about vomit always comes across easier when you are dressed up.
And Revolutionary Spirit, which concluded the main set again, was simply sublime tonight.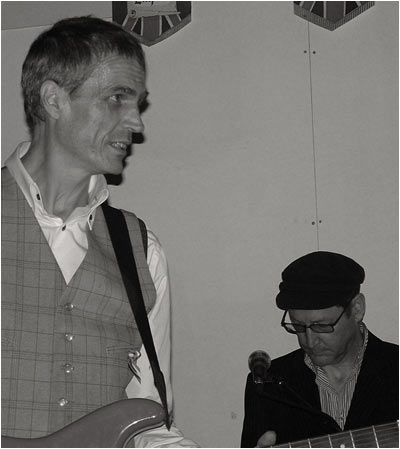 After this they trooped off, only for Ian McNabb to rush on-stage to whip up applause with a "Wild Swans!!" shout before the band came back on. It was the same encore too (Melting Blue Delicious, Bringing Home The Ashes, and Tangerine Temple), but I'm not complaining. Will Sergeant again joined the band, adding some lovely piercing Heroes-like long notes to proceedings. Simpson's voice was going by this point, but he looked genuinely moved by the time he was leaving.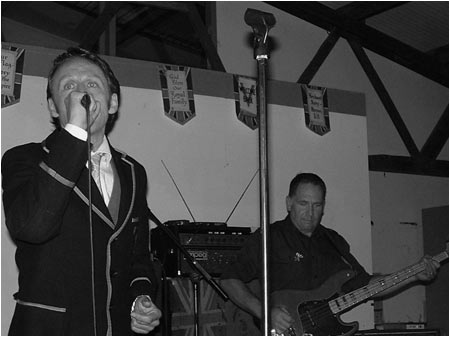 So, two great performances. Two great nights in my life. I even got Mike Mooney's set-list! There may a sense of melancholy and elements of wistful nostalgia about the Wild Swans, but there is also something incredibly joyous about them, too. The Wild Swans back-catalogue is chock-full of melodies that most bands would kill for, and those wonderful tunes are now being performed by a line-up that Simpson must be barely able to believe himself. I appreciate it will be difficult for Simpson to hang onto all of the current personnel, but I sincerely hope that this is just a beginning of a new chapter in the Wild Swans history and not just an added footnote.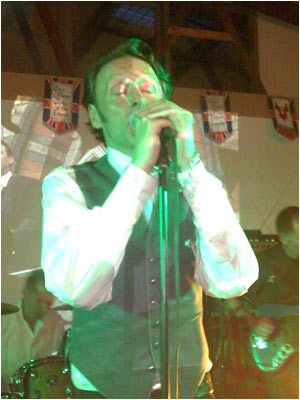 Oh yeah I had the Wild Swans communion Flying Saucer on the second night. I know...It seems kind of embarrassing writing that in the cold light of day, doesn't it!