Asobi Seksu are a band that has had their share of ups and downs. Specifically, the last few times i have seen them, their live show has been a little lackluster. I skipped going to see them at The EARL a few months back, and did not catch them in Austin. However, i have really enjoyed their latest "return to form" album, so when i heard they were going to lay The Playhouse, i had some trepidation at going to see them, especially as the band they were opening for was someone i had never heard of.
However, the band who opened for them was an act i caught by chance at SxSW this year, and had really enjoyed. So i decided to shell out the money for the show. And i am glad i did.
Ticket ordered, i went and did some research on headliner White Lies. Turns out they are a British pop act who get compared to Interpol. Well, i like Editors, who were also called the British Interpol, so White Lies might be right up my alley. I did not, in my research come across what the band looked like. This is relevant, as a few hours before the show, Tracers and i were standing in the shade near the cooler on the patio at The Vortex, avoiding the inside crowd at the bar, enjoying a nice Red Brick Dog Days Ale (fruity and yummy), and watching a guy dressed as Jesus pose for photos with passersby as we waited for the possible Rapture to happen or a table to open for dinner, whichever came first.
"What do you know about the headliner?" she asked. All i really knew is they were British, and when i said that she pointed at the only other people on the patio with us. Who, now that she mentioned it, were kind of pasty, did have English accents, were excited when one of their number appeared with allergy medicine (Atlanta is basically a rain forest with some buildings in it, so we have insane amount of pollen in the air most of the year), and were wearing red wristbands. Huh.
We got seated before White Lies, and had a lovely meal before heading up to The Variety Playhouse. Which was empty. I mean, the V-P can hold about a thousand people (1,800 if you believe Wikipedia), and there were probably less than a hundred people there. Then again, we were early, since we wanted to catch Sun Airway.
Promptly at 8:30 PM a strange whirling keyboard and synth drone started emanating from the stage, and Sun Airway took the stage. I think they played pretty much the same set as they did at Red7, only here the sound system wasn't kind of dodgy and i could hear everything clearly.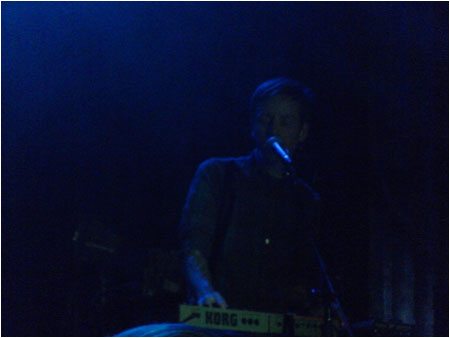 In short, this was impressive. Their sound is a long whirling drone over which they layer lush vocals, drums and electro beats, deep bass, layers of keys, and guitar. I think that this is generally similar to what Animal Collective are doing, only Sun Airway have a singer with a good voice, as oppose to the whiny reediness of that other band. At any rate, i found myself bopping along and thoroughly enjoying it. The music was rich and lush, but still catchy.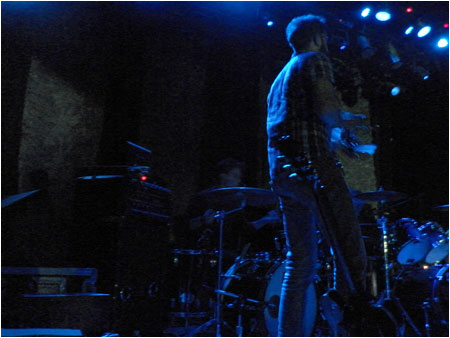 Highlights of their set included a riveting version of American West, with lead singer Jon Barthmus repeating "American" over and over at the end as the drone sort of wound down, and Put the Days Away, where the guitarist played a giant red hollow-body that chimed over the rest of the song. Really pretty. After hearing them live a second time, i went to the lobby and bought a copy of their latest record. I hope that the album comes across as well as their live set.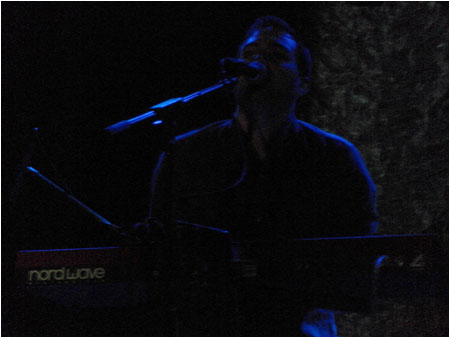 Satisfied with that wonderful set, we stood and waited for Asobi Seksu. They took the stage pretty quickly after Sun Airway left, but The Variety Playhouse does run a pretty tight ship as far as band timing goes.
Asobi played a great set, the best i have seen them play in a few years. It was a "back to basics" set, with Yuki Chikudate singing and walking around the stage, and James Hanna wailing away on his guitar while shaking his hair like crazy.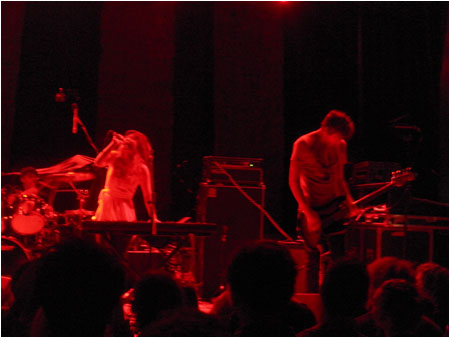 I appreciate that they are both talented and can switch instruments, and i like seeing petite Yuki wail on the drum kit, but for this show they just stood there and did what they did best, and it really worked.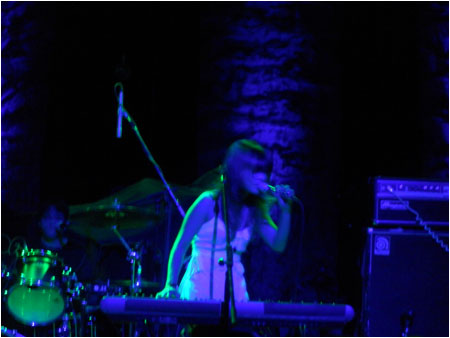 Strawberries was rollicking good fun, and the stuff off of their new album, Fluorescence came across wonderfully, especially new single Perfectly Crystal.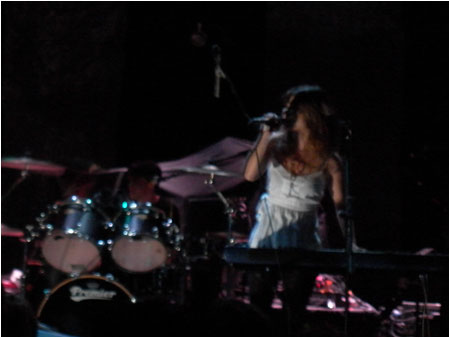 I was impressed with Asobi Seksu's performance tonight. If they stick to their basics and avoid too many of the long meandering jam outs that tainted the Hush tour, they will do good. And since they are opening on this tour, i think you can expect them to do just that.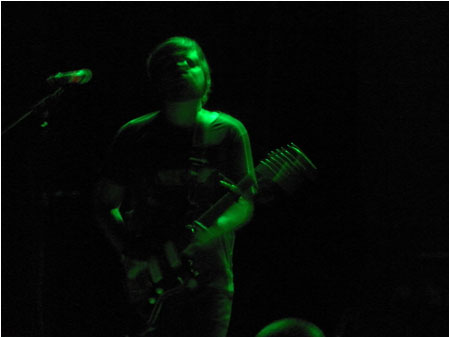 Two fun sets in, we settled in some seating to catch White Lies. They came out just a little after ten, and proceeded to play a set that seemed more U2 than Interpol to me (and yes, they were those people on the patio of The Vortex with us). It had that big stage kind of sound, with a clear rich voice, not a deep voice like i associate with Interpol and their descendents.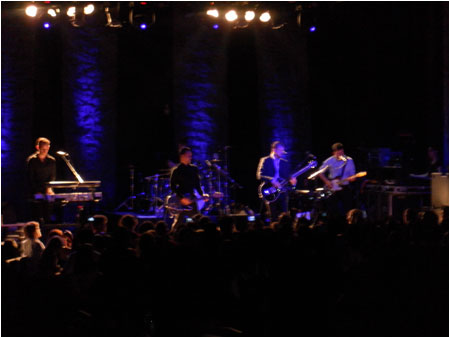 In fact, they reminded me a good bit of She Wants Revenge. The singer had that kind of syncopated pacing to his delivery, and the keyboard was often the lead instrument. They were not quite as dancefloor oriented as SWR though. Perhaps what they are doing is "thinking man's synthpop". Whatever, it was enjoyable.
I went in never having heard the act before, so i cannot tell you what they played. I do know that the Variety Playhouse was largely empty, and the band still seemed to throw themselves into their set, trying to entertain those few fans who had made it out. I know that i appreciated their efforts to end the evening on a good note.