Review:
Now I'm not saying this lived up to expectations, because my hopes for this night were probably unrealistically high. Honestly, I hadn't looked forward to a gig so much in ages. All this for a band whose second album I still enjoy taking the piss out of even now, twenty seven years later! But Television deserve to be classed as one of the great groups just on the evidence of their (still remarkable, still stunning) debut Marquee Moon. And Tom Verlaine is undoubtedly one of the great guitarists in my book, so as I'd never seen them before, it's fair to say I was, well, excited…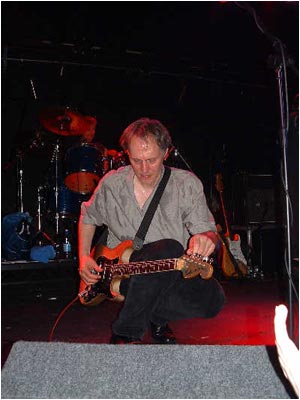 Tom Verlain kneels down to tune --
right in front of Indoor Miner!
Anyway, on they strolled, with only bassist Fred Smith looking like he's aged anywhere near as much as he should have, though even he looked pretty cool in a Tony Soprano kind of way. Tom Verlaine looked liked an English eccentric especially since his teeth are so un-American that he'd be hauled in by the authorities if McCarthy was still alive. And Richard Lloyd still has that preppy look, despite the increasing forehead. But it's drummer Billy Ficca who wins Television's Dorian Gray Award, though. He hardly looks a day older.
And they still sounded pretty fresh too. Admittedly it took them a couple of numbers to get going. "We always practice in England," joked a surprisingly cheerful Tom by way of explanation. With Richard Lloyd playing most of the riffs and lead lines whilst Tom strummed and sang on these opening numbers, I wondered if Tom had lost that knack of playing those incredible strangulated solos that sounded like no-one ever. Or maybe he couldn't be bothered, or maybe keeping Richard happy is part of the deal, I thought. And then, third number in, they played Venus and Tom played one of those solos, about ten foot away from me. It was spine tingling stuff. And like seeing Wire play Lowdown at the Royal Festival Hall in 2000, you felt almost privileged to see a band you've loved so long (and who because of time and circumstance you'd thought you'd never get to see) play one of their classic tracks.
Apart from the Marquee Moon tracks (more later!), we got 1880 Or So and Call Mr Lee from the self-titled third album and quite a few tracks I didn't know. Hopefully, this means a new album sometime. It certainly sounded as if it could be the business on this display, with a slow, slightly bluesy number probably the highlight of the new material. As with the old Television stuff, there were lots of long instrumental passages. On this evidence, it's obvious that Tom isn't the only great guitarist in the band as Lloyd showed he's almost his equal. Indeed, Lloyd played lots of solos that added tension to the music and, despite his technical proficiency, only once bordered on the wanky for me.
But what about Marquee Moon I hear you ask? Well it certainly didn't dominate proceedings like I expected. Apart from Venus, we also got Prove It, See No Evil (with that simple opening riff sounding especially great) and, to close matters, an almost inevitable Marquee Moon, which was, of course, quite possibly the highlight of the gig. After that, it was a quick encore of Glory that was fairly anti-climactic. That's not because it was off the dreaded Adventure album (I jest, folks!), but because after Marquee Moon it sounded, well, unsubstantial. Still, if the golden rule of showbiz is leave an audience wanting more, then Television certainly succeeded. What about Guiding Light, Foxhole, Little Johnny Jewel, etc, etc? What about them, says the part of me that enjoyed the fact that Television didn't just celebrate their past. Admittedly, though, there was another part of me that thought "You didn't play Friction, you bastards!"