Ah, The EARL. It seems like it has been forever since i have visited this venue. Let's face it, the current economic downturn (depression, recession, whatever) is bad for live music. There just haven't been a lot of interesting bands on tour these past few months, and this has kept me from The EARL.
We arrived at about 8:30, wandering in to an almost empty back concert room. Inspector Jason was already there, of course. So we hung out and discussed the lack of good touring shows. Curse you Wall Street!
At about 8:40, the first act took the stage. Sealions, they are called. A local band actually, although not one i had ever even heard of before. They are a two piece, featuring two guys on guitars and vocals, and a table of various electronic gear.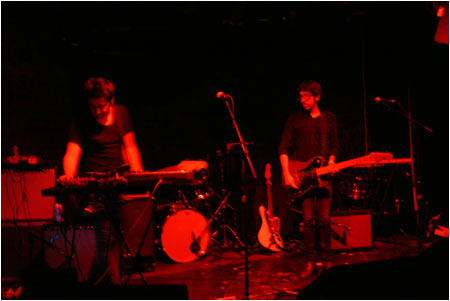 Sealions configure the electronics prior to playing.
They sounded great. One of the vocalists bore a sonic resemblance to Paul Carrack circa the first Mike + the Mechanics record (which is a great lost classic of new wave pop!) The other singer reminds me more of Chris Donohue of Ova Looven. That is to say, the one vocalist has more of a classically good singing voice, while the other is more nasally, but has obviously worked at it in order to know how to use his voice to best effect.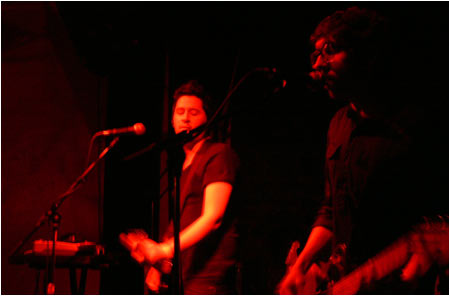 Sealions are the best band since Mike + the Mechanics!
Otherwise, the band played a sort of synth pop. Guitars were echoed and distorted, and a variety of machine beats and synth tones poured from the laptop and other gear.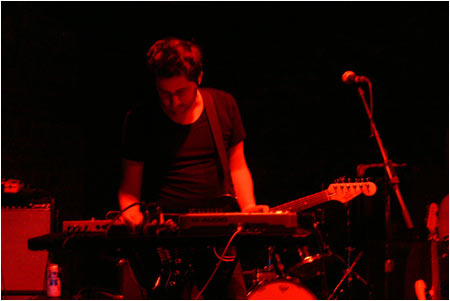 Sealions were thwarted by their electronics on their last song.
It was an engaging set, made all the more enjoyable because the band is totally unknown. Good for them. I hope that Sealions make a habit of performing out more in town.
After their half-hour set, their gear was quickly moved and the next band set up. This was a three piece act called Zaza that consisted of a guy with a ton of pedals on his guitar as well as a vocal mic, a girl with a bass, and a guy standing up with a floor tom and a cymbal.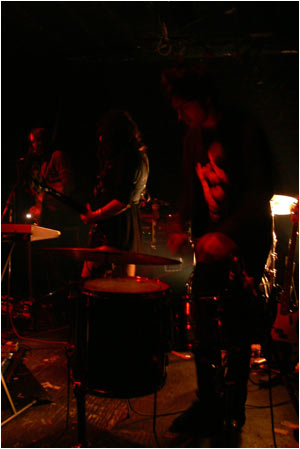 Zaza in J&MC type lineup.
Did i mention that they had a female bassist? What i meant is, they had a half-naked female bassist. Seriously -- the girl was wearing what appeared to be a dressing gown that barely began to cover her legs, and that's it. For some reason, the Karl Hendricks tune I Forgot Something … My Pants! sprung to mind. Needless to say, many of the males in the crowd were very interested in this performance.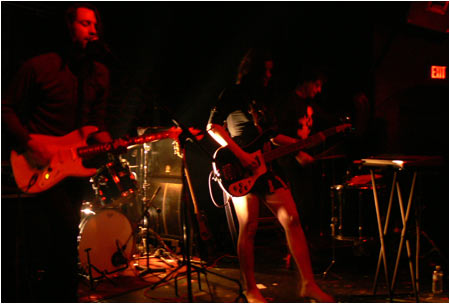 Um, Miss? You seem to have forgotten to put pants on.
And i have to say she was the best thing about the band. No, not her half-naked status -- the woman can actually play the bass. Her parts weren't the most complex basswork i have seen, but they were competent and interesting.
The drumming was sparse and minimal, a la Bobby Gillespie on Psychocandy, more of an implication of drumming than actual drumming. And the guitarwork … well, there were a lot of pedals and more echo than most humans can stand. But nothing the guitarist did struck me in any way -- and i am the target audience for this type of thing!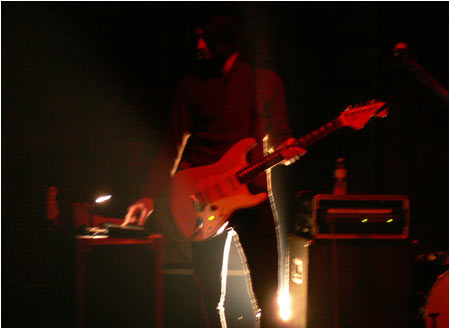 Zaza's guitarist reminds you to not go into the light!
Basically Zaza tried to do a version of the distorted post-punk sound that Film School do, except that it never seemed to gel. Most of the elements were there, but during their half hour or so they played what was, far as i could tell, essentially one long song with a couple of (slightly) different movements. It seemed uninspired. I dunno, maybe they were having an off night, or the sound mix was really off on them. I was bored, but i do not hate this band. They are no Carnivores (who should be banned from ever being on stage again).
After Zaza were done, The Pains of Being Pure at Heart moved their gear forward.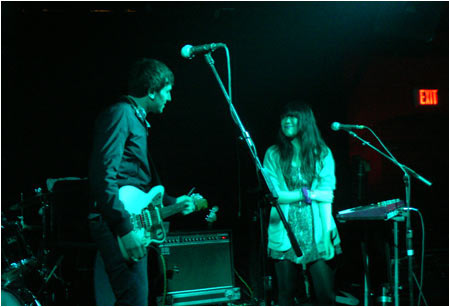 Kip and Peggy chat before the show actually starts.
The great thing about this show was that the other acts were small and could play at the front of the stage, meaning that The Pains of Being Pure at Heart 's gear was already setup at the back of the stage and just had to be moved forward. And actually, the drummed in Zaza is also the drummer for The Pains of Being Pure at Heart, so he just moved his one floor tom and cymbal back into position, and he was ready to go. As i stood there watching the band plug in pedals, i noticed that The EARL had gotten full. Not as packed out as i have seen it at some shows, but still a very nice crowd for a Sunday night. Good for them.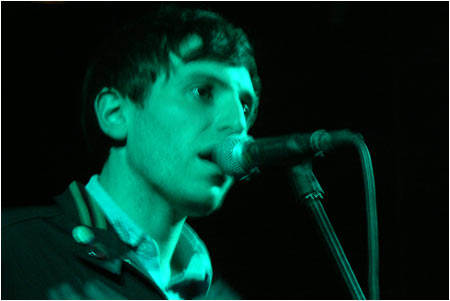 Kip greets the crowd.
And, shortly, The Pains of Being Pure at Heart began to play. They were a five-piece tonight, meaning that they either added a second guitarist since i saw them at SxSW09, or that this other guitarist was invisible to me from where i was standing at the Red 7 Patio for that set. Both options are equally likely. I must say that adding an additional guitar helped make their live sound much richer.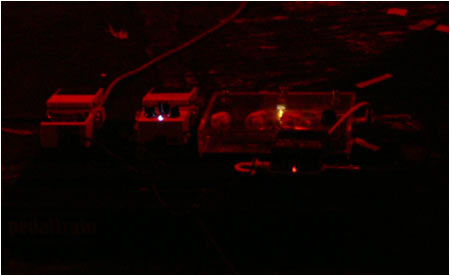 I didn't get any good shots of the new guitarist, but check out
the cool plexiglass lite-up pedal he had!
Musically, The Pains of Being Pure at Heart play dreampop. The songs are catchy and light, with sing-along male-female harmonies, driving rhythms (their bassist is very good!), and soaring guitars.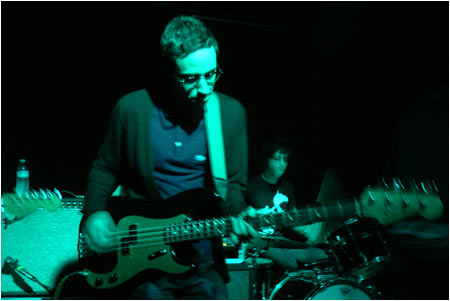 The bassist rocked while being pure at heart.
The guitars play through lots of pedals, so that sound is a blurry chiming haze. Guitar-wise, at several points they remind me of Celestial (in fact i think that Nothing Happens. Twice. is very close to several of their tunes), and at other times they remind me of Felt (the early years of that band, when they featured the excellent guitarwork of Maurice Deebank).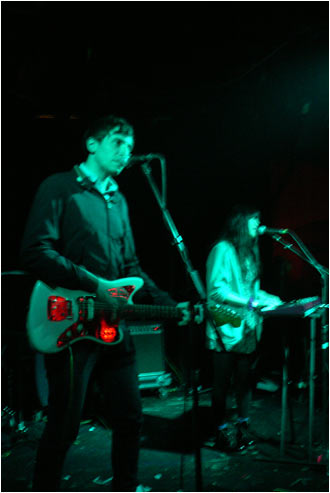 Yes, i totally planned this shot so that Kip's guitar was in the red stage light,
while everything else was under the blue stage light!
(Honestly -- i did not edit this. It was a really lucky shot...)
They played for perhaps 40 minutes, the crowd bouncing around and singing along with such feel good hits as This Love is Fucking Right (a song about incest), Contender (which is about failing to achieve anything with your life), Young Adult Friction (about random sex in a library, of all places), and Hey Paul (a song about not fitting in). Hmm. You know, for the happiness that their music implies, the lyrics are awfully dark. I wonder if the kids singing along get that?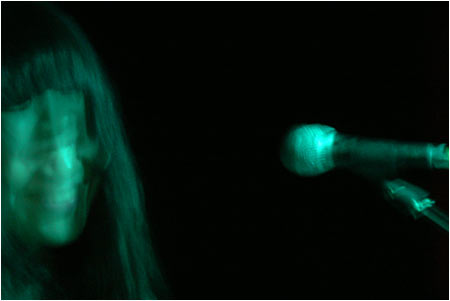 Even keyboardist Peggy had to sing along. Although i think that,
technically, she is contractually obliged to do so.
I have always held that a band is, ultimately, as happy as their chording implies. That is to say, music fans are like cats: they listen to the tone of a song, not the exact words. Just like you can insult your cat as much and it will still like you, provided you do it with sweetness in your voice, The Pains of Being Pure at Heart sing about the darkness in everyday life, but they do it with a major chorus and an exuberant drum beat, and so people sing along happily.
Huh.
Well, anyway, this was another great, but short, set from this act. I really enjoy their music, and the crowd really seemed to be getting in to it. And let me just say -- it is about damn time that dreampop becomes popular. Let's hope this lasts. My advice to you is to go see them now.