Tonight was a big night for the Atlanta Indie Rock Scene. One of our best bands, who have been slogging it out for over 5 years, steadily putting on good shows and releasing two quality records, was calling it quits. The reasons are complex, but tonight was to be the very last Luigi performance. And, on top of that, Silent Kids were finally releasing their second record. They have been playing many of these songs for as long as Luigi has been in existence!
So a big night: best fortify oneself with a full meal. With that in mind, i hiked up the street from my condo to Sushi Avenue in downtown Decatur, for fried tofu, sushi, and green tea. I met some friends there, and despite the deliciousness of the food, Sushi Avenue is not the most efficient restaurant around. So it was slightly late that i was able to head off to The EARL for this big social event.
I got there at about 10:40, having to park a block away and take the long trek past tornado up-rooted trees to get to The EARL. I was sure that i would have missed the opener, but fortunately The EARL was running late even by their standards, so i was able to see a full 15 minutes or so of The Preakness.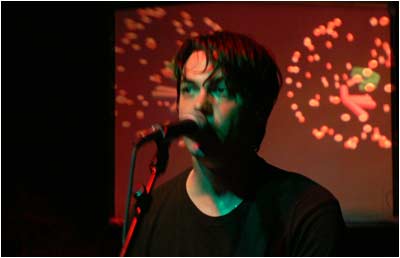 Brandon Arnold of The Preakness.
This act has been playing out for several years now, making energetic indie pop that is both catchy and driving. I had not seen them in a while, and it seems as if The Preakness are playing harder than before. Singer/guitarist Brandon Arnold and bassist Tracy Clark bounced around the stage in a fury, spraying sweat (mind the camera lens you two) and pounding on their strings, while in the back drummer Tim Genius (is that his real name?) kept it all nailed together with a driving beat.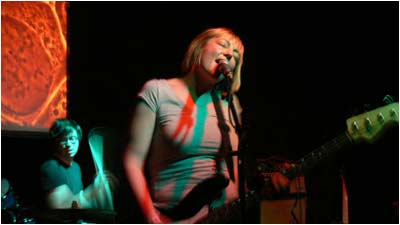 Tim Genius and Tracy Clark of The Preakness.
I always like what this band does, but tonight i found them especially entertaining. I wish i could have seen the whole set, and i hope it will not be many more months until i have the chance to see them again. If you like catchy, energetic music you should make a point of going to see this band.
After The Preakness loaded out, what was left of Luigi took the stage. Guitarist Johnny McConnell is gone, his departure part of what is ending Luigi. Filling in for him is Jeff Holt, who also played with lead Luigi Michelle DuBois in Ultrababyfat, and who also plays in Silent Kids. Confused yet? Yeah, the Atlanta Indie Scene is that incestuous.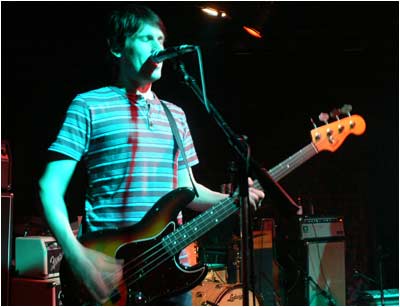 Scott Rowe of Luigi (and Bad Magiq Number, and Magnapop.)
Luigi began their last show with Mariposa, off their second record. It sounded ... okay i guess. This is a fast-paced number that normally moves along pretty good, but the absence of Johnny McConnell seemed to wear the band down a bit. However, the sound was great. Props to EARL soundman Curt Wells for mixing Michelle's voice so clearly. The guitars were loud, but her voice still was able to soar above it all, and not be deafening.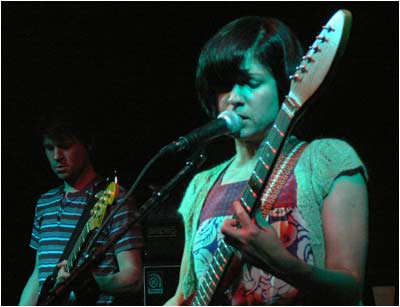 Scott Rowe and Michelle DuBois.
After a few more songs someone in the crowd bought them a round of shots. The playing picked up a bit, including a really nice version of Single Cell. Then someone bought them another round of shots, and after that lead Luigi Michelle DuBois was heckling the crowd.
"Hey Mr. Dancey Pants," she accosted some tall guy who was shaking it just barely in view of the stage lights. "You need to get up here and dance. I saw your moves!"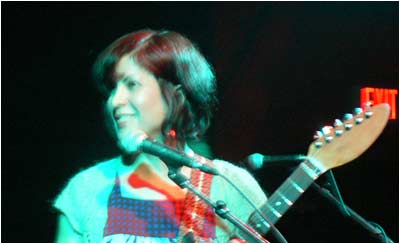 Michelle DuBois enjoyed her last show with Luigi.
Ah, good times. I have to admit that the alcohol loosened the mood a bit, and Luigi went out as they will best be remembered: a catchy band with good songs and tight playing, who always showed you a good time. I will miss them, but i am curious to see what Ms. DuBois will do next. I just can't see her retiring from music. I wonder what her next act will sound like? Well, i'll be sure to review it for you, our remote readers.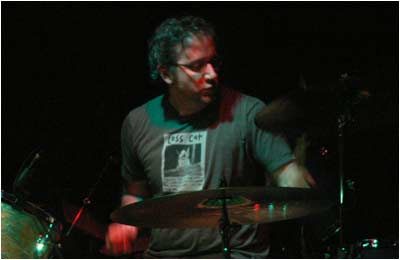 Brian Fletcher of Luigi.
And then, finally, Silent Kids took the stage. This band has been through many lineups over the years, but it is mostly the act of Jeff Holt and Michael Oakley, who have been song-writing partners in the band for over 5 years or so now. Drummer Leanna Fugate has been with them for a few years as well. However, the bassist role is not stable, and tonight it was Brandon Arnold on bass. He also played with the first act, The Preakness, so only half of the members who took the stage tonight were fresh.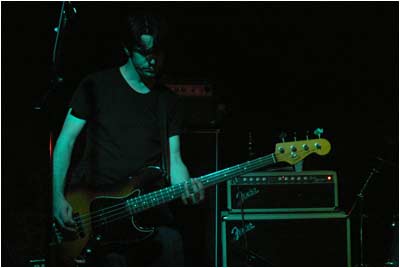 Brandon Arnold plays his second set of the night, on bass in Silent Kids.
And it showed. Silent Kids can put on brilliant shows of new wavey pop, but they can also be sloppy and uninspiring. They seem kind of hit-or-miss to me, and tonight i really wanted them to be on. Well, Holt and Arnold were both on the drunk side, and it really showed.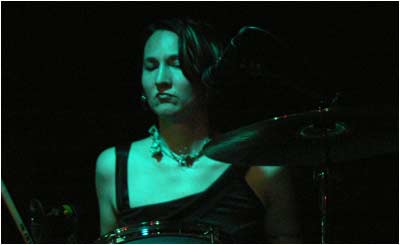 Drumming is serious business for Leanna Fugate.
They were sloppy. There were long gaps between songs. Holt slurringly tried to introduce a song, and then played the wrong one! The rest of the band played along just fine, but laughed at him for his mistake afterwards. He did the song later, given us a drunken tirade about the planetary status of Pluto. (Trust me, there are lots of people upset about this issue. Go Google it if you care. I, personally, don't care anymore...)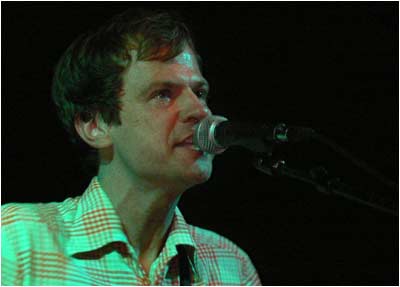 Michael Oakley of Silent Kids certainly seemed to be having a great time.
So, not the best Silent Kids show. I really felt bad for Oakley and Fugate, who were trying their damnedest. And i have to admit that Holt and Arnold still played well, they were not that drunk, but the whole band just seemed off.
And that is a good summary of the night: it was kind of off.
Maybe i should avoid sushi before local shows.