These days, the hip and happening Friday Night seems to be at Lenny's. At midnight, the Trashed Dance Party starts, with DJs spinning ... well, basically my record collection. Oh, and they have microwave popcorn too, for some reason. I'm not so into standing around a club watching people dance and munching on popcorn, even while listening to the same sort of catchy indie rock i would listen to at home, but often Lenny's has interesting bands play before the party gets started, and that is what drug me out on this chilly January Friday.
At about 9:30, local act Cassavetes took the stage. I haven't seen these kids in a few months, and, well, they seem to have changed a good bit. Before, they were fresh faced with sparkling new instruments. Now they are scruffy and their guitars have seen a bit of wear and tear. I guess they have been playing around a bit, and this shows in their new sound. The band is still poppy, but they are tighter now. And darker, in a way that suggests they have been listening to defunct local country goth act Myssouri, or Nick Cave and The Bad Seeds, or perhaps both. This is a good thing, really. Their songs are more dynamic, more guitar heavy. And the last song they played tonight could only be described as "white boy reggae/dub a la The Clash". A very interesting progression.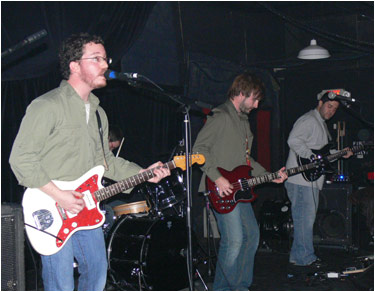 Cassavetes: too poor to afford razors?
After that nice set by Cassavetes, the act i was there to see took the stage: North Carolina's The Nein. This is, i think, the third time i have seen this band, although it has been a while. Their earlier music was a mixture of Archers of Loaf and The Clash. Think crunchy guitars, mid-paced rhythms, and echo.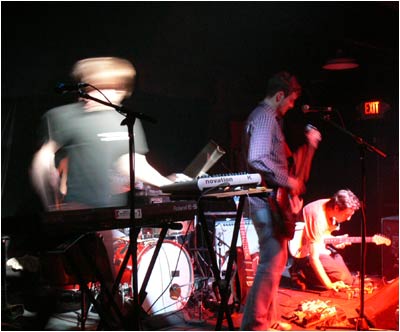 The Nein with added percussion/keyboards.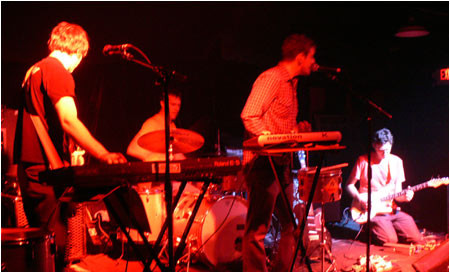 The Nein: and yes, for some reason the guitarist did spend most of the show
kneeling and tweaking pedals.
Well, they too have changed. Their new sound is more dubby, more electronic and rhythm heavy. In a way, they now are slightly reminiscent of +/-, in that their indie rock is filtered through laptops, keyboards, and distortion. I really enjoyed what they played tonight, and was pleased that they had their new album (which they basically played from) on sale. I wonder how that sound translates to record? At any rate, they played for about 30 minutes, which was too short by my standards. Then again, there is something to be said for "leaving them wanting more"....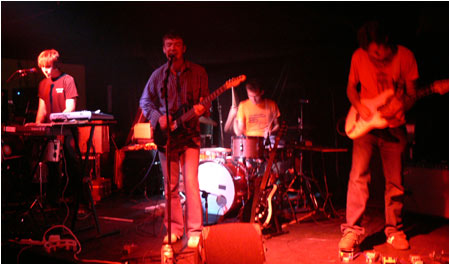 The Nein: rare shot of all the guitarist standing!
Since i had seen two enjoyable sets, but both from bands who seem to have changed since i last saw them, it was with some trepidation that i witnessed The Selmanaires set up as a four-piece! Yes, they have apparently added an additional percussionist. Now, i am all for bands growing and changing, but there is such a thing as too much of a good thing.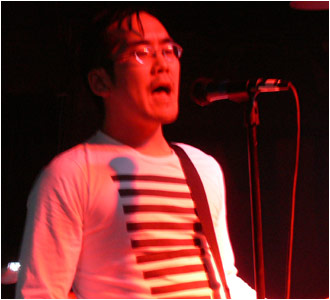 Tommy Chung of The Selmanaires.
Well, i had no need to worry. The additional percussionist did not play the whole set, and even when he was there his presence wasn't overwhelming. That is, all he added was some nice accents to The Selmanaires' already tight rhythms.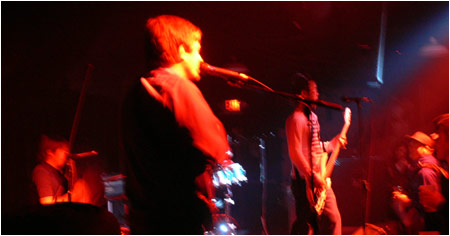 Side view of The Selmanaires in action.
And they were very tight tonight. They played several new songs that sounded good, and the material off of Here Come The Selmanaires sounded great. Of course, they play out almost weekly, so they get lots of practice on their songs. I find that i really enjoy their garage-y/early punk style dance pop. Sure, the songs are simple -- a strong bass line, a scattered drum riff with extra accents now, and a sparse guitar bit -- but it all adds up very nicely. And they do get the kids dancing, which i suppose is a good thing, Friday being a dance night and all...
I said my goodbyes and headed out before the dance party really got going, but the crowd (and it was pretty full) seemed to be having a good time. I did too, seeing three bands play interesting, if unexpected, sets.