Review:
I don't normally go to arena gigs but hey, this was Roxy Music – one of the most vital bands EVER - and as I had never seen them before, I had started to regret not getting a ticket for this. And so when I was offered a ticket a few days before the gig there was only one possible reply. Yes please!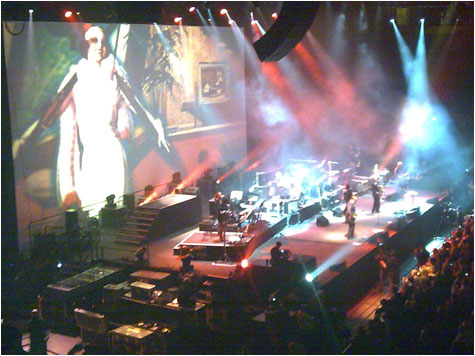 Roxy Music were nto far away -- they are actually very small!
For someone more used to going to smaller venues, walking into a gig like this is something of an experience. I'm not sure my local football team get this many spectators, but then again none of our players have ever done anything as good as Virginia Plain!
We took our seats overlooking the stage, and after the Avalon instrumental India had finished playing over the PA, the band – consisting of key members Bryan Ferry, Phil Manzanera, Andy MacKay, and Paul Thompson and about half a dozen others (including two dancing girls in sparkly bathing costumes and cowgirl hats which is something you don't get at a Crispy Ambulance gig!) - walked on and Manzanera played some sparse crispy guitar over a beat that developed into the loungey funk of The Main Thing from Avalon. As good as this was, it was kinda surprising as the talk had been that this was a Roxy Music that was concentrating on showcasing the earlier, more abstract version of the band.
They soon made me think that The Main Thing was something of a red herring, however, as the band launched into a succession of early favourites. Hearing the classic opening bars of Street Life live gave me goose-pimples! Two other early numbers – the single Pyjamarama and If There Is Something from their classic debut then followed. The latter is a really odd number in my book. I'm not that into the opening section of it, but then a few minutes in, the song changes tack completely to something rather brilliant that features perhaps Ferry's most mental vocal performance (and let's not forget that prior to Ferry smoothing out a lot of those early vocals were a bit bonkers!) And with some help from a backing vocalist, he made it sound pretty deranged tonight, too. And the closing instrumental section was beautiful.
The oldies kept coming with a fabulous take on Just Like You from Stranded being followed by Prairie Rose, Amazona and 2HB before they went off a tangent and played Neil Young's Like A Hurricane which gave both Manzanera and saxophonist MacKay opportunity to indulge in some soloing. The other Avalon instrumental, Tara, followed with MacKay at the fore. Still, if tonight made you appreciate his skills on the sax and oboe, it was nothing compared to Manzanera. Now if someone asked me to name my favourite guitarists, Manzanera wouldn't readily spring to mind, but this gig made me realise that he sure has played some great riffs over the years. The other guitarist was also given opportunity to show off his skills and he moved centre stage and went for it so to speak, but I've always appreciated a bit of economy and Manzanera does that beautifully.
Just as you thought they were ushering us into a more mainstream part of the show, however, they played Bitter-Sweet, the Country Life track that opens as if it going to be some heartfelt ballad before turning into some bonkers take on Cabaret. To Turn You On, one of the best tracks on Avalon for me, saw them return to their more comfortable era before they launched into Same Old Scene - a number which seemed to have an uplifting effect on the crowd. Now as much as I love Same Old Scene - from that shimmering guitar to Ferry's neo-falsetto vocals, it really is an excellent pop song - and those other late period Roxy singles for that matter, I generally consider myself to be more of a fan of the early work. And yet it was Same Old Scene which probably affected me more than other number for reasons that I can't explain. Maybe it's that the opening line "nothing lasts forever, that I'm sure" has taken on added poignancy now it's coming from a man of pensionable age? All I know is that it's another example of your aging reporter here feeling a tiny bit emotional at a gig!
Avalon was another that had an effect on some people. There was a guy a couple of rows in front of me who got to his feet, dancing and swaying with real feeling even if his clapping wasn't necessarily in time with the beats that Thompson and the percussionist (one of Ferry's sons apparently, but not that pro-foxing hunting turd that has brought his father into disrepute). The number one single, Jealous Guy, followed and I couldn't help thinking that the four people in front who had departed during one of the more difficult periods of the gig would probably kick themselves for missing this. It was a good version, too, with Ferry in fine voice although his whistling at the end was rather less tuneful!
The classic Virginia Plain followed, but although this is one of my all-time favourite singles, I thought this was the one number that they didn't quite nail. It just sounded a bit perfunctory, although they did that memorable instrumental section proud. The crowd were up on their feet at this point and I briefly honoured my commitment to dance like the sulky girl in a white frock on the vintage TOTP performance. Love Is The Drug kept people dancing before they gave us a truly fabulous Editions Of You, which was one of the highlights of the night for me. Do The Strand was right up there, too, before For Your Pleasure provided a long farewell as the musicians vacated the stage one by one with Thompson's drums to the fore before he departed to a special cheer, leaving a pianist to flutter away before he too left. There was no encore. As my mate said, there didn't need to be. It's just that with no Every Dream Home or Mother Of Pearl to name but two, I could certainly have managed a bit more. Greedy bugger that I am!