Over the past few months Stickfigure Recordings head Gavin has been sending us videos and songs by Qurious, a local duo that describes themselves as "the surprising collaboration between a hip-hip producer/sample collagist (Mike Netland) and a vocal texturist/muli-instumentalist (Catherine Quesenberry)."
I admit that, as a middle aged white guy from central Ohio, that description did not exactly thrill me... But just now i realized that the quote does not reference hip-hop, but rather "hip-hip". Not sure what that is supposed to mean...
Anyway, after a while, i figured that i had nothing to lose by at least listening to the free track, so i gave Qurious a spin. I was expecting hip-hop, based on my misreading of their self-description (which, i might suggest to the band, will be commonly misread and thus should probably be changed). However, what i heard was some fascinating ambient music, with layers of distorted voice flowing in various textures over ebbing and throbbing synth lines.
Very cool. So when the band announced a show on a Friday at The Drunken Unicorn, i thought that, although ambient music doesn't always come across well live, i might as well give these local kids a shot.
We were apparently early for The Drunken Unicorn. When we got there towards 9:30, there was almost no one in the venue. On the plus side that did mean we were able to get one of the very few parking spaces in the lot in front of the venue. And it meant that we were able to get to the bar without having to fight a crowd.
After a while we wandered over to the main room just to wait, and were surprised to see an act already on stage. This was a guy with a nice hollow-bodied guitar and a girl playing a vibraphone.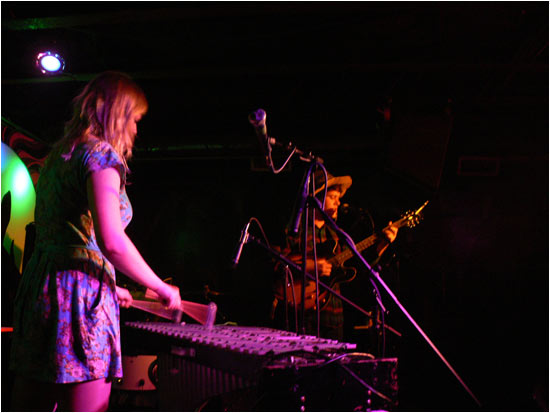 He sang and strummed lightly, his voice a reverbinous baritone that reminded me of Mark Kozelek. The girl tapped at the vibraphone with a skill i have not seen outside of a Tortoise show. Seriously -- she knew how to play that instrument very well.
They played some pleasant folk-pop tunes, the vibraphone's haunting chiming providing a nice backdrop for 100 Watt Horse's vocals. At one point he had to tune, and went on a little rant about how the next song they were going to do was "so old no one knew who wrote it." I was dreading a madrigal, but thought his voice might work well with a nice old spiritual.
And then he sang, slowly and with his rich voice muttering the words, "I come home in the morning light / My mother says 'When you gonna live your life right?'" Tracers and i exchanged a surprised and delighted look as they did a slow and really beautiful cover of Girls Just Wanna Have Fun. Magnificent. They followed this with another great cover, 13, the old Big Star classic, the slow pace of which worked well with their instrumentation.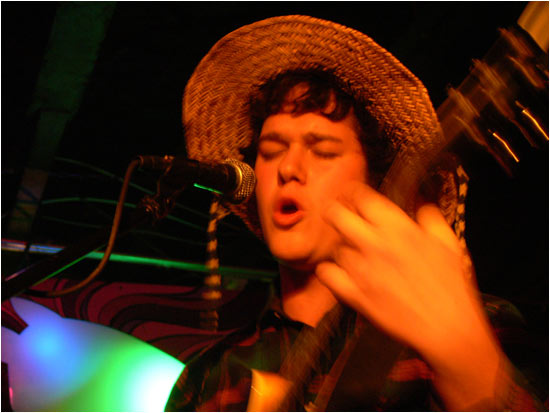 Girls do, in fact, just wanna have fun...
These two songs were, to me, the highlights of the set, but i really enjoyed the performance. I would go see this act again.
Being a two piece with minimal instrumentation, they cleared out pretty fast and two guys set up a few tables of electronics. They started their set pretty quickly.
I Come to Shanghai make dance electronica of the type that i really enjoyed in the mid 1990s. There was a hint of Orbital, some Tranquility Bass, and maybe a little (early) Autechre in this mix, which was throbbing beats and soaring synths.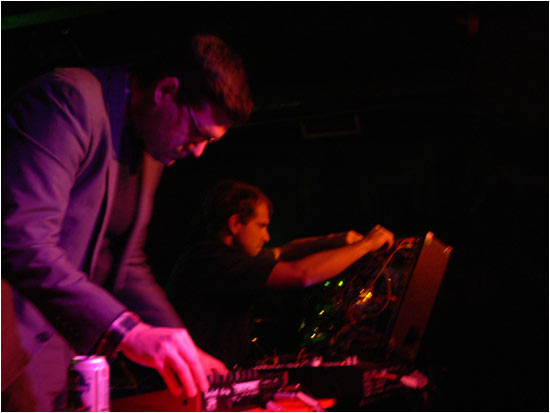 To be honest, i found this to be a little too retro for my tastes these days. Maybe i just wasn't in the mood for this type of mellow dance music. I dunno, but i found them to be the least enjoyable of the three acts tonight. Everything they were doing sounded right for the time frame / genre they were emulating, but nothing really stood out as improving upon what has come before. Again, it might just have been my mood, and in other circumstances i might really enjoy this band.
It seemed like they played a short set, and soon enough Qurious took the stage. This was another band with two people and tables of electronics, although i think that Ms. Quesenberry had a real keyboard hidden behind the sheets that concealed their gear.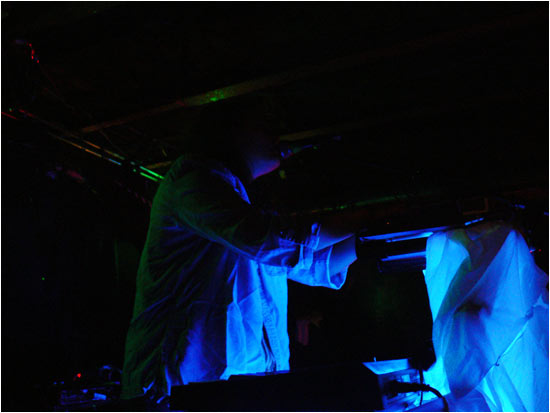 The band played in the dark, Quesenberry singing through distortion, looping and echoing her voice while Netland mixed and twisted synth sounds. The overall effect was a lush ambient drone that at times had an almost dance beat and at other times blurred into a haze. Sometimes i heard a little Shellyanophan in what they were doing, and at a few other points they reminded me of High Places (although with beats far less harsh), and at still other times the music reminded me of Mark Clifford remixing Cocteau Twins.
It was gorgeous, the small crowd at The Drunken Unicorn swaying slowly as these waves of sound crashed over us. Qurious seemed to play a really short set, but i bet it was 40 minutes. Still, as i fell into the sound and let it envelope me, it seemed to be over in an instant.
Wonderfully done, and i already look forward to seeing them live again.