I went back through some of our older EvilSponge reviews recently, mainly to see what I've liked in the past and to see how some of my predictions have turned out. One of the more interesting of these older reviews was a reference from a 2004 review stating that Atlanta band The Orphins were recording their second album, and expressed a hope that this record would soon be released. Now, some 5 years later, at long last, that album, called Wish You Well is coming out, and as you can imagine there was no chance that I was going to miss the album release show.
Shortly after arriving at The Drunken Unicorn, Club Awesome took the stage. I hadn't seen them in concert in quite a while, but I knew that their rhythm section had changed in the last few months. Likewise, I wasn't sure exactly what music they would play, since the band's debut album, Dynamos, was released some time ago. I wasn't sure if they were going to be like too many locals bands and continue to play their old standards time after time, or if they had continued to write and perform new songs.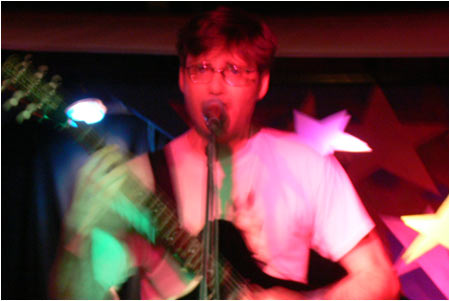 Errol is awesome.
In any case, I was pleasantly surprised by Club Awesome's set. The new rhythm section is tight, with the drummer in particular adding some fury and speed to the band's already quick paced sound. Similarly, although the band did play older favorites from their debut, they also performed several new songs. These new songs featured Club Awesome's trademarks, including sardonic vocals as well as a jangly bouncy indie pop sound. All of this bodes well for future records and their happy set reminded me just how much I enjoy this band.
After that, it took a while for the next band, The Selmanaires, to set up. While we waited for things to begin, I pondered on the history of this band. Back when I first saw them, The Selmanaires were a three piece who played angularly anthemic music propelled primarily by martial-sounding drumming assisted by deeply thudding bass. Since then, the band's released more material, expanded their line-up, and changed up the instrumentation. I believe this has made the music more accessible (or at least certainly it seems like their fan base has increased); however, I personally feel that The Selmanaires have moved away from their more enjoyable roots and moved into somewhat questionable territory.

The original Selmanaires.
Not that any of that is necessarily bad. But, once The Selmanaires began to play, I could see that they moved even further down the experimental line, with many of their songs treading dangerously close to a line called "meandering". By this I mean that although each component part was solid (and in particularly, the new dedicated percussionist was quite impressive in his skills), the tunes themselves seemed to lack a certain focus and drive that I would expect, with the music newer reaching a catharsis or even a crescendo.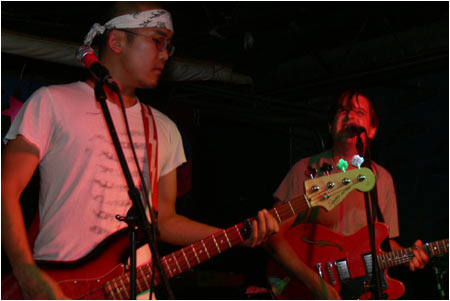 Tommy Chung and one Harris.
Similarly, it seemed that the band attempted to expend their vocals, which only highlighted the relatively reediness of the primarily vocal line. It was only at the end, when the percussionist moved away from the drumkit and one of the Harris twins took over, that the band seemed to regain their musical footing as those familiar martial drumbeats began to echo and the bass began to thud pleasingly. Of course, this may all be personal preference, but at the very least you had to admit that there were times on this evening where The Selmanaires dragged just a wee bit.
Then, The Orphins took to the stage, which had helpfully been filled with balloons to celebrate the forthcoming album. As I mentioned, I've been waiting years for this record to come out and so I was pleased when the band announced that, to begin with, they would play the entirety of the record from end to end.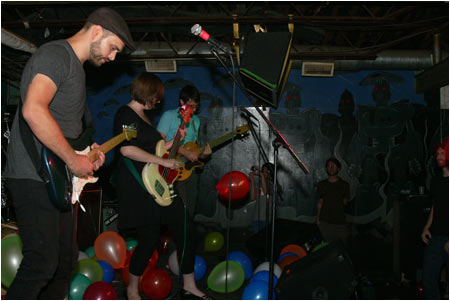 The Orphins used balloons to give themselves plenty of space to play in.
At the beginning of the set, they seemed to have a few equipment issues, with the bass in particular acting up. Nevertheless, the band brought their best game, soldiering through the difficulties while playing quickly and tightly, even though they admitted that at least one of the songs had never been played in concert before. And of course the songs that they've perfected over the years (including my long time favorite, Tundra) came across with The Orphins' characteristic energy and punctuation.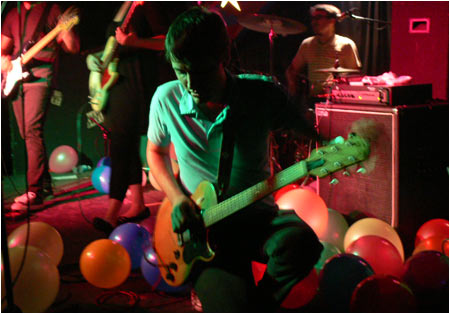 Upton re-stringing.
By the time guitarist Daniel Upton broke a guitar string, I was well pleased with the evening, but also exhausted, so we decided to head out into the evening. Still, I had a lot of fun and actually got to see bands. This was no mean feat, considering that the previous two show I tried to attend ended up with new live music (thwarted by a long playing DJ and food poisoning, respectively). And it seemed appropriate that my own return to the musical scene (so to speak) had come at the behest of two of my favorite Atlanta bands, Club Awesome and The Orphins.