It has been forever and a day since i last saw a band perform at Eyedrum. Eyedrum is an all volunteer organization, and for a long time there all they had was free jazz. (Here is my Free Jazz Joke: You know why they call it "free" jazz? Because no one will pay for it!) Well, they finally have been getting decent musical acts in again, and on this night i found out why. As Tracers and i were sitting under the grain silo out front (don't ask) relaxing, reading the latest Stomp and Stammer, and waiting for things to get started, Deisha Oliver walked in.
Ms. Oliver used to be the cellist in American Dream, and for the past year or so she has been booking Kavarna and Twain's in Decatur. She is also involved with Eyedrum, and i think her presence there bodes well for the future of decent music at the place.
Additionally, the Eyedrum collective has obviously decided that music is a priority for them. They built a nice stage area in a gallery directly behind where the previous stage area was.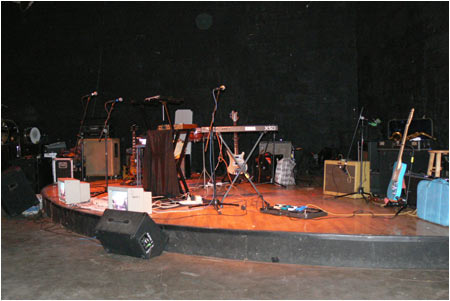 Eyedrum's new stage. And is it haunted, or is the lens on my camera dirty?
(Notice the "orb" just above the microphone in the center of the shot...)
This area has a real sound system with monitors and everything. Very upscale compared to what i was used to at this place. They even have a few tiers of stadium seating!
However, they obviously have not worked out all of the kinks in the system yet, as on this night there were only 2 volunteers at the venue, one to run the door and another to run the "bar" and the sound system. Meaning that if people were getting wine, then the musicians were not getting any more guitar in the drum monitor. Likewise if the volunteer was tweaking the sound, then you just had to wait to get a beverage…
So we showed up just before 9 PM, unclear on what time things would get going. My Education had implied that the event would start at 8 PM on their MySpace page, while the Eyedrum page implied 9 PM. When we got there only one volunteer had showed up yet, and so they weren't really letting people in. That normally isn't a problem as Eyedrum is also an art gallery, so you can go around and look at the art.
Well, the only art they had was a piece by Katy Malone in the front side room called "Released Retention". She basically painted the walls tan and stuck some sort of goo that looked like congealed fat to the wall. It looked gross, and it gave me the urge to go find a bucket and some bleach and try to clean that up. I kept expecting the room to smell -- but of course it wasn't really congealed fat, but some sort of epoxy. Strange.
So we had some time to kill, so we sat outside and waited. Which is when we ran into Ms. Oliver.
At around 9:45 they started letting people in, and a small crowd built. I went to get a tasty Diet Coke, and of course all they had was water or wine. Sigh.
At 10:00 or so the first act took the stage. This is a 5-piece band from Athens known as Night Moves. They had a guy at a table of electronics, two keyboardists, a bassist, and a guitarist on stage. And they came out and proceeded to play … synth disco. Really, it was like watching OMD reinterpret the work of KC and the Sunshine Band. They even sang in falsetto at various times.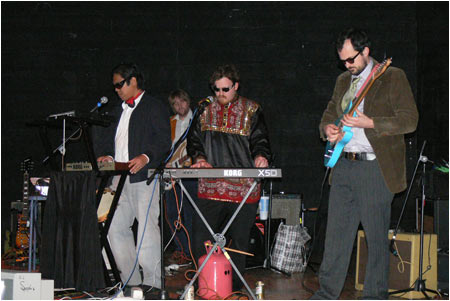 Isn't it funny how the Night Moves play that funky music?
Not my thing at all. I like synth pop, and i like dance music, but 70s style disco is not one of the many genres that i enjoy. Still, i have seen worse acts… And other people seemed to be getting in to it. Of course, the "other people" included about 6 high school children whom the bassist brought on some kind of field trip, so that they could see their teacher perform. I wonder what subject he teaches? Does the Clarke County School District have a class in disco/funk bass?
And then, after a short change over, My Education took the stage. We had seen the band perform just a few weeks back in Austin, where they added a female keyboardist and cellist to their normal 5-man lineup. Tonight, it was just the lads, and they played a great set. They only played 5 songs, and one of them was short (short for My Education -- it was probably a 5 or 6 minute tune). Tonight's set included another excellent rendition of Concentration Waltz as well as a rocking version of Sluts and Maniacs off of their latest record.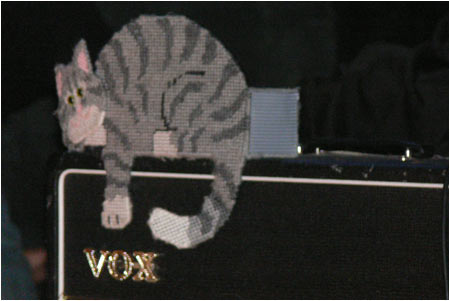 Much to Tracers' delight, the Amp Cat made a showing at Eyedrum.
The music soared, the viola leading the charge, and the dueling guitars dove in and around each other, while the bass and drums charged ever forward. It was one of those sets that when the bassist said, "We have one more for you" i thought, "No way -- that was a short set." But when it was all done, they played for close to an hour. I guess i just lost myself in the layers of their music, in the multiple melodic lines and the interesting rhythms.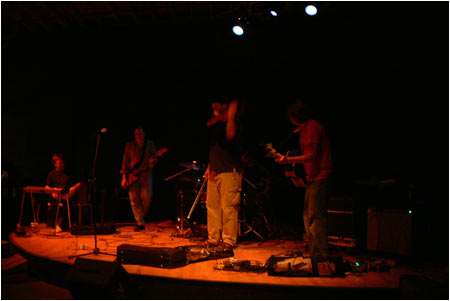 My Education in action.
My only complaint is that the pedal steelist was too loud. Not when he was playing pedal steel, but when he switched to regular electric guitar his sound kind of overpowered the rest of the instruments. To his defense, he kept adjusting it, but it never got exactly right from where i was sitting.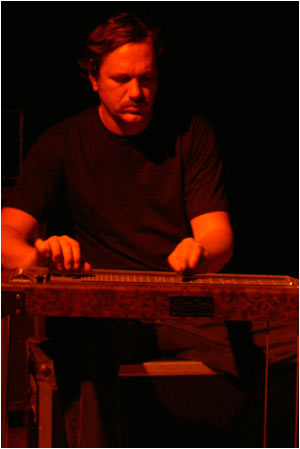 The very well mic-ed pedal steel.
Still, it was another great set from one of my favorite post-rock acts. My Education are making interesting music, and doing it well. If their tour brings them near you, i recommend you go check them out.