So what do you do when you are a small band who recorded a decent album, played around for a few years, and then broke up while everyone moved on, and then your heroes, the band you wanted to be like, inexplicably reform, release new records, and continue touring? If you are mid-90s Atlanta band Some Soviet Station, you reform for a one-off show opening for Mission of Burma.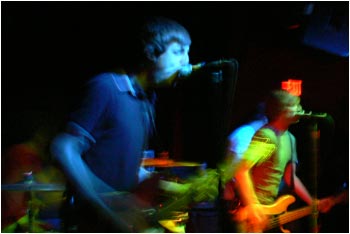 Some Soviet Station in action.
I liked Some Soviet Station back in the day. I think i only saw them once, twice at most, but i enjoyed their record. And i really enjoyed the band that most of them evolved into, Paper Lions, who were reviewed here more than once. So it was good to see them back and "living the dream" as we say.
Tonight they performed an only slightly sloppy set of angular post-punk with a hard, melodic edge. It is as if the drummer and bassist were playing in Queen, the lead guitarist in Black Sabbath, and the main vocalist and guitarist in Gang of Four. I know it doesn't sound like much, but that's actually a pretty interesting combination. Tracers said that they reminded her of a "harder The Close", and that's another good comparison.
They had only one minor hiccup. At one point the bass amp head shorted out. It took them almost 10 minutes to fix it, even dragging sound guy Curt Wells on stage to dig around in the wiring. The drummer, annoyed, said, "I told you we shouldn't have done this!" He said it loud enough for the crowd to hear, and got a hearty laugh. Which goes to show how laid back this show was. In other circumstances, a 10 minute rewiring break could entirely kill a show and turn the crowd against the band.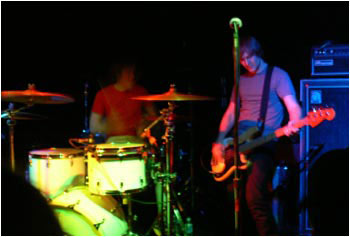 Somewhat skeptical Soviet Station Drummer.
But not tonight. Tonight, the crowd was mostly older scensters. People who knew who Mission of Burma are. Probably people who had seen them the last 2 times they played Atlanta since the reunion, if not before, back in the early 80s. Everyone was there to have a good time and hear some good tunes. Some Soviet Station were an excellent match for opening band, and the crowd was mostly content to stand around chatting with old friends while the technical glitches were worked out.
Overall, i enjoyed their set tremendously. SSS were a talented band, and i am sad to see them gone, perhaps for good this time. Oh well.
It was just after 11 PM when Mission of Burma took the stage. Drummer Peter Prescott was set up behind a plexiglass shield, keeping at least some of his thunderous beats from (further) damaging the hearing of guitarist Roger Miller.
Without much fanfare, they tore into it. They started with a blistering song off of their latest album, The Obliterati, bassist Clint Conley really belting it out. And they never let up. Each member took turns singing, and they played a set that seemed heavy on the two post-reunion records. I guess that's not really surprising. They did perform the excellent Nancy Reagan's Head from the latest disc, as well as their first single Academy Fight Song, from way back when.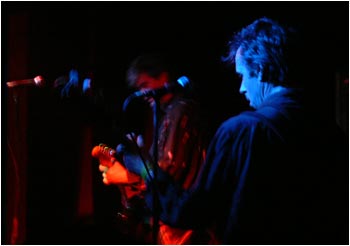 MoB: Clint Connelly and Roger Miller.
They ended their first set with a special treat. They invited old friend and local post-punk legend Vanessa Briscoe of Pylon on stage to sing with them. The crowd really went crazy for this one. Briscoe is an excellent performer, and her whirlwind dancing made the energy on stage positively explode. After that, Mission of Burma took a much needed intermission.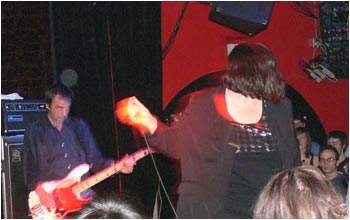 Special guest star Vanessa "Pylon" Briscoe gets the crowd going.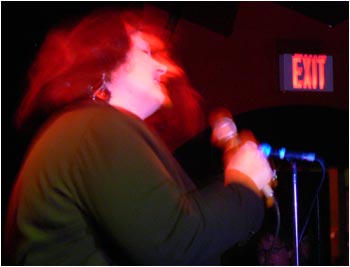 Ms. Briscoe moved around so much that it was hard to get a good photo of her.
I have seen Mission of Burma all three times they have played Atlanta since the reunion. Each time they play for 45 minutes, take 20 minutes to rest and change into non-sweat soaked clothing, and then they play for another 30 minutes or so. And i am always struck by this odd similarity: The Dead did that too. The Grateful Dead always took an intermission to, well, probably to smoke out again, but whatever. It's strange to me that i am able to draw this comparison between a great punk band and arguably the biggest of the hippie acts, but there it is.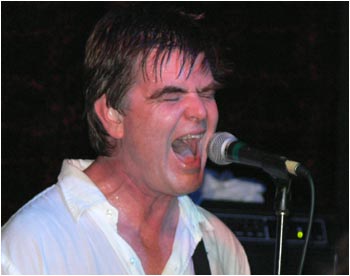 Roger Miller screaming and sweaty ....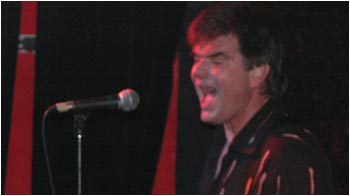 ... and screaming while not so sweaty.
Mission of Burma came back on and the furious rocking continued. Notable in the second set was a steaming version of 2wice, the lead off track on their latest opus. I like this song on the record, and live it was amazing. The crowd was really getting into it too, and they worked us to a frenzy, ending set 2 with their classic, That's When I Reach For My Revolver flowing right into Donna Sumeria an odd but fun Obliterati song.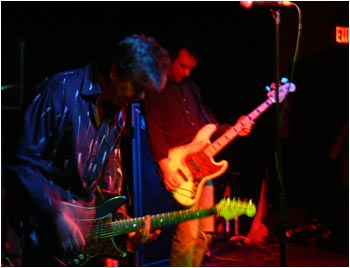 Mission of Burma rocking out.
They came back on for an encore, which was okay, but i was exhausted from the long day and bouncing up and down for over an hour. They did end with a long cover of the Pere Ubu classic Heart of Darkness that was enjoyable but not great.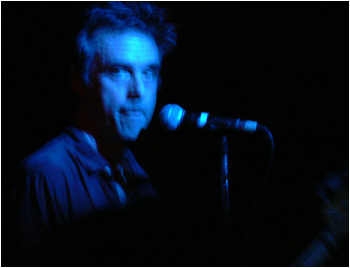 Clint Connelly in blue.
Still, it was one heck of a show. If Mission of Burma want to continue to tour and keep putting on shows like that, i will keep going to see them.