Friday night in Oakhurst is pretty happening, if you didn't know. We showed up around 7:30 or so and wandered across the street from Kavarna to The Universal Joint to grab some dinner. The food there was excellent, and there were several nice looking dishes that were carried by us on the way to other tables. In addition, they had a beer selection pleasing to Tracers, and a lovely shady patio upon which to sit, relax, and watch the traffic.
There were a lot of people walking around Oakhurst, going to various restaurants. It might not be a big area (really, it's just an intersection with restaurants and shops around it), but it seemed really happening. Maybe it was just the utterly lovely spring evening that brought people out.
As we were eating our meal, we noticed a musician setting up at the patio of Steinbeck's pub across the street. This turned out to be Michael Bradley, who was the driving force behind Myssouri, a now defunct local act that EvilSponge listened to a lot during the first half of the decade. He was joined by another guitarist, and they sat there serenading the crowd with folksy tunes sung in Bradley's deep resonant voice.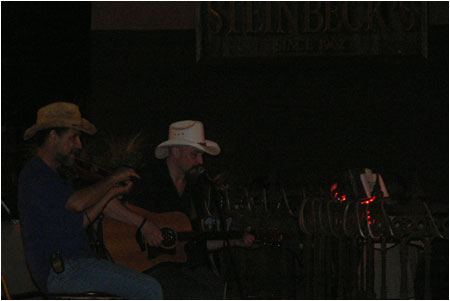 Michael Bradley serenades the patio at Steinbeck's.
After food, we wandered over to Kavarna for coffee. Kavarna is a coffee shop, although they also serve beer and wine, and apparently some food. The coffee is pretty good too, which is always a plus. I can't stand weak coffee.
When we got there it was around 9:30, and there was a guy with an acoustic guitar and a harmonica on stage. Apparently this was Michael C. Smith, but i have to admit that we did not really listen to his performance. It was such a nice night to sit on the patio, chatting with the various members and girlfriends of Jupiter Watts while Michael Bradley sang across the street, that we just stayed there chatting and enjoying the evening.
At about 10:15 we moved inside to see The Good Graces. This is the band of Kim Ware, formerly the drummer in Chickens and Pigs, and also the head of Eskimo Kiss records. EvilSponge has been friends with Ms. Ware for a few years now, and tonight was to be her last Atlanta performance before a self-imposed sabbatical from music. I guess that working a job, being in a band, and running a label can get to be a bit much, so Ms. Ware is taking a year off, "at least". We'll see...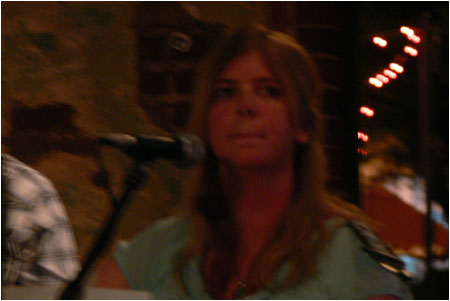 Ms. Ware is pensive about her "retirement".
The Good Graces features Ms. Ware on acoustic guitar and vocals, John McNicholas (also of The Yum Yum Tree) on electric guitar, a keyboardist, and a drummer with a sparse kit.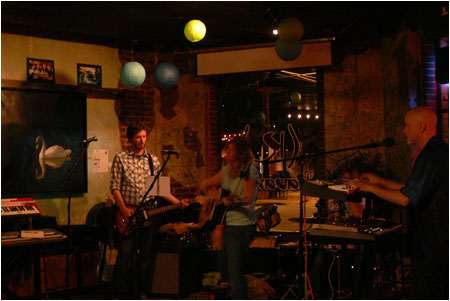 The Good Graces in action.
The keyboardist was a surprising element in the band, lending a little bit of a new wave feel to what was otherwise a kind of folksy performance. But mostly this is Ware's band, and her vision drives it. She has some pretty funny tunes too, which is always a good thing with this type of confessional music. Highlights for me included I Miss the 90s, which is about being too old to go to shows every night (something which we at EvilSponge are also grappling), and Bad Driver, which might actually be about any number of people we (or you) know!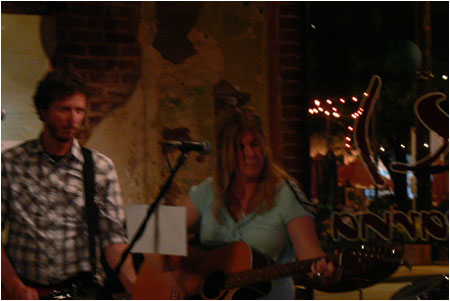 Ware and McNicholas.
The music came across nicely, the sparse drumming adding just a hint of percussion while McNicholas added some nice soloing, and the keyboardist added that new wave touch. Ware has a pretty good voice, and i thought that the whole performance hung together nicely. I hope that she enjoys her year off.
After that, we sat around waiting for Jupiter Watts to set up. Readers of this site will know that Jupiter Watts is one of EvilSponge's favorite Atlanta bands. They create some really interesting poppy space rock.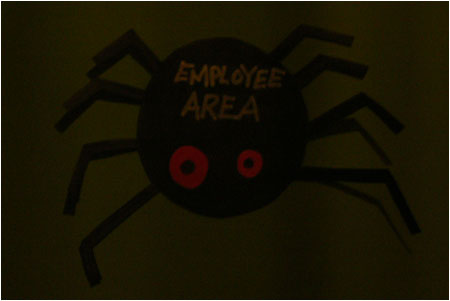 During the intermission i went to use the restroom, and saw this
spider on another door, presumably to the shops office.
The last few times we saw them, they were down to a four-piece without a permanent drummer. This meant that guitarists/vocalists James Trigg and Ramon Wals also alternated on drumming duty.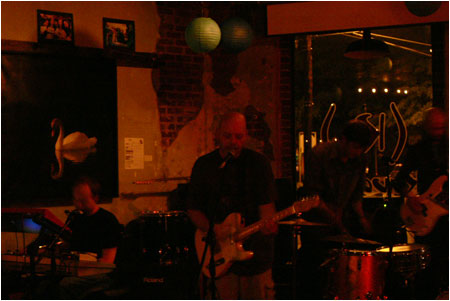 Even with the new drummer, Trigg still drummed on one song.
It worked adequately enough, but the lack of two guitars made their sound even more sparse. Well, fortunately they have added a new drummer, Mr. Chris Jensen. Jensen was in Myssouri, and also in Hot Young Priest, both of which acts were well-received here at EvilSponge. Mr. Jensen is known for playing lightly. He is not a heavy-handed drummer, and we felt that his addition to Jupiter Watts would be good.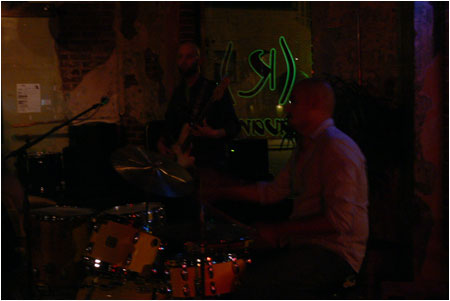 Mr. Chris Jensen, on the drums.
This was the first time we had seen them since Jensen joined the band, and i must say that it did not disappoint. Jensen's presence speeds up the songs just a tiny bit, while also really filling in the backbone of the songs.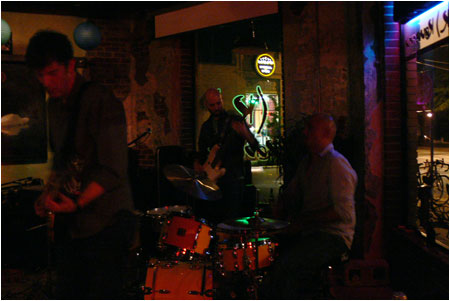 Jupiter Watts in action, now with adding drum!
They played for about an hour, and it was a typical Jupiter Watts spacey rock show.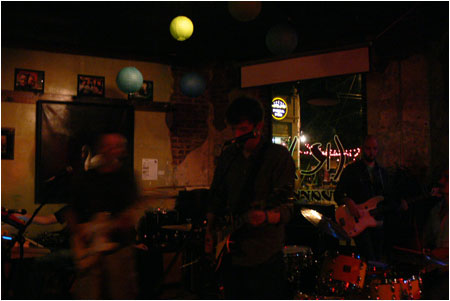 Jupiter Watts in action.
Highlights include a long, slow, almost ambient version of Break the Curse, and long freak-out jam at the very end, where the band let Jensen cut loose for some intense percussion, as the two guitarists played with their distortion pedals.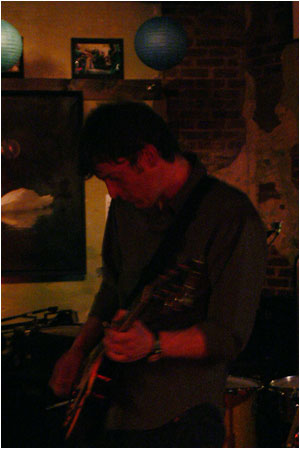 James Trigg concentrating on his guitar.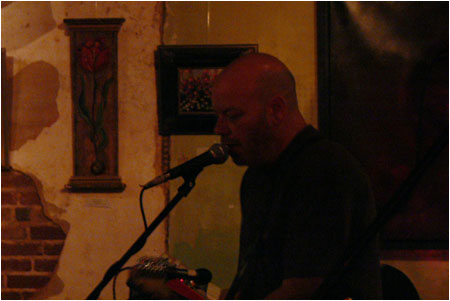 Ramon Wals, singing and guitaring.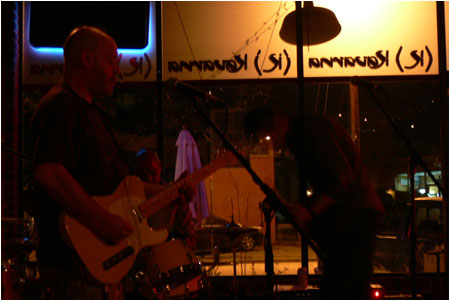 Both guitarists in action.
Another fine set from this act. If you are in Atlanta, you need to go see one of their rare performances. They do not disappoint.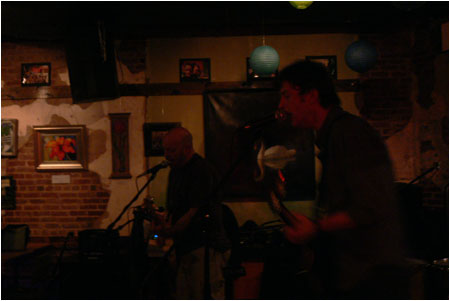 Dual vocalist action.