Ah, The Masquerade. I used to go to this club a lot back in the mid 1990s, when Thursday nights were "Old School Dance" in Hell, where i would dance like a drunken idiot to New Wave tunes. Nowadays, it seems like every other year i hear a rumor that The Masquerade is being shut down and the site leveled so that still more lofts can be built. But that hasn't happened yet, and The Masquerade plods on, every once in a while hosting a band i want to see.
The first band tonight is actually one that i was curious about, which isn't always the case with openers. But Siberia My Sweet are my neighbors, quite literally. One or more members lives down the road from me and every morning i bike by their SUVs emblazoned with Siberia My Sweet bumper stickers. I actually saw them move in, which was very odd as i was walking down to the Citgo and i passed their tiny keyboardist trying to lug a box into a house from a rental truck. I think it is either the singer and/or the guitarist who live there, but they drafted their band mate to help move in. At any rate, i had only seen the band perform once before but recognized my new neighbors from that performance.
However, that previous performance had been a little strange, as their rhythm section was sequenced. You lose a lot without live drums. Well, tonight they had a drummer added to the same three-girl lineup i had seen at Kavarna. The drums improved their sound a lot, but the bass was still sequenced, flat, and dull.
They played a set of quality new wave. The real star is the vocalist, who has a great husky voice, and she knows how to use it. Here at The Masquerade, the keyboards were also well mixed, which is a nice change from most venues where keyboard is more implied than heard. Here, they were clear and really contributed to the new wave feel of the band.
Their show was so new wave that i felt like i was in a club scene in a John Hughes film, and expected Molly Ringwald to wander by, or maybe John Cusack in a trench coat. It was that kind of festive, dance atmosphere that i associate with those 1980s teen films, with Siberia My Sweet's friends drunk and celebrating something (a birthday, i think). The high point of the show came when they covered Out of Touch, the old Hall and Oates tune. Of course, i couldn't tell you the artist while they were playing it, i just knew it was something from the 1980s. But it really got the crowd singing along and dancing.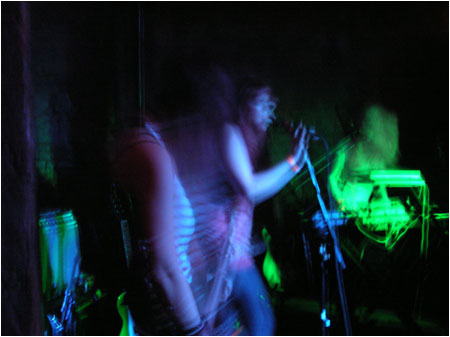 My neighbors are so out of touch...
Anyway, good fun was had. I suppose that if you do not like new wave, Siberia My Sweet will not really appeal to you.
The next act was a total unknown. They are called Million Young, and they had a few fans there who were, in fact, kind of young. An older lady standing near me commented, "It looks like they brought the entire tenth grade class!" to which i replied, "Oh no! Who is at the football game tonight?" We both laughed, and i lamented the fact that i am hanging out with the parents at the back of the crowd these days... In retrospect, when i call her "an older lady", she was probably only a few years older than me. Fogeyhood sucks.
Million Young are a two-piece band from Florida. They have a guy who plays bass while dancing like Flea, and a guy who sings, plays guitar, and fiddles with a table of electronics. The music was fresh and very modern, and it seemed strange that they were sandwiched between two very retro bands. I heard elements of Nosaj Thing, Walls, PVT, and many current Kompakt and Warp bands in their sound, which is a swirling miasma of deep throbbing bass, crunchy beats, and heavily distorted guitar and voice.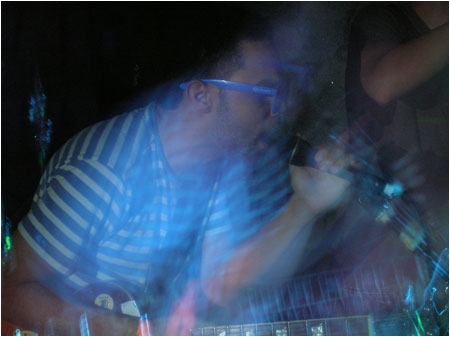 Million Young rock the high schooler scene.
They were a lot of fun, and the crowd really seemed to get into it. They had no CDs to sell at the merch area afterward, which is a shame as i would like to see how they translate to the recorded environment. I would definitely go see this act again.
And then, finally, it was time for Film School. The last two times i have seen them they played at The EARL, to a crowd of a hundred or so. In the Purgatory level of The Masquerade, they played to perhaps 50 people, at most, and Purgatory was less than half full.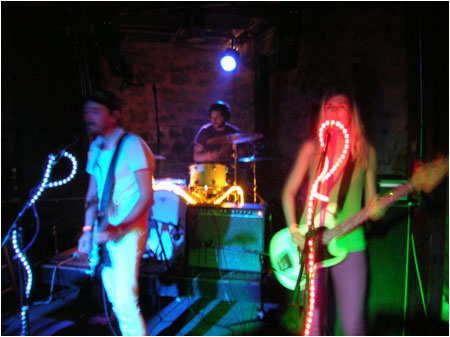 Film School in action.
This night they did not have the frizzy-haired guitarist, which stripped down their sound a good bit. Not that it was sparse sounding at all -- keyboards were well micced, so they filled the gap made by the lost guitar. I think that this was a great mix, with the keyboards really dominating in a way you don't often get live.
They played most of Fission, their latest record, but did hit a few old tunes, like Dear M and Lectric, which they played back to back. On the new record, bassist Lorelei Plotczyk sings more, and her voice sounded good in concert. I found myself bouncing along, and really enjoyed the performance.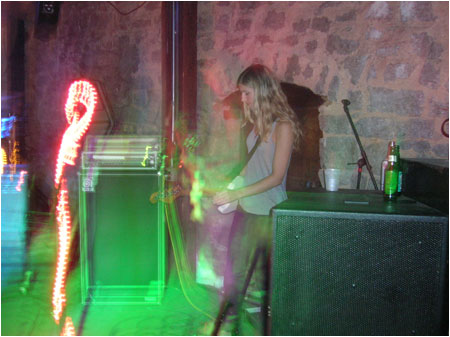 Lorelei Plotczyk, in a rare "in focus" shot.
Why don't more people like this band? Well, i suppose it might have to do with the fact that they are kind of retro. I would say that Film School are the best new wave band currently touring. If Siberia My Sweet make the music that the unknown band plays live in the club scene in a 1980s movie, then Film School make the cool hit song that plays over the scene in which the main character has their moment of personal growth/revelation. These are the songs that you remember most from those movies, and each Film School song reminds me of those moments. They would have been huge in 1983.
Still, even it was a sort of retro evening, a fun night was had.