First up was a young lad, who looked like a cross between Joy Division's Stephen Morris and former footballer Peter Beardsley, playing a guitar to backing tapes. It was a bit shoe-gaze, a bit Krautrock, and would undoubtedly have been better with a band (and a vocalist). Still, he had some nice ideas. Some bloke with a strong Welsh accent then came on and played the keyboards and initially sounded like a Supertramp that had been diagnosed with the early symptoms of depression, but as time went on this seemed a less appropriate description, as he had his own maudlin minstrel style. He wasn't necessarily my cup of tea, but he had a pleasant voice and a certain charm, talking about artists that have influenced him and singing one song in his native Welsh language. And in his 70s gear (waistcoat and flares that wouldn't have looked amiss on a member of The Young Generation dance troupe), there was something quite endearing about him.
As for Faust...well this is the version of the band that consists of Jean-Hervé Peron on bass and Zappi Diermaier on drums. The latter is such a distinctive drummer that I heard myself asking my mate if he thought Zappi could actually play the drums in a conventional style.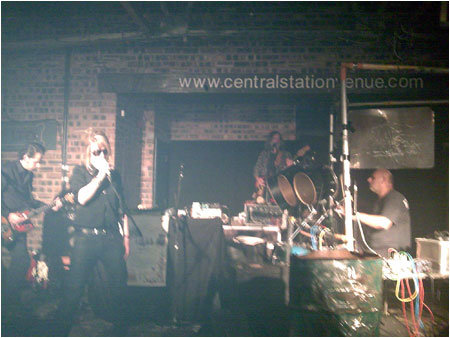 Faust in action.
This time round Peron and Diermaier were joined by the charismatic Gallon Drunk guitarist James Johnston and a rather attractive blonde woman on keyboard, guitar and vocals who, it transpires, is independent film maker Geraldine Swayne. The bloke next to me seemed to take a bit of a shine to her. "I wish I had a girlfriend like her," he said to me out of the blue, before pausing and, with some nice comic timing, adding, "I wish I had a girlfriend." Unfortunately, a bit of googling will inform him that she's married to the aforementioned Johnston.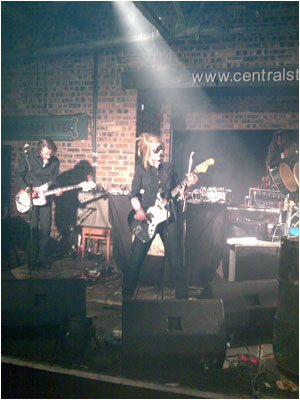 Ms. Swayne regrets to inform the audience that she is not interested
in inebriated British fans. Sorry.
Anyway Faust started with a heavily percussive piece that was interesting to watch, but Swayne was playing some 70s-like tinkly electric piano and I really wasn't too keen on the tone of it. It was with some relief then that she moved away from this to another keyboard as things got going with some great motorik beats.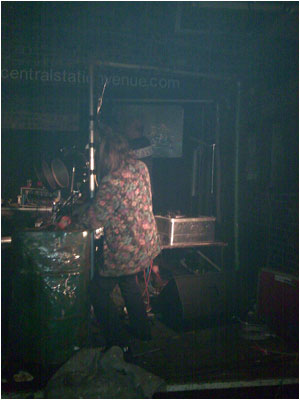 Fun fun fun on the autobahn...
After this we got lots of interesting rhythms, and the almost obligatory power drills and chainsaw which saw Peron carving out the word 'IMMORTAL' in a large piece of polystyrene. Unfortunately, as a result of it wobbling about, it had to be partially supported from beneath by some brave soul who, by the time this had finished, looked more in need of some Head & Shoulders than anyone I've ever seen. There were also flames and a lot of fun.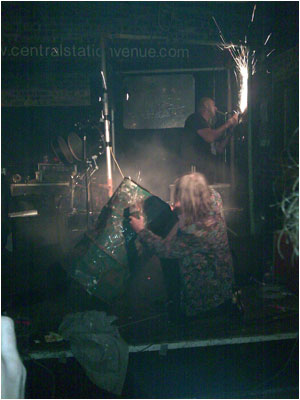 Faust perform their version of Once Bitten, Twice Shy...
Anyone who says that the German race don't have a sense of humour have clearly never seen Faust. Peron appeared in very good spirits and raised a laugh when, backed by some atmospheric sounds, he said "imagine" before pausing and then adding with a grin the unexpected words, "a cement mixer on the stage."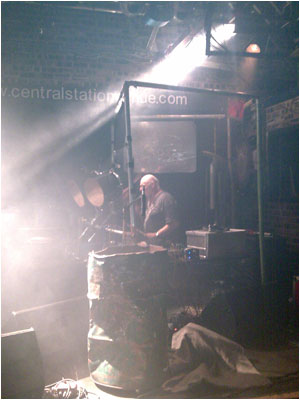 It's an oil drum, but pretend it's a cement mixer...
It was a very different show to when I saw Faust five years ago, with Peron playing bass for most of the set and being much less of a front man this time round. I mean this quite literally as Peron spent most of the show standing at the back of the stage - when not playing with his electrical tools of course. Nonetheless, it was a fascinating – and let's not be snooty - entertaining performance.