I am loathe to spend over $25 for concerts these days, but I gladly shelled out $65 for a chance to see one of my lifelong favorite bands, Duran Duran, in the intimate 1,100-capacity Center Stage venue here in Atlanta. Having seen the original five-piece lineup at The Tabernacle in 2002, I knew that Duran Duran could still put on a great live show. Although the current band lineup only has four original members (Simon Le Bon, John Taylor, Roger Taylor, and Nick Rhodes) in the wake of Andy Taylor's departure a few years ago, Duran Duran has enjoyed a recent creative awakening. I also knew that the Center Stage show, part of a club venue promo tour before Duran Duran's larger venue visits later in 2011, would be a fine way to reminisce with childhood nostalgia for some well-loved songs.
Duran Duran's new album, All You Need Is Now, captures the urgency of the band's early material from the 80s in an unexpectedly effective way, thanks much in part to guidance from producer Mick Ronson, who urged the band to make their "imaginary follow-up album to Rio". The result is an album that sounds like a collection of outtakes from Rio and Seven and the Ragged Tiger, in that the songs flow like the album deep cuts from that era of the 1980s without having a heavy-handed anthem feel of a band that is trying too hard to relive the past. At the Center Stage show, the five new songs in the set blended seamlessly with the older crowd favorites so that there were no energy drops from the band or the audience.
I arrived at the venue by myself and enjoyed people-watching in the crowd that consisted of my generation set out to recapture old memories. I particularly enjoyed one conversation that I had with four attractive early 40-something women next to me, because these four friends told me that they had attended a Duran Duran concert together when they were freshmen in high school and that, although they now live in different cities around the U.S., they reunited to attend this concert almost three decades later. Even I succumbed to the fever by thinking back on my repeated listens to Duran Duran cassette tapes in my middle school years.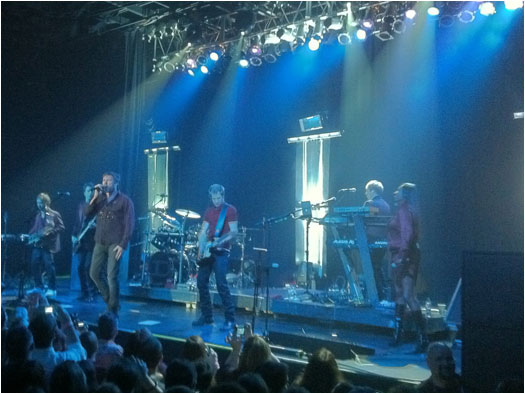 Duran Duran emerged onstage in a timely manner with no opening acts to play a lively 90-minute set that left all of us wanting more without making anyone lose interest. I had decided beforehand to settle back into some Center Stage seats thirty feet or so from the stage in order to let the adult female fans mob the stage, so I had a perfect view of the band members and a perfect spot to take in the sound.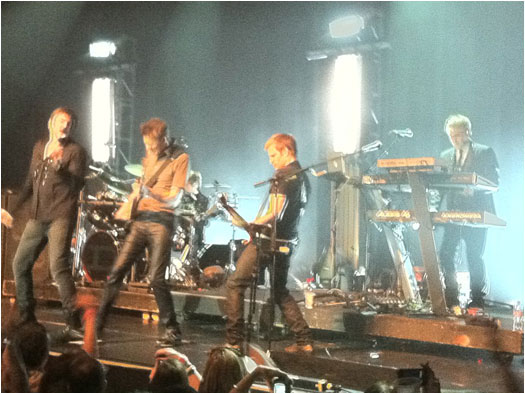 Simon Le Bon and John Taylor commanded most of the attention in front of the stage with their current guitarist and, although they're no longer young lads, they drew energy from the squeals of delight from the crowd to give an active performance. Roger Taylor joked around occasionally from his drum set while Nick Rhodes, who I have long suspected is the one running the whole show, confidently played his analog keyboards from an elevated point as if he were a foreman of an assembly line.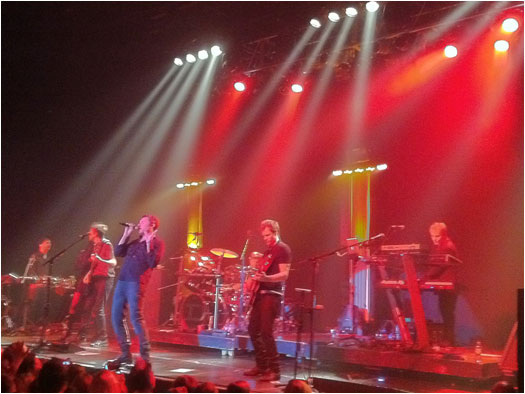 For a band that is generally acknowledged as the culprits for ushering an era of music video glossiness to pop culture in the 1980s, Duran Duran have surprisingly succeeded in putting their music first and foremost in recent years with a straightforward no-frills stage presence. Of course, during The Reflex, I couldn't resist joking with the women next to me that I wanted a refund because the big cartoon wave from the music video had not swept from the stage to drench me with water.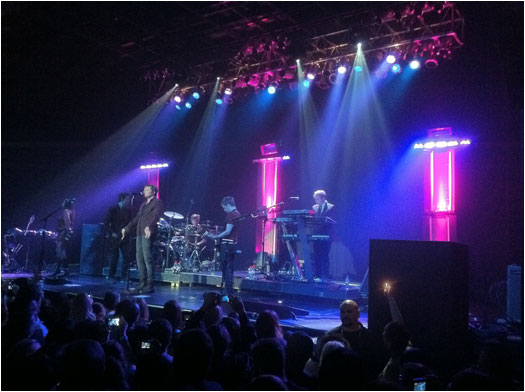 Duran Duran's self-titled debut album, one of my all-time favorites, received due attention with Planet Earth, Girls on Film, and the outstanding performance of Careless Memories. The band thoroughly enjoyed their cover of White Lines by Grandmaster Flash and it's no surprise that this song is a major draw of their shows in recent years.
In the end, we all age, but Duran Duran stays the same. Sometimes, an expensive show is worth every penny and I drove home from this concert with no regrets and a smile on my face.