Review:
Strolling on with a copy of his Megalithic European book, a tome of mega proportions, former Teardrop Explodes frontman Julian Cope did the best hard sell I've seen in a while. Concluding with "I'll put this book where it belongs - on a Marshall stack', it was easy to forget that this, his European equivalent to The Modern Antiquarian, was a book about stone circles rather than about Cope's life in the music industry. That's right, rocks not rock. Still, he was so convincing that a future on the shopping channel surely beckons. And whilst the banter was great, the music - from one man and his guitar - wasn't bad either!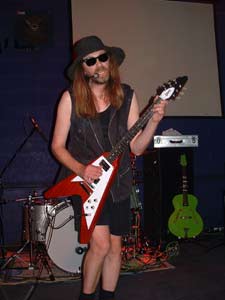 Mr. Cope and guitar.
Opening with a delectably titled new track called I'm Living In The Room That They Found Saddam In (from the forthcoming Citizen Caned album), Cope took us on a history lesson with a set that featured lots of classic album tracks from way back when. First up were superb versions of a couple of tracks, Quizmaster and Bandy's First Jump, from his 1984 debut LP, World Shut Your Mouth, with Quizmaster in particular featuring some genuinely spine-tingling vocals.
After that we got tracks from various stages of Cope's career, including the very early Read It In Books to a couple of tracks from last year's rather good Rome Wasn't Burnt In A Day, with The-Way-Luv-Is already sounding like something of a Cope classic. We even got Hairy Music, one of Brain Donor's (Cope's 'ambient metal' band) more successful moments. And whilst I felt obliged to do perform the glam stomp beat in my head, it sounded surprisingly great as a stripped down solo number, or, as Cope called it, The Battle Of Evermore version.
Holy McGrail and beloved Korgi joined Cope mid-set for excellent versions of I'm Your Daddy (from 20 Mothers) and - undoubtedly one of the highlights of the night for me - the little known Little Donkey, with its T.Rex Jewel-like riff, from the Skellington LP. After that we got the almost forgotten classic single, Fear Loves This Place, and though it took a while to get going, Cope really pulled it back towards the end with more great singing. And there was Head Hang Low, perhaps my favourite ever Cope song. And, although some Velvet-like strumming had replaced the keyboard and cor anglais, to hear Cope singing those "All is lost" lines was still a thing of immense beauty.
The set ended with Autogeddon Blues, which built beautifully and resulted in Cope really going for it. It was a real rousing end to the show, though we still had time for the self-titled Drude to pop back for a quick rendition of Sunspots as an encore. Hearing an audience old enough to know better singing "mee-ooowwww" was perhaps the ideal way to end this great night. Gig of the year so farů