The Church have been around for a long time, and at present they are exploring their history. Last year, they did an acoustic tour, playing one song from each of their 23 albums. The Minions really loved the show in Atlanta, which was the end of the tour. Well this year The Church decided to do a tour wherein they would perform three entire albums. The albums they chose were Untitled # 23, their most recent record; Priest = Aura, a fan favorite; and Starfish, their smash hit from the mid 1980s. Again, the tour ends in Atlanta -- I guess so that the band can utilize the Delta hub to return home to Australia. I mention this because I am reviewing a show that you cannot see – they have all already happened. But perhaps this will help you decide to see them next time.
First off, let me state that the three records the band chose are not exactly the records that i would have chosen. Priest = Aura came out a mere four years after Starfish, while Untitled # 23 was a further seventeen years later. Of course, for much of the time after Priest = Aura The Church were at their most unfocused, so i am happy at the choice of their most recent record. However, what i would have liked to see is a really early album, like The Blurred Crusade, perhaps with Starfish as the middle record, chronologically speaking. But oh well, you take what you can get, i suppose.
I got to The Variety Playhouse just shortly before 8 PM, to find the Playhouse almost full. Even the balcony was crowded. Like last time, the crowd was mostly older fans, this time some people even brought their kids. The floor of the Playhouse was filled with chairs, seating being placed on the floor and in the side tiered seating area, in preparation for a sedate show. I took a seat near Inspector Jason, and sat down to wait.
At just after 8, the lights dimmed and The Church took the stage. This tour was electric, unlike their last one, and they added a keyboardist and additional guitarist for most of the songs, someone named Charlie Wilson. Steve Kilbey greeted the crowd and explained the format, and they tore into it.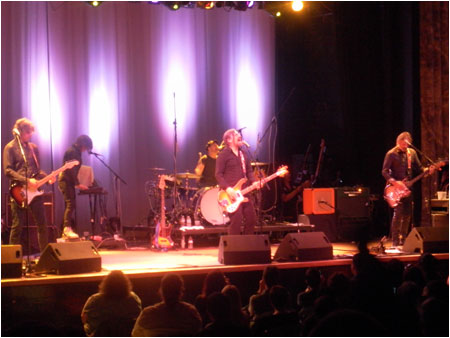 Marty Wilson-Piper on vocals. (Photo: PostLibyan)
On Untitled # 23The Church explored some different instrumentation. For about half of the songs, Kilbey played guitar while Marty Wilson-Piper played bass and additional member Wilson played keys. It was a rich, full sound, and Space Savior and Happenstance came across really well. On Angel Street, a slower more abstract song on the record, came across really well thanks to a fun performance from Kilbey. However, the last two songs really dragged. Lunar and Operetta are more meandering, and for these songs Kilbey sang and did not play an instrument. I found myself wanting the band to just move it along already.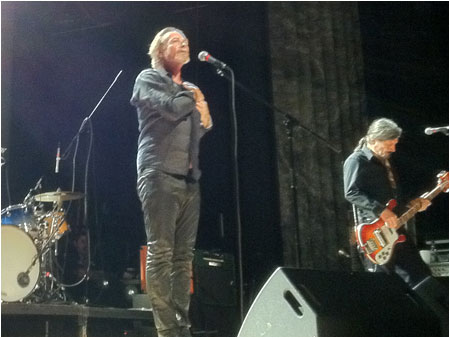 Steve Kilbey rocks the leather pants. (Photo: Inspector Jason)
During that set, Kilbey had remarked how his voice was bothering him. At a few points, he did seem to be straining a bit much, but as this was the last night of the tour he seemed determined to push through.
They took a short intermission, then came back to do Priest = Aura. Synth-string heavy album opener Aura worked really well, and of course Ripple is a great tune. However, the real treat was a lovely version of the mellow Mistress, which the band really pulled off, Wilson-Piper hitting the acoustic guitar, and Kilbey dancing his way through it.
Towards the end of the record are a few songs i don't care for so much, including The Disillusionist, which Inspector Jason aptly said "gets kind of Monty Python". This is an overly dramatic tune that tells a weird story and has a mass chanted chorus. I was apathetic about seeing it live, but the band really pulled it off. Kilbey didn't play an instrument, instead he danced and mimed the song as he sang. He pushed the performance over the top, which made it fun; and the crowd really got into it, with people mimicking his mimed motions from their seats. I was surprised at how well it worked.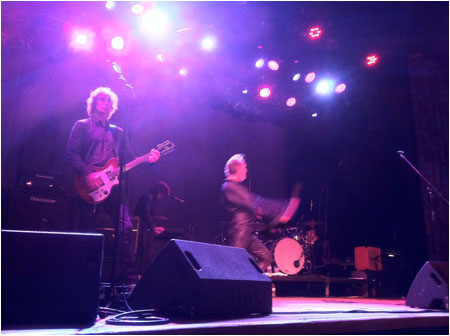 Is it hard to dance in leather pants? (Photo: Inspector Jason)
Priest = Aura is one of the records that most Church fans love, but it has never ranked high with me. However, aside from the nine-minute meandering jam Chaos, i think that this album really worked live. Well done.
There was another intermission as the excitement of the crowd continued to grow. Starfish is a classic record of the 1980s. In fact, i would bet that most people alive have heard it. It was one of those records that everybody at college had. I happen to know it forwards and backwards, and think that there is not a weak song on the entire record. However, one of my alltime favorite Church songs is the one that ends the album, Hotel Womb, and in the half dozen times i have seen the band i had never heard that one live before. I was really looking forward to hearing it.
Album opener Destination is another favorite, with Marty Wilson-Piper playing a soaring guitar line while Steve Kilbey and Peter Koppes play a sinister undercurrent. However, Kilbey's voice was really weak here, and the song suffered for it. He soldiered on, but afterwards gave up and talked to the sound man, who raised the vocal level in the mix, so that Kilbey could sing quietly so as to not strain his voice, yet still be heard. A good choice.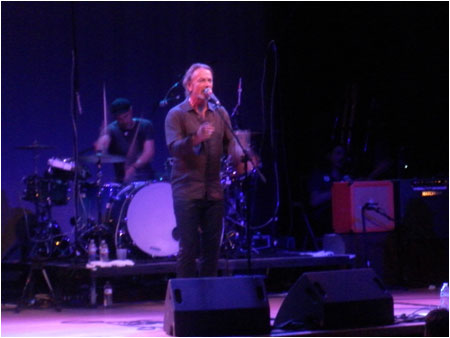 Poor Steve's voice was going towards the end. (Photo: PostLibyan)
Under the Milky Way got the crowd singing, with Peter Koppes using an e-bow to take the place of the bagpipe solo on the recorded version. Lost really worked well, with the whole band harmonizing.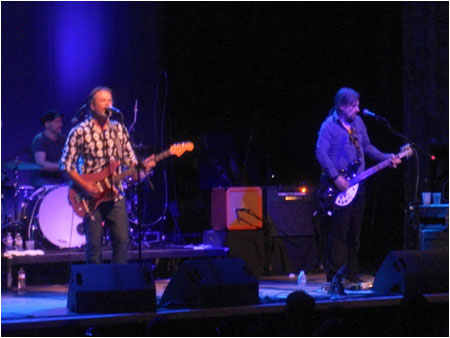 They're all just lost. (Photo: PostLibyan)
On Spark, Marty Wilson-Piper cut lose, both singing lead and tearing through his guitar parts. On the tier opposite from where we were sitting there was obviously the Atlanta Chapter of the Marty Wilson-Piper Fan Club, who went berserk during this song. They flailed their arms and thrashed their hair, screaming and having a great time. I thought that the song was well done, but these people obviously enjoyed it more than me. Good for them.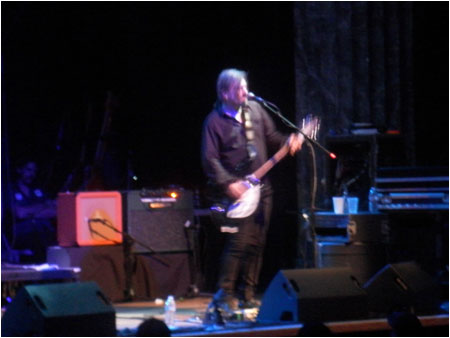 Marty Wilson-Piper is just a spark. (Photo: PostLibyan)
But i have always liked the guitarwork of Peter Koppes more, which is why i was on the side of the crowd in front of him. Koppes had been complaining all show that his mic was shocking him, but they had been unable to resolve the issue. Before A New Season, where he sings lead, Koppes apologized to the crowd for this by saying, "You're not going to get a good vocal out of me because of it". Indeed, this song was the weakest of the Starfish set, and that is a damned shame, as it is a good song on the album.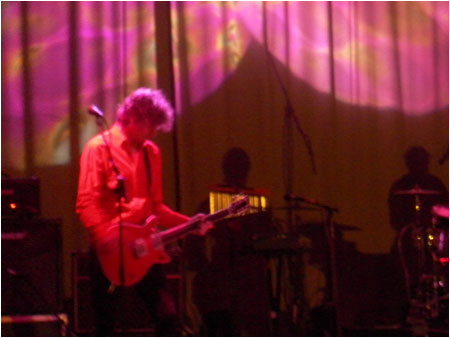 Peter Koppes in rock star guitarist action. (Photo: PostLibyan)
And then, finally, it was time for Hotel Womb. I have to admit, i really liked this live version. The instrumental jam in the middle was dragged out, all of the band just jamming away, with Wilson-Piper playing furiously and Kilbey doing rock star bassist poses. It was a great end to a great night.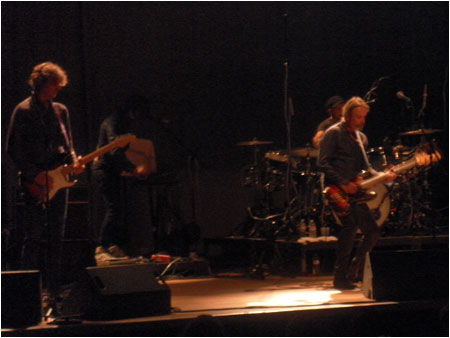 When Steve Kilbey plays bass, he really plays bass, man.
(Photo: PostLibyan)
So for the second time in less than a year i have seen an enjoyable performance from The Church. As they left the stage, Marty Wilson-Piper said to the crowd, "See you in, i dunno, two years?" I hope so, but i have to admit that i would prefer to not have to wait so long.