Review:
If I say that I cried when Marc Bolan died back in September 1977 and then a few days later ran from my school in North Wales to get a train to London just to be at the bopping elf's funeral, you should get some idea how devoted a T.Rex fan I was. And if I say that on meeting Gloria Jones in the foyer prior to this 30th Anniversary tribute show, I was reduced to being a pathetic gibbering 16 year fan again, you will realise that little has changed over the intervening years. So, although I feared tonight could prove to be rather on the naff side, I had long since decided to leave any critical faculties outside the door. We were here to remember Marc. And party!
The night started shakily though. MC Eric 'Monster' Hall had clearly had a few Sherries, a situation not helped by the failure of T.Rextasy to come on-stage following his introduction, which resulted in Hall telling jokes and singing a few bars of the "lalalalalalala" section of Hot Love very badly. Eventually though, Danielz led his famed tribute band on-stage whereupon they launched into a version of The Groover, a rather perfect opener with its "T.R.E.X." chant. Celebrate Summer and New York City followed, before the first guest of the night made an appearance – Andy Ellison, the former John's Children (and Radio Stars) singer came on, looking in great shape in his Ramones t-shirt. Ellison, accompanied only by his electric guitar, put in a couple of interesting interpretations of ancient Bolan numbers, Mustang Ford and Sara Crazy Child. Then, T.Rextasy returned – along with Blondie's drummer extraordinaire, Clem Burke – for a combined version of the John's Children classic, Desdemona. I've already read one review that referred to Ellison "shakily" climbing the speakers and performing a version of the JC classic that "didn't fly", which would have those of you not present thinking that Ellison, who is obviously knocking on a bit now, was some doddery old fool. Nothing could be further from the truth. The man might be 62, but he's in great shape as he revealed when freed of the guitar. Immediately Ellison did a somersault, ripped off his t-shirt, and stood on the barrier looking for all the world like an English Iggy Pop.
T.Rextasy continued with a version of I Love to Boogie, being joined half way through by some bloke leering away madly. To be honest, I didn't recognise him straight away, but he turned out to be a childhood favourite of mine, Ray Dorset of Mungo Jerry. I'd read Dorset's announcement on his website that he had been asked to sing I Love To Boogie. But I thought it would be more appropriate if he sang something like Debora as the Tyrannosaurus Rex influence on Dorset's vocals on the likes of Lady Rose is unmistakeable. Amazingly, Dorset then performed…Debora, though his performance would have benefited if he'd bothered to learn the words and didn't have to clutch the lyric sheet like his life depended on it.
Marc Almond then played a beautiful set, backed only by an acoustic guitarist, of some lesser known Bolan numbers - Brokenhearted Blues, The Visit, The Perfumed Garden Of Gulliver Smith, and Change. He was every bit a star, though it turned out we'd seen nothing yet.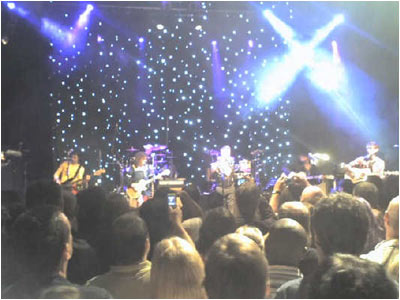 Marc Almond and T.Rextacy.
Eric Hall returned, presumably having consumed a few more Sherries, before T.Rextasy were able to continue, this time backed by Burke on bongos, and the rather attractive females that made up the string section – Dirty Pretty Strings! - conducted by the one and only Tony Visconti. The legendary producer later informed us that this was Cosmic Dancer's original string arrangement (which he'd found in a cupboard), and had been performed for the first time since it was recorded more than 35 years earlier. Unfortunately, a passport problem prevented Bolan's son Rolan being able to make this gig, where he was due to perform this number, but Danielz stood in admirably. The highlight though was that string arrangement. It was so beautiful there were tears in my eyes. The first half then ended on a more raucous note with the classic 20th Century Boy, with Burke back on drums and sax provided by former T.Rex cohort, Howie Casey. An excellent way to end the first half, with Danielz capturing Bolan's closing mad rant and scream quite splendidly.
The second half opened with T.Rextasy, along with Casey and the strings, performing a rousing Telegram Sam before the tribute act went it alone with Baby Strange. Former Blow Monkeys singer, Dr Robert then ambled on and performed Hippy Gumbo and Sitting Here, with Gumbo being especially marvellous.
Shakin' Stevens, meanwhile, provided a couple of surprisingly nifty numbers – Chrome Sitar and Laser Love. A friend had intended nipping off to the bar when Shakey was on, but he didn't move. Indeed, it was hard not to enjoy Shakey's clipped rock'n'roll phrasings meet slightly Bolanic warble. Linda Lewis sang Children of the Revolution and Metal Guru with a lot of personality and far more oomph than that sweet high voice on the likes of It's In His Kiss and Rock-A-Doodle-Doo might suggest.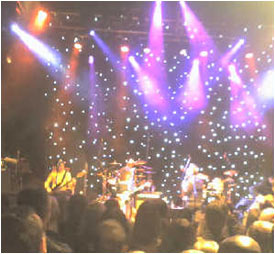 More of Marc Almond and T.Rextacy.
T.Rextasy were then joined by Visconti on bass for One Inch Rock and Ride A White Swan, and Marc Almond returned (draped in a feather boa!) for a magnificent Dandy In The Underworld and Teenage Dream, the latter backed by those strings, much to Almond's obvious delight. He had repeatedly referred to how surreal it felt for him to be up there singing the songs of his childhood idol, but singing a track from one of his favourite Bolan albums, Zinc Alloy, backed by its producer, Visconti…well, as Almond said…it doesn't get any better than this. And it didn't, with Almond camping it up on these two songs in fine style. Highlight of the night!
Almond also made another appearance – in his 3rd costume of the night – to introduce the one and only Gloria Jones onto the stage on what I believe was her first visit to the UK since Marc's death. What we saw next was something that we will probably never see again: Marc Almond, who as one half of Soft Cell had a massive hit in 1981 with Tainted Love, singing an unplugged duet of this classic with the woman who sang the original version – Gloria! In truth, Gloria only sang a couple of lines – her voice unfortunately seems to have gone - but watching her dance and grin to her heart's content as Almond sang and, well, grinned to his heart's content was a truly touching and uplifting moment.
Almond also performed Life's A Gas with T.Rextasy, who also threw in covers of Jeepster and Solid Gold Easy Action in the second half. The latter incidentally was introduced as Joey Ramone's favourite T.Rex song, which with its gloriously daft "hey hey hey"s kind of makes sense when you think about it. The set ended with everyone returning to the stage for a rousing Get It On with Clem Burke, who had appeared on several numbers in the second half, excelling during the extended instrumental section towards the end.
Various speeches and thank yous were made before everyone got stuck into the song responsible for the "lalalalalalala's" that had featured periodically throughout the night, mainly from Hall. Yeah, that's right. Hot Love. Seeing everyone together made you realise how different Almond and Dr Robert are these days. Both were very flamboyant 80s pop stars, but whilst Almond has continued his love of camping it up and glitter and is very much a STAR, the good Dr has piled on the pounds, dressed down and wandered about the stage with his hands in his pocket looking vaguely embarrassed at the prospect of clapping his hands with other former hitmakers. Ellison, meanwhile, knew no shame whatsoever – that shirt was soon ripped off again, and this time he hurled it into the audience.
So a good night, although I couldn't help thinking that at times it seemed too much like The Danielz Show – and that's in no way intended as any slight against a man who gave the show his everything. It's just that I would have preferred more guests – be it Marc's friends and contemporaries like Steve Harley and David Bowie (who recently performed at a Syd Barrett tribute gig, so he should certainly have shown up here for his old mucker, Marc) or the punk stars who loved Marc and whose careers owe something to him, like Siouxsie, Captain Sensible, Billy Idol, etc, or even other famed Bolan fans such as Holly Johnson, Morrissey, Marr, or even latter day Moz guitarist Boz Boorer, for that matter. Boorer is, after all, a man who covered Jeepster whilst in The Polecats and has previously played Marc's role as guitarist in a reformed John's Children, but unfortunately, he and Morrissey had the small obstacle of being in the middle of a US tour as an excuse not to be in London that night. Still, this is a minor gripe because this was a show where the odd tear mingled with a lot of fun, and in the case of Almond provided an absolute classic performance. Now how about an album full of Bolan songs, Mr. Almond?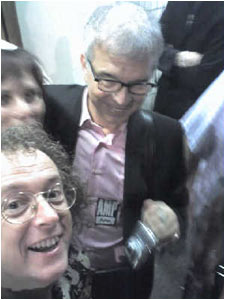 Tony Visconti meets with the fans after the gig.