Hot on the heels of an atmospheric performance from Brooklyn duo Von Haze a few weeks earlier, Rope Promotions brought some more interesting bands to The Compass, an old-fashioned looking pub that is – applause all round! - now home to much live music. Unfortunately, I only caught the end of the Mother Of Six set but they sounded great. Some full on rock led to several minutes of some almost psychedelic ramblings before they re-launched into their riff-fest and yelling c/o of their charismatic singer, Kieran Of Six, but sadly not for long enough. They certainly left me wanting more.
I'd heard about The F*g M*chine but hadn't actually seen them before. They didn't disappoint, growing into the set as it went on. Highlights were a track that included some excellent post-punk angular guitars playing over a bassline that went right up the fret and the final number which opened like an unlikely marriage between Magazine and The Cramps. The infectious beat then slowed down and the singer, Philip Chennells, treated us to some excellent moves before dropping to the floor and seeing out the rest of the set on his back.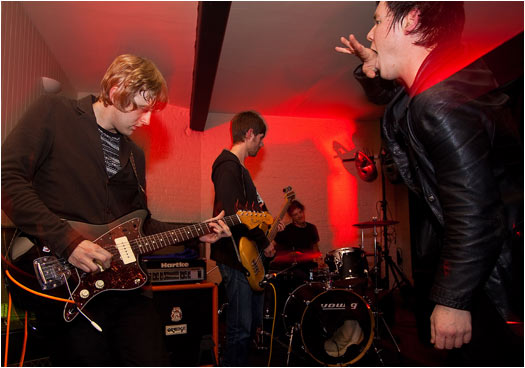 And then it was time for the headline act, Bo Ningen. Now I didn't know much about them beforehand, but I'd heard they were great live and the "Japanese experimental acid punks" description on the blurb certainly whetted the appetite to say the least. And I've got to say they were pretty darn incredible at Compass. It's hard to put into words how they sounded and just how balletic their movements were, but I'll have a bash. A bearded power-house pounded away on the drums whilst three very hairy Cousin-It-with-a-fringe Japanese men whirled around as ethereal sounds floated in an almost lilting fashion over a driving bassline and crunching riffs. And from time to time the rather androgynous looking guitarist and singer/bassist would leap around in a graceful manner that brought to mind a slightly speeded up Crouching Tiger, Hidden Dragon. You could almost imagine the trees beneath them!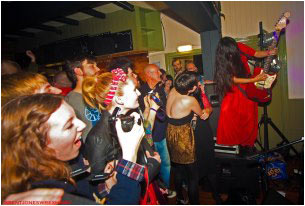 From the start, the crowd were nodding and moving and it wasn't long before this developed into full-on moshing which caused a press photographer to almost fly into the band. There was also the odd moment when the band reminded me of Can and there was one altogether more restrained number near the end, but for the most part this was a full-on assault with imagination to the fore and other-worldliness all around. There were times when the music sounded like it was flying, a feeling similar to one I got at a Sonic Youth gig I saw about ten years back. There were also occasions when they made me laugh, not least at some of the faces the singer pulled from time to time. They gave us everything and by the end the singer looked totally exhausted, although this might just have been partly for effect. All the same the image of a long haired, worn out Japanese singer leaning on the fireplace that, rather incongruously, remains at the back of the stage area, will stay with me for a long time.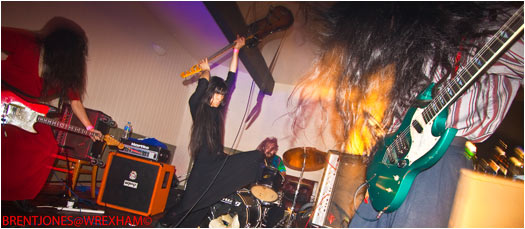 To really expereince the mayhem, click the photo above to view it LARGER.
As I said, quite incredible. I couldn't stop talking about it for days.