Review:
A few weeks back, i went to LA for a long weekend. While there i went to Club Violaine, which is a night for shoegazers and dreampop fans that is held every month. Dammit, why don't we have anything this cool in Atlanta? It was a truly great experience, standing in a club with the DJs spinning The Chameleons and Cocteau Twins, and live bands in the genre as well! Wow. Very cool. If you are in LA, you should check it out...
Club Violane is held in an art gallery/performance space called Basswerks, in the La Brea area of town. I guess that means there are tar pits around there somewhere, but i didn't see them..... Anyway, Basswerks is sort of the LA equivalent of Atlanta's Eyedrum, although there wasn't a whole lot of art there on the night i went. A few odd sculptures in the "weld a bunch of stuff together" sense of sculpture, which were moderately interesting, but not that exciting. Oh well. I guess they sometimes have more art, just not tonight. No big loss, as there was plenty to do otherwise. Aside from a DJ in the front room spinning shoegaze classics, there were three bands in the back room.
The first of these was Lisa Dewey and the Lotus Life, who came all the way down from the San Francisco Bay area. Unfortunately, not all of the band made the trip -- the drummer was unable to show up for some reason, so they performed as a three-piece. And they did so as an acoustic three-piece, instead of their normal heavily echoed electric selves. I have to admit this was somewhat disappointing to me. Even though Ms. Dewey does have a lovely voice, and both she and her guitarist know their way around a fretboard, their type of music just doesn't translate all that well to an acoustic format. Without pedals and distortion, they sounded like a generic Decatur folky act. They weren't bad, but they weren't that great either. I would like to see the full band rock out....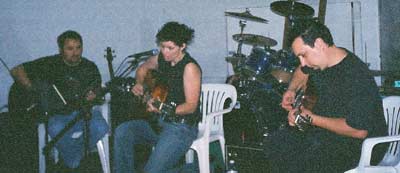 Keith St. Thomas, Lisa Dewey, Paul Zimmerman, collectively: Lisa Deway and 2/3 Lotus Life.
Up next were Club Violane regulars Red Lily. Doomie, the guitarist in the band, is also the head of Club Violane. I guess that means the band plays here a lot, which is actually kind of cool since i thoroughly enjoyed Red Lily's set. They are a five piece band, featuring a drummer, a bassist, two guitarists, and a guitarist/vocalist. Yes, that's three guitars, all played through a ton of effects pedals. They make a rich wall of guitar haze, anchored firmly by the solid rhythm section. In that sense, they reminded me of Mira. (Whatever happened to them? Did the band get eaten by one of the hurricanes that attacked their home state of Florida?) And by reminding me of Mira, i mean that the guitars are loud and noisy and hazy, with a slight hint of goth flavoring the shoegaze-ness. The vocalist is a petite asian woman, which gives the band a vaguely Alison's Halo sound. Oh, and the effects favored by the guitarists are Chorus and Delay, which gives their guitars a hint of a Cocteau Twins flavor. Just a hint really, there at the edges of your listening.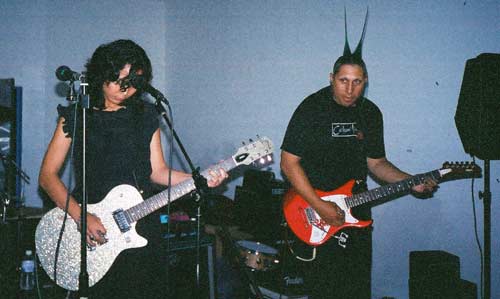 Red Lily: The vocalist (with the sparkly guitar) and Doomie with "the hair".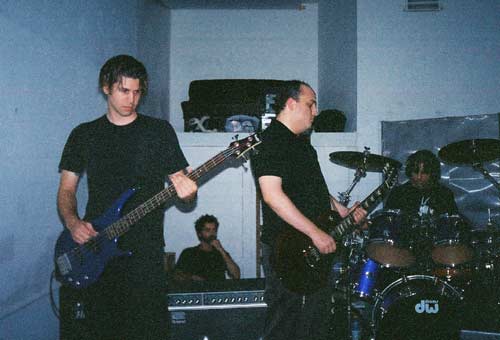 The rest of Red Lily.
Now, if you have read this site for any length of time you would know that a band combining the sounds or Mira, Alison's Halo, and Cocteau Twins is going to entrance me. And indeed Red Lily did thoroughly entrance me. They played and i stood there, grinning like a fool and bathing myself in their guitar haze. Simply lovely. If you like shoegaze, then you need to check out this band's live show. I am not sure if they play outside of LA, but anyone in So Cal. should make the trip to see them. You won't regret it.
And then just after midnight, the headliner took the stage: Bethany Curve. I must really love Bethany Curve, since i traveled all the way across the country to see them! Well, actually, they were not the main reason for my vacation in Los Angeles, but getting to see them live was a big added bonus. Bethany Curve are your standard four-piece rock band. Except that the guitarists have three red Rickenbockers between them, and the bassist plays a five-string bass. Oh, and the stage floor is practically covered with effects pedals.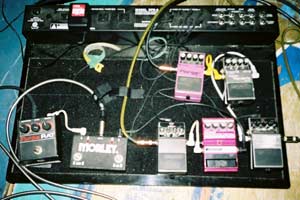 One half of the pedals used by the lead guitarist of Bethany Curve.
They walked on stage and started building a dense layer of guitar haze. Eventually soft jazzy drumming joined in, followed by amazingly nice deep basswork. They must have had the bass cranked way up in the venue, and it really worked well for Bethany Curve. That bassist is amazing.... Then, overtop of it all, was the voice. Not that noticeable, but still there.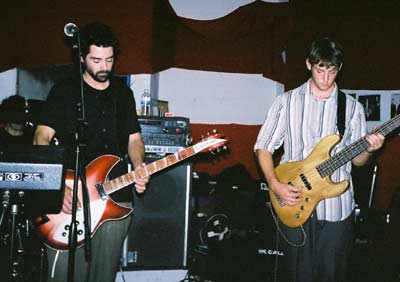 Shoegazers at work: Richard Millang (vocals, guitar) and their bassist, whose name is not listed on the Bethany Curve website, and which i have totally forgotten after talking with him that night. Sorry.
And, the guitar haze they played, well, it was transcendent. That is all i can say about it. Words fail me in trying to describe it. So many sonic textures in layer upon layer. It was wonderful to behold, and watching the band i got a real feeling for how difficult it is to maintain that sort of sound. In one song, which lasted 8 minutes, i counted the lead guitarist making 15 pedal stomps. That's a little under one pedal every 30 seconds! No wonder the genre is called "shoegaze"....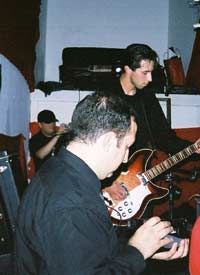 Nathan Guevara, hard at work playing guitar and dancing on pedals.
Anyway, i have been listening to, and thoroughly enjoying, this band for years, so i had a lot of expectations going into their set.
And they exceeded every one of them. Live, they are exactly what i hoped they would be, based on repeated listens to their albums. Actually, they are more than that. They are better live than on record, and that is really saying something. My advice to you: keep an eye out for Bethany Curve to play somewhere near you, then drop everything and go see them. You won't regret it.
Okay, i'll stop gushing now. But, really, this was one of the best shows i have seen in a long time. Granted, the acts were all playing the type of music i adore, but the fact that it was so well done really impressed me.
Overall, a great night. In Los Angeles too!