A few years back Attention System released their record Wait For My Signal, and EvilSponge got a promo CD that was well received in the top secret Brendan Cave. However, due to the randomness of the lives of several reviewers, we continually dropped the ball on actually writing about the record. I think that at least three different writers had said they would review it and then got too busy, myself among them. That said, i was very interested to see this band live.
We also got to check out a new venue, The Five Spot, in Little Five Points. This place has been around for a few years, but i am only aware of it as the place next door to the bike shop in Lil 5. For some reason i thought that it was a heavy metal club, but looking at their calendar i don't see any more metal than anywhere else. Huh.
Anyway, the place is pretty nice. They have an excellent beer selection, and good high ceilings to filter off the heat of summer. It is a non-smoking venue, which might be a plus or a minus depending on who you are. And most importantly for a venue, they have a good soundsystem and a competent sound guy. I would guess that the club is about the size of The EARL, and i have to admit i like the venue.
Promptly at 9:30 Shawn Zuzek took the stage. I didn't remember reading about him on the bill beforehand, but he was one man with a guitar, so he couldn't delay the show too much. It turns out that Mr. Zuzek is an ex-Atlantan, a man who fled to the drier heat of Santa Fe. I have never heard of him before, but he had friends in the crowd heckling him good-naturedly, and people who sang along with his tunes.
Musically Mr. Zuzek was taking cues from Billy Bragg and Frank Turner. That is, he was updating folk music for the post-punk world. His voice reminded me of Chris Cornell, a sort of rich expressiveness that worked for his songs of heartbreak and loss. At one point, as he was singing, i looked around hoping that the girl in the song had not come to the show to see her ex-boyfriend perform. Boy, that would've been awkward.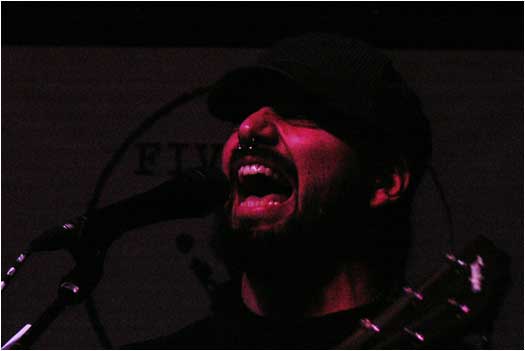 Bitch had better not show up...
He played a half-hour set of enjoyable emo folk music, ending with a cover of Same Cooke's Lost and Looking, which he positively nailed. A great cover to end a good set.
As soon as he was off-stage, the next band began to get ready. Since Mr. Zuzek played solo, their gear was already set up. This mean that by 10:10 PM on a Friday night i was already watching my second band. Can that be correct -- i mean, i was still in Atlanta, right?
The punctual band in question is the oddly named I Was Totally Destroying It.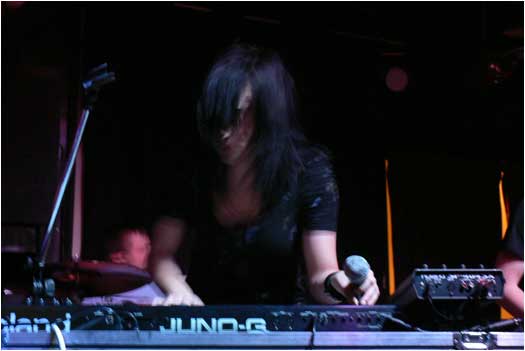 EvilSponge had received some press releases about this band, so i knew a few of their songs going in, including the epic Regulators, which was the second tune they played.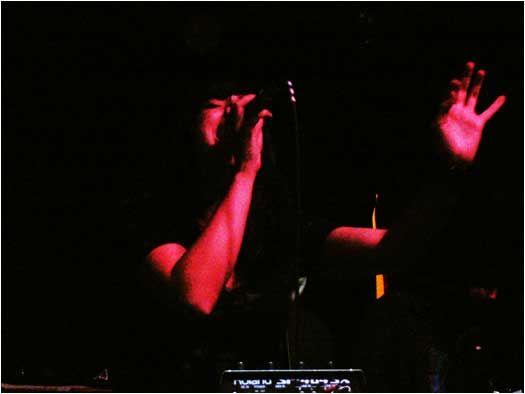 I was totally regulating it.
Regulators really got the crowd bouncing, and they just kept it up from there, playing a set of tight, catchy indie pop with an underlying new wavishness to the guitars. That is kind of what i was hoping they would sound like, playing the better material off of their record Preludes. This means playing more of the songs sung by keyboardist Rachel Hirsh, allowing sometimes singer John Booker to focus on his guitar.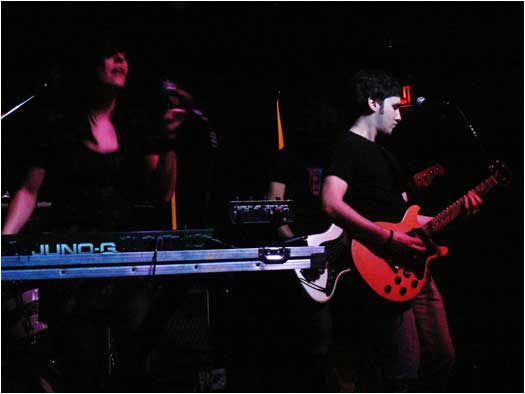 John Booker on guitar.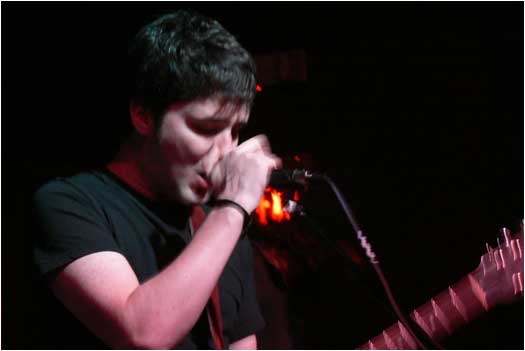 He still sang, on occasion.
I was pleased with their performance. Now, what i did not know about the band going in was how young they were. In fact, Ms. Hirsch pointed out to the crowd that this show was the official start of her Spring Break.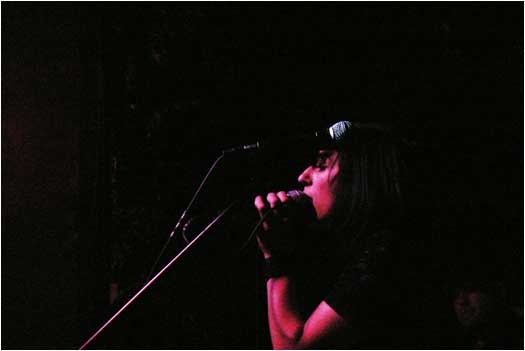 Spring break, y'all! Wooooo!
Wow. When i was in college i never did anything as exciting as go on tour when i went on spring break. Kids these days! You IWTDI youngsters stay off my lawn. (Brendan's Note: Despite his increasing crotchetiness, PostLibyan lives in a condo and does not, in fact, have a lawn.) Still, i was pleasantly impressed with this band.
Up next was the electronic Today the Moon, Tomorrow the Sun.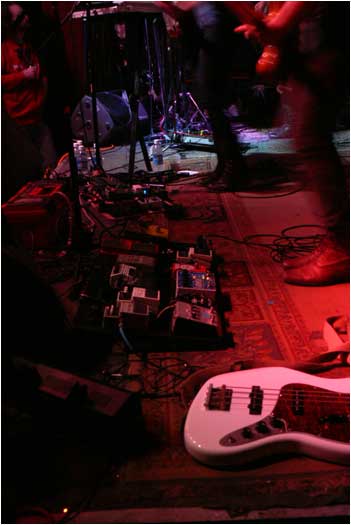 TTM,TTS's pedal setup.
We saw them just a few months back, and i have to say they impressed me a lot.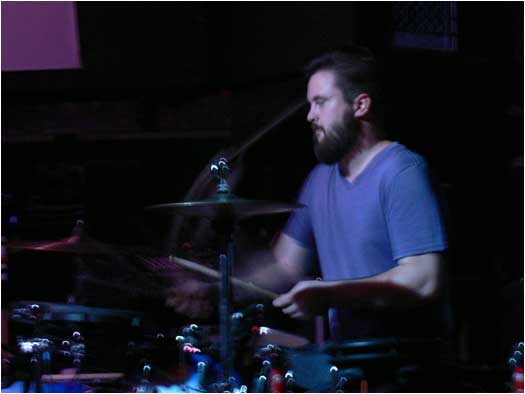 The rare good shot of the drummer.
This band has really improved over the years, evolving from a vaguely synthpopish act to a rocking electro band putting on energetic, fun sets. I really wanted to see them tonight to see if what i saw last time was a fluke.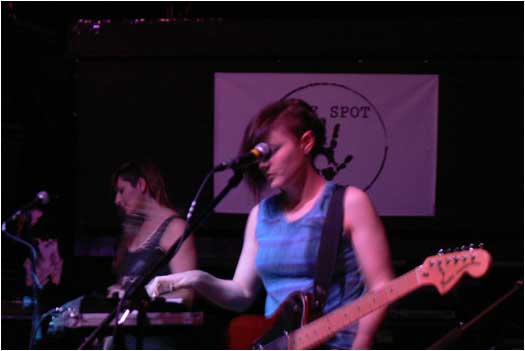 It was not. TTM,TTS are an amazing live band, belting out their tunes under layers of effects and loud beats.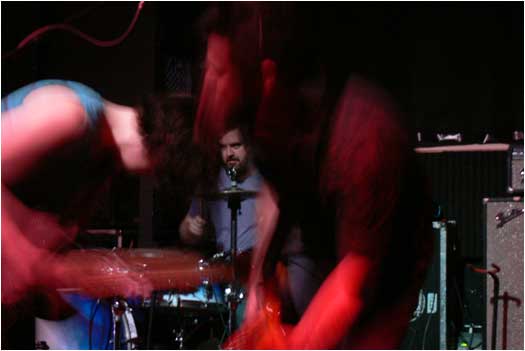 TTM,TTS in action. I like that the thrashing band members frame the drummer,
who is apparently giving me an evil glare.
It was an older crowd at The Five Spot than at the 529, so there was not so much dancing here. On the plus side, the sound mix was better. It might have been where i was standing, but the basswork really shined. Again, i urge you to go see this act if you have the chance.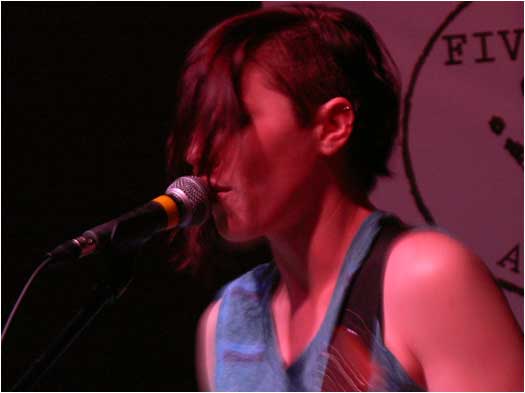 After that, we had a bit of a wait while TTM,TTS took down their gear and Attention System set up. I really had no idea how many people are in this band, and it turns out there are five of them. They were dressed all in black and played on a darkened stage with a full fog machine. Their gothic post-punk came across well on stage, and i really enjoyed seeing them. I guess we really should have reviewed that CD a few years back.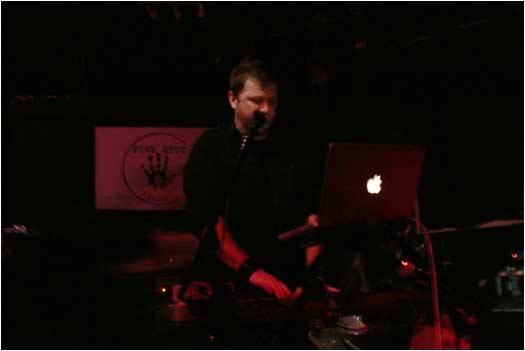 Attention System was entertaining in the way that good keyboard-driven post-punk is. The songs were catchy, and the beats where crisp. I liked what i saw, but have to admit that the band isn't inventing anything. Over the years, there have been many bands who have done what they do. They do it well, but if you are not into this kind of thing, then i doubt they will impress you.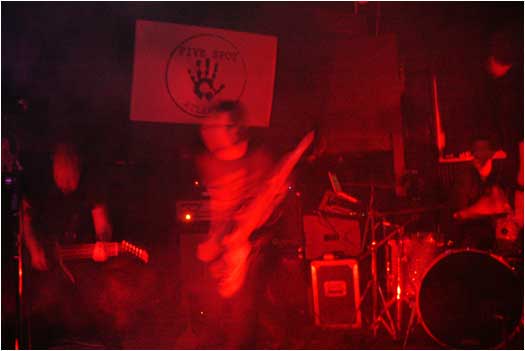 Overall, this was a pretty good night.